Ben Carson Accepts Trump Cabinet Post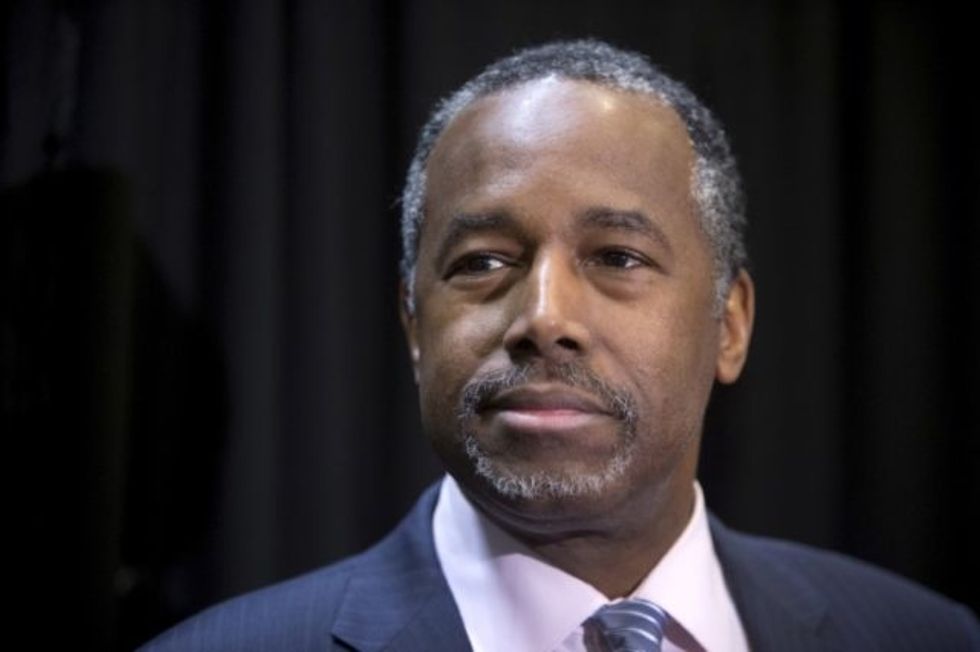 By Diane Bartz and Doina Chiacu
WASHINGTON (Reuters) – Retired neurosurgeon Ben Carson, a presidential rival-turned-supporter, has accepted U.S. President-elect Donald Trump's nomination to lead the Department of Housing and Urban Development, Trump's transition team said on Monday.
Carson, a popular writer and speaker in conservative circles, has been a close adviser to Trump since he dropped out of the 2016 Republican presidential primary contest and he is a vice chairman of Trump's transition team.
Trump discussed the job with Carson before the Thanksgiving Day holiday last month, although Carson had indicated reluctance to take a position in the incoming administration because of his lack of experience in federal government.
The president-elect, who also has no government experience and has never held public office, expressed confidence Carson could do the job.
"Ben Carson has a brilliant mind and is passionate about strengthening communities and families within those communities," Trump said in a statement.
The transition team described Carson as "a distinguished national leader who overcame his troubled youth in the inner city of Detroit to become a renowned neurosurgeon."
Carson said he was honored to accept the post. "I feel that I can make a significant contribution particularly by strengthening communities that are most in need," he said in the statement.
Carson, 65, is the first African-American picked for a Cabinet spot by Trump, who takes office on Jan. 20 and has been gradually filling out his administration since beating Democrat Hillary Clinton in the Nov. 8 presidential election. The position requires confirmation by the U.S. Senate.
FORMER TARGET OF TRUMP ATTACKS
Carson, a highly respected neurosurgeon at Johns Hopkins Hospital in Baltimore, had been considered for U.S. surgeon general and head of Health and Human Services Department.
His business manager, Armstrong Williams, said last month that Carson had decided not serve in Trump's administration because "his life has not prepared him to be a Cabinet secretary." But Carson said after meeting with Trump he believed he could make a contribution.
Like many of the initial field of 17 Republican presidential hopefuls who vied for the party's 2016 White House nomination, Carson was a frequent Trump target during the campaign. But he became one of his most high-profile African-American supporters after Trump secured the nomination.
At HUD, Carson would lead an agency whose mission has been to help middle- and low-income people find homes. It also runs a program aimed at replacing distressed public housing with mixed-income neighborhoods.
The department also oversees mortgage lending and other housing programs.
In a July 2015 opinion piece for the Washington Times, Carson gave some indication of his views on housing policy, criticizing actions by the Obama administration to reduce racial segregation as having the potential to "make matters worse."
Other picks by Trump so far for his administration include: Marine Corps General James Mattis as defense secretary, U.S. Representative Mike Pompeo as CIA director, Senator Jeff Sessions as attorney general, retired General Michael Flynn as national security adviser, Republican National Committee Chairman Reince Priebus as chief of staff and right-wing media executive Steve Bannon as chief White House strategist.
Trump is still considering various candidates to fill the post of U.S. secretary of state.
(Reporting by Doina Chiacu; Editing by W Simon and Frances Kerry)
IMAGE: Ben Carson listens to a question from a reporter during a campaign stop in Las Vegas, Nevada, February 23, 2016. REUTERS/Las Vegas Sun/Steve Marcus/File Photo