Ben Carson Calls For Using 'Truth Serum' To Interrogate Enemy Combatants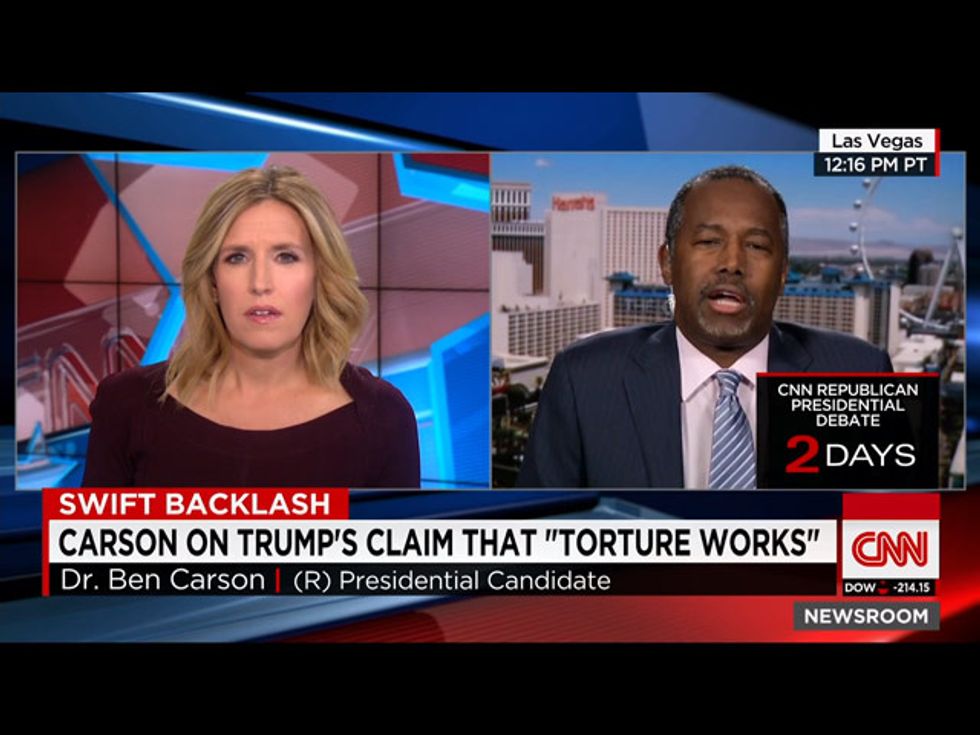 In an interview with CNN's Poppy Harlow, neurosurgeon and Republican presidential hopeful Ben Carson suggested using sodium amytal — otherwise known as amobarbital — to interrogate enemy combatants and terrorist threats.
Sodium amytal is a barbiturate with similar properties to sodium thiopental, which slows the functioning of the brain and can be used in lethal injections in high enough doses. Both are have been categorized as "truth serums."
Harlow began by asking Carson about Donald Trump's stances on waterboarding and other methods of torture. She asked Carson if he agreed with Trump that "torture works."
Carson responded that he believed that "there are a number of ways to extract information, including some medical ways of, you know, putting people into a less-than-conscious state, which allows information to be extracted much more humanely."
A baffled Harlow asked for clarification.
"Well, the average person might understand it as truth serum, but you know there are ways where you decrease a person's conscious defenses, and they might be more willing to give up information."
Harlow prods again: "What is that? What is truth serum?"
"Sodium amytal, Carson responds. "But you know there are a variety of different things that can be used now, we've made advances in that kind of science."
In a 1961 article by George Bimmerle, "'Truth' Drugs In Interrogation," since declassified, the author states that "In larger doses a barbiturate acts as an anesthetic, depressing the central nervous system as completely as a gaseous anesthetic does. In even larger doses barbiturates cause death by stopping respiration."
A 2006 investigation into the interrogation of Jose Padilla, an accused terrorist, brought news that his interrogators lied and told him that a flu shot was in fact a shot of "truth serum," of the same variety as sodium amytal.
In 2003, John Yoo, author of the so-called "Torture Memos," sent word to the Pentagon that some forms of mind-altering drugs, including powerful antipsychotic medication, were acceptable to use during interrogations, as long as they did not "disrupt profoundly the senses or personality."
The use of such drugs — or, in Padilla's case, lying about the use of such drugs — is considered a serious breach of medical ethics.