Ben Carson Says Something Reasonable — Has To Take It Back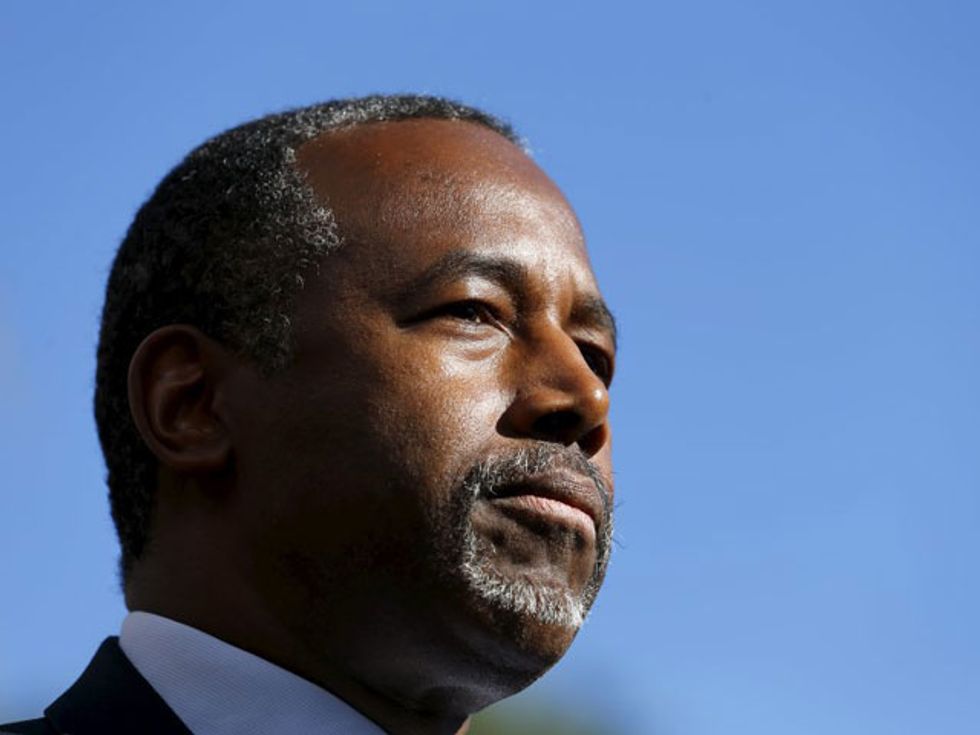 Dr. Ben Carson has landed in another controversy — and this time it's over a very old controversy.
In comments published this past weekend, Carson was asked about the case of Terri Schiavo in Florida, the woman in a persistent vegetative state whose life support was withdrawn after a protracted legal battle between her husband and her immediate family — as well as the political involvement of then-governor Jeb Bush and President George W. Bush.
The view of medical authorities, as later confirmed by Schiavo's autopsy, was that she had no remaining faculties of thought or awareness, and that this condition had been irreversible. Her parents and siblings, however, continue to maintain that she still had the abilities to think and communicate with others.
"We face those kinds of issues all the time," Carson told the Tampa Bay Times last Friday. "And while I don't believe in euthanasia, you have to recognize that people that are in that condition do have a series of medical problems that occur that will take them out. And your job is to keep them comfortable throughout that process and not to treat everything that comes up.
Q: Did you think it was appropriate for Congress and the legislature to—

CARSON : —I don't think it needed to get to that level. I think it was much ado about nothing. Those things are taken care of every single day just the way I described.
This then triggered a round of outrage against Carson from Schiavo's brother Bobby Schindler. "As both a Christian and a world renowned neurological surgeon, Dr. Carson owes every pro-life advocate an apology," Schindler said in a press release. "At best, he spoke from a perspective of personal prejudice and ignorance. At worst, he truly shares the perspective of so many euthanasia activists."
Schindler even warned that Carson might bring about a truly horrific new world of medicine:
"If we get a President Carson, conservatives won't need to fear Obamacare's so-called death panels, because Dr. Carson would himself represent a one-man death panel, content to ration care and decide who deserves a chance at life based on a warped sense of the ethics of medicine and humane law.
The press release was subtly titled "Ben Carson Voices Support for Deliberately Starving and Dehydrating Brain-Injured Patients."
And so on Wednesday, Carson backed off drastically, in comments given to an anti-abortion site:
"I am steadfastly opposed to euthanasia. I have spent my entire career protecting life, especially the life of children," Dr. Ben Carson told LifeSiteNews exclusively.

"I regret that my recent comments about Terri Schiavo have been taken out of context and misinterpreted," he continued.

"When I used the term 'much ado about nothing,' my point was that the media tried to create the impression that the pro-life community was nutty and going way overboard with the support of the patient," Dr. Carson told LifeSiteNews.
Carson also told the site: "When the patient is not terminal, as Terri Schiavo was not, the treatment plan should be determined on the basis of the consensus between the family and the healthcare providers."
However, Bobby Schindler is not convinced, writing in a new column at LifeSiteNews on Thursday:
I have deep respect for the accomplishments and commitment Dr. Carson has shown for life. But our family remains deeply troubled that in seeking to clarifying his remarks, he has not unequivocally condemned what happened to my sister. In fact, his suggestion that simple "consensus" among family members and healthcare providers could justify what happened to my sister is problematic. If I had agreed with Michael Schiavo to starve and dehydrate my sister to death, would that have made it right?
This is not the first time Carson's medical expertise has collided with his presidential aspirations.
During the anti-vaxxing hysteria earlier this year, Carson was a rare voice of reason in his party, urging that vaccines were vital to public health and personal well-being. By the time the issue came to the fore in a GOP debate, the doctor had wavered, alluding vaguely to a "multitude of vaccines" regularly administered to children that may not be necessary, and saying that parents should have "discretion" over this undefined set of vaccines.
Just as when he initially voiced support for fetal tissue research, leveraging his expertise as a medical authority in order to explain the processes — only to then back off soon afterward — Carson started out by giving a view of the 2005 case that accorded with medical consensus.
Let this be a lesson for Carson: When scientific knowledge collides against political passions, sometimes there cannot be any reconciliation of the two.
Photo: Republican presidential candidate Ben Carson pauses as he speaks to the media following a fundraising luncheon in La Jolla, California, November 17, 2015. REUTERS/Mike Blake