Ben Carson, Surgeon And Political Neophyte, Announces Presidential Candidacy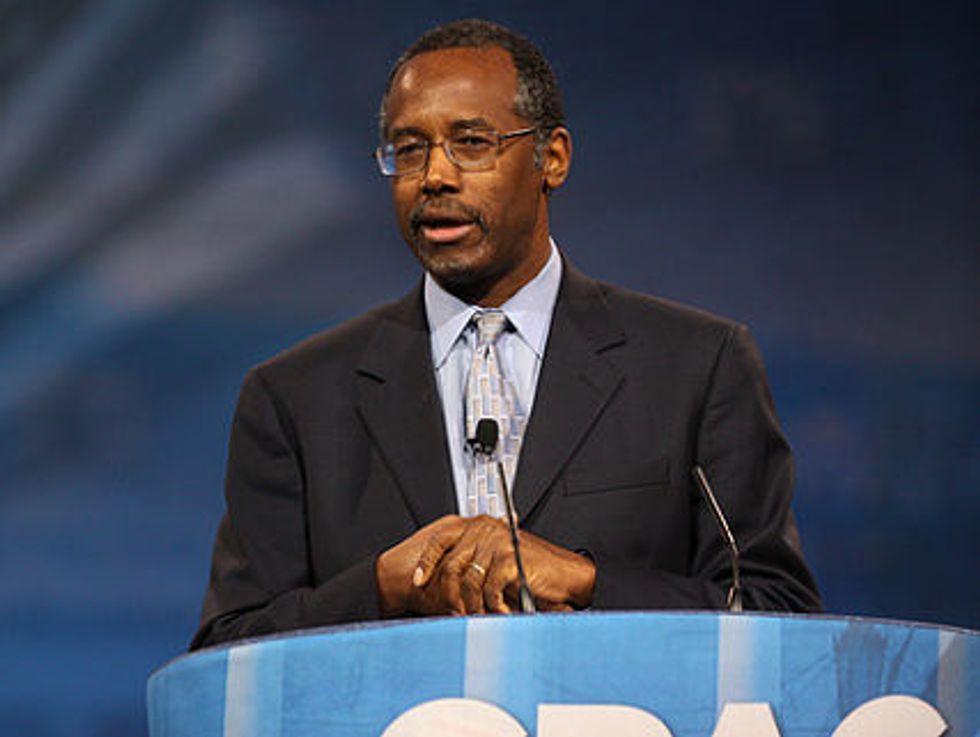 By Phil Mattingly, Bloomberg News (TNS)
Ben Carson, the retired neurosurgeon who has become a conservative favorite on the strength of his motivational life story and strong opposition to President Barack Obama, said Sunday that he is entering the crowded Republican field and running for president.
He is expected to start his campaign Monday in Detroit.
The announcement puts Carson, 63, the black former head of pediatric neurosurgery at Johns Hopkins Children's Center, into his first political campaign after what his aides have described as a crash course on everything from economic issues to foreign policy.
Carson has portrayed himself in speeches and interviews as a fighter against political correctness and of politicians on the whole. It's a position reflected in his policy ideas, many of which are laid out in his six published books that don't necessarily follow straight conservative orthodoxy. He's a fierce opponent of the Affordable Care Act who, as a world-class surgeon, says health insurance companies should be turned into utilities with profit limits. He's a free-market advocate who points to the deregulation of Wall Street in the 1990s as the root cause of the financial crisis. He relied on food stamps at times in his youth, yet points to President Lyndon Johnson's Great Society era as the start of the steady fall of the country's individualism and independence.
"I'm not going to do and say what's politically expedient, I'm going to say what's right," Carson said in an interview with Bloomberg before his announcement. "If that's something that resonates with the people great and if it doesn't, that's who I am and I'm not going to change."
Carson's candidacy can be traced back to February 2013, with a single speech at the National Prayer Breakfast challenging Obama on health care, taxes, spending, and the country's direction _ all with the president and first lady sitting a few feet away.
The next day the Wall Street Journal published an editorial titled "Ben Carson for President." Just a few months before his retirement from the medical profession, the speech set off a whirlwind two years for Carson. He has crisscrossed the country, sometimes delivering four to five paid speeches a week, and building grassroots support that has filled his campaign bank accounts. In the first 28 days after launching his exploratory committee in March, Carson raised more than $2 million. A political action committee established by outside supporters to push Carson toward running raised more than $13.5 million in less than two years as of the end of 2014, according to Federal Election Commission filings.
While enthusiasm in conservative circles continued to rise, he also drew unwelcome attention for a series of controversial comments. He's equated what he sees as the loss of personal freedom under Obama's health care law with slavery. He called citizens who refused to stand up against the Obama administration the equivalent of those who stood by and did nothing in Nazi Germany. While defending his belief that marriage should only be defined as between one man and one women, his loose phrasing made it appear he was comparing homosexuality to bestiality. (He later apologized.)
Those comments, and the economic policy platform Carson has pursued, have cost him the support of many of the same people who looked up to him as a community leader and role model in Baltimore.
(c)2015 Bloomberg News, Distributed by Tribune Content Agency, LLC.
Photo: Gage Skidmore via Flickr