Ben Carson's Looming Scandal: Porkgate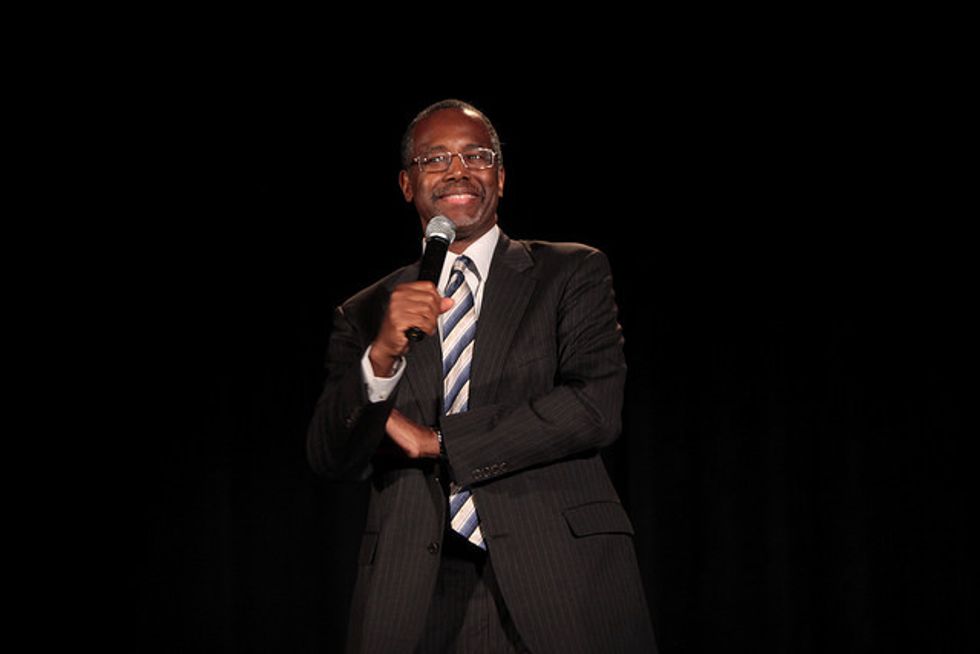 All eyes will be on Ben Carson on June 6, and whether he will either stomach or tactfully avoid the sweet taste of fresh pork.
The neurosurgeon and GOP presidential candidate has been invited to a fundraiser, hosted by Iowa Sen. Joni Ernst, that will consist of a motorcycle ride and pig roast.
Now, what need concern Carson may not be the motorcycle ride from Des Moines to Boone. His real trial will come at the pig roast, when the nation — and Iowa Republicans — will meet the man who has written of his utter loathing for the other white meat, and the difficulties he has faced in the past when attempting to conceal his distaste for it.
Carson claims to have been a vegetarian for most of his life, but "out of consideration — in other words, to be nice — I have learned to eat chicken or turkey in situations where I cannot gracefully manage to have a vegetarian meal."
In his self-help book for young people, You Have A Brain: A Teen's Guide To T.H.I.N.K. B.I.G., Carson recounts an incident in which he attempted to avoid eating pork out of respect for decorum, but was found out:
My wife and I still laugh about the time we were invited to a small dinner party at the home of friends who had forgotten we were vegetarians. The main course that night happened to be pork chops with pineapple topping. I have never eaten pork, and among so few guests, I knew my avoidance of the entree would not go unnoticed. So I served myself rice and vegetables then scooped some of the pineapple onto my rice, hoping it might look as though a pork chop were lurking underneath there somewhere. I also hoped the hostess would not notice.

No such luck. Unfortunately, the flavor of the pork had soaked into the pineapple and made me so nauseated that I could not eat. When our hostess realized the problem, she was embarrassed anyway.
The so-called "Roast and Ride," according to the AP, counts among its attendees Carson's fellow Republican players, former Hewlitt-Packard executive Carly Fiorina, Sen. Lindsey Graham (R-SC), former Arkansas Gov. Mike Huckabee, former Texas Gov. Rick Perry, Sen. Marco Rubio (R-FL) and Wisconsin Gov. Scott Walker.
Carson wouldn't be the first Republican to have to genuflect to Iowa voters on the issue of pork. Chris Christie, the New Jersey governor who is a possible (though increasingly unlikely) Republican presidential candidate, vetoed a bill last November that would have outlawed pig crates considered inhumane — a move that was widely interpreted as a bid for Iowan support, and a successful one at that.
Whether Dr. Carson plans to swallow his pride (and pig) to curry Iowa's favor remains to be seen. His campaign did not immediately return a request for comment.
Photo: Gage Skidmore via Flickr