Ben Tate, Browns' Offense Showcasing Their Tenacity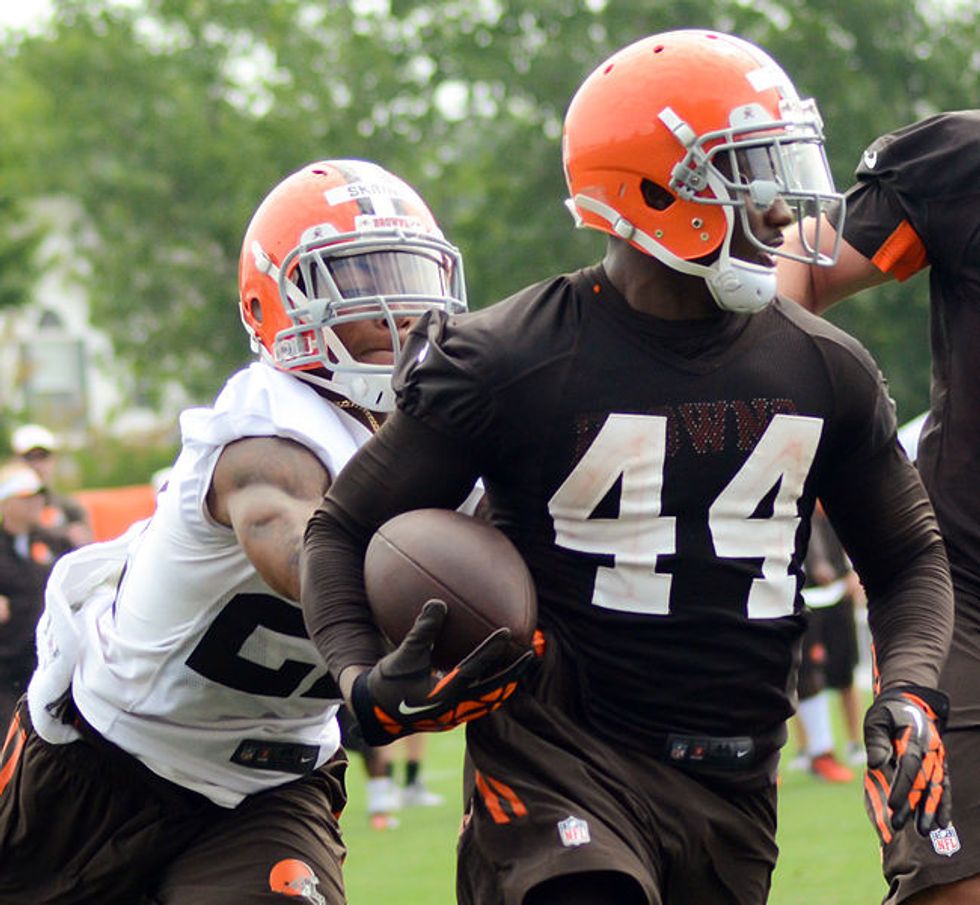 By Nat Ulrich, Akron Beacon Journal
BEREA, Ohio — Browns running back Ben Tate has an edge to his personality, and he's trying to transfer it to his side of the ball.
"We are a tough, hard-nosed offense that's not going to back down from anyone," Tate said Tuesday after the fourth full-squad practice of training camp.
Tate proved it by setting off a melee after he took exception to defenders roughing up the running backs in a nine-on-nine drill.
The 5-foot-10, 220-pound Tate hasn't concealed his attitude in recent months while dealing with the local media. In June, he raised eyebrows with comments about his competition against rookie Terrance West for the starting running back job, insisting none of his competition "scares" him and "there's no one that can touch me, or that's close to what I do."
Well, Tate is just as feisty on the field as he is during interviews.
"That is just who I am as a person," said Tate, who spent the past four years with the Houston Texans before signing with the Browns in March. "If you see me on the streets, I am not going to let anyone walk up to me and mess with me.
"There is a time when you need to step up and show guys, for me at times, to show the offense that, 'Hey, we're not going to let these guys to keep doing this.' It is time to put our foot down and let them know what is up."
Tate became agitated when outside linebacker Eric Martin grabbed running back Dion Lewis and whipped him to the ground. A few plays later, nose tackle Ahtyba Rubin adhered to a point of emphasis established by new coach Mike Pettine by relentlessly trying to strip the ball from Tate.
"I was probably just overaggressive, just hit him too much," Rubin said. "You know, being a defensive guy, I just gave him a little push afterwards or something like that."
Tate did not take kindly to Rubin's tenacity, and threw the ball at him when the play ended.
Then all hell broke loose. About 20 players began pushing and shoving, forming a massive pile of mammoth men.
A sidebar brawl between backup left offensive tackle Martin Wallace and defensive end John Hughes quickly ensued. Later in practice, Wallace fought with defensive end Armonty Bryant.
"You've got to protect your guys," Wallace said. "The defense, we love them. They're our teammates. But sometimes if the defense thinks they can walk over you, you have to say, 'Enough is enough.' As offensive linemen, you kind of have to be the bad guys. We don't mind being the bad guys."
Neither does Tate. No one appeared to be injured in any of the scuffles, so he doesn't regret his role in the fighting one bit. In his mind, a message needed to be sent.
"I guess [the defenders] felt like they were big, you know, beating their chests, and I was like, 'Whoa, hold up,'?" Tate said. "So it was good for us because we do have a good defense — they are going to be a good defense — but we cannot let anyone bully us."
Tate and Rubin made amends almost immediately following the incident.
"It is a little frustrating [when Rubin kept trying to strip the ball], but I understand that they need to work," Tate said. "But there is a line, and when they cross that line, offensively, we have got to let them know that it's not acceptable. So that is really what it was about — just setting the tempo.
"I threw the ball at Rubin. After it was over, I went right up to him and gave him a hug and slapped his hand. We're all teammates here. At the end of the day, we've all got the same mission. It's OK for it to go down. You just don't carry it on into the locker room after it's over with."
After the dust had settled, strong safety Donte Whitner admitted he loved what he saw from Tate and the offense.
"Throwing a football at someone never killed anybody," said Whitner, who's been labeled an "enforcer" by defensive coordinator Jim O'Neil. "We don't want any soft guys around here. We want guys going to bat for each other. We're not trying to hurt each other, but if one of your guys is fighting the opposition, you have to jump in and help or separate them. That's what happened over there.
"It all started because guys were being physical, guys were being extra physical, putting a little extra in after the whistle. You don't want nice guys on defense. You want nasty guys. You don't want nice guys on offense and the offensive line. You want nasty guys. That's what winning football teams are built on — built in the trenches on nasty football and that's what we're trying to develop."
Pettine wants his players to be "competitive, not combative" with each other. But he also has vowed to instill toughness, so he understands practices are bound to spiral out of control sometimes.
"When we talk about the kind of team we want to be, you have to practice that way," Pettine said. "It's hard. It's difficult. I can't tell that lie that we can be a certain way on the practice field and carry it on the game field. There are going to be times when it does boil over. You don't want one side of the ball to get bullied by the other. There has to be some push back, whether it's offense versus defense or defense versus offense. You look at that, and it's the price of doing business. You don't like to see it. You're afraid somebody could potentially get hurt in it. It breaks up the rhythm of practice, but at times, it's going to happen."
Tate is committed to making sure it happens whenever he believes the offense must stick up for itself.
Photo via WikiCommons
Interested in sports news? Sign up for our daily email newsletter!