'Bernie Or Bust' Movement Makes Noise In Philadelphia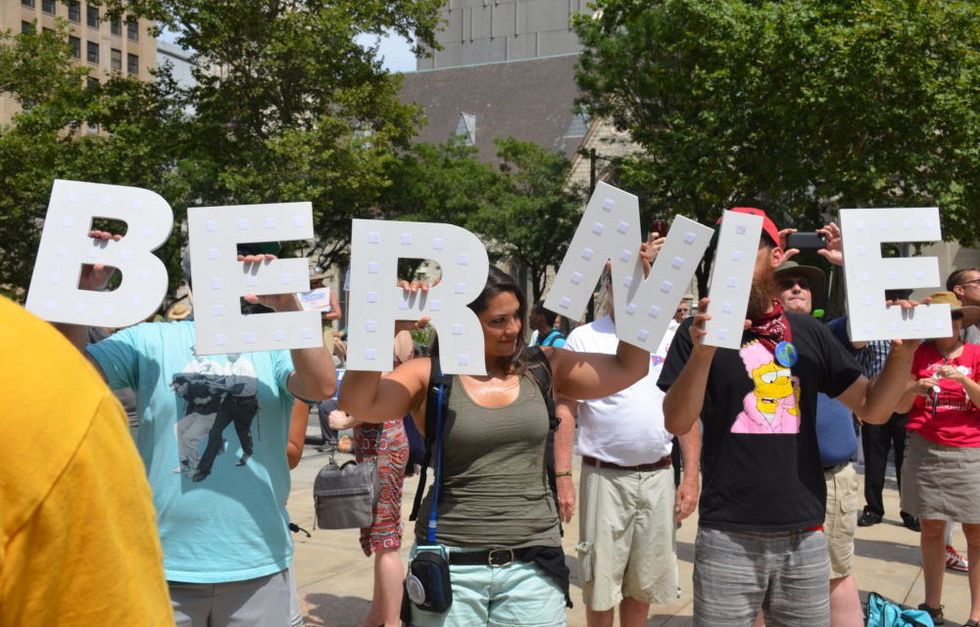 While Democrats were making history Tuesday by becoming the first major party in American history to nominate a woman for the presidency at their convention in Philadelphia, the "Bernie or Bust" movement made sure to make some noise outside.
A few miles away from the convention, a few hundred Bernie Sanders supporters, as well as some unaffiliated anarchists, got together at City Hall to pledge that they would not stand with the Democratic Party in November and vote for Hillary Clinton, regardless of what their movement's own leader keeps telling them.
The opening act was a rapper telling the crowd that "both parties can suck a dick." Victor Tiffany, a co-founder of the Bernie or Bust movement, said Clinton was just "John McCain in a pantsuit."
The main speaker was Green Party candidate Jill Stein, who has seen an opening with Sanders supporters since the senator endorsed Clinton. "This is what democracy looks like," she told the mostly white, mostly younger crowd desperately looking for another option, before she outlined why Sanders' revolution still has a chance with her candidacy.
Parts of the crowd looked straight out of a Donald Trump rally – images of Clinton as a prisoner and as the devil were common, as were signs denouncing a "rigged" system and claiming votes were stolen by the DNC.
Amongst these protesters, most seemed to feel that the DNC e-mails published by Wikileaks last week were proof of why they should not support Clinton or her party.
Damien Green, a 29-years-old Sanders supporter, said he was hoping the Vermont senator would choose to run with the Green Party at the last last minute. He came to Philadelphia from Baltimore to show his support for Sanders and his disdain for the two-party system. Like many Sanders supporters who came to Philadelphia for the convention, Zain and his girlfriend have been camping at the FDR Park. "We occupied" it, he joked.
Zain isn't sure what he'll do when November comes, but today? "Never Trump, never Hillary."
"Everyone knows what Clinton has done. We can't close our eyes and turn around and go back so we have to keep moving forward and make sure the political change happens," Green said. "Whether that's voting for Green or holding out and writing in Bernie in November, one or the other. It depends on the next couple of months."
I asked him the same question he's heard dozens of times, "What about those who say a vote for a third party candidate is a vote for Trump?"
"They should have picked Sanders to begin with. They shouldn't have cheated it and corrupted and rigged the system," he said sort of dismissively. "What we fear from Trump we've already seen in Hillary. There's no greater evil, they're both on the same level."
Even though Sanders has endorsed Clinton, and presented his most vocal case for her yet at the convention on Monday, the "Bernie or Busters" seem to think Sanders is sending them subliminal messages.
The idea that Sanders does not really want his supporters to vote for Clinton, even though he keeps encouraging them to do so, was a recurrent theme at this rally.
"His hands are tied," Green said about Sanders. "He's endorsed Hillary and he can't say anything bad about her because he would still like to be part of the political race. He's leaving up to us. He knows we will not follow Hillary."
It's an interesting dynamic: Protestors were furious at their two choices, but not at Bernie for falling in line with the Democratic Party and endorsing Clinton.
Another Sanders supporter at the rally, Joe Zain, also thinks Sanders is just doing "the politically smart thing." By endorsing Clinton, Zain argues, Sanders is "off the Clinton kill list."
So Zain has chosen to vote for Trump. His "Berners For Trump" sign caused one supporter to angrily yell that Zain, and people like him, were only "one percent of the people" there. It seemed to me that the passing protest was right – there were more signs advocating pot than Trump.
Another protester just flipped Zain off. He quickly shrugged it off and kept answering reporters' questions, clearly enjoying his time in the limelight.
"I think in the blue states we need to be behind Jill Stein but in the swing states, like Pennsylvania, where the manufacturing has been destroyed by disastrous trade deals, we need to stand with Americanism and with Donald Trump who's against these trade deals."
Many others at the rally didn't really have a game plan for the November elections, they just know they want "revolution." A Philadelphia local named Yair, who wore a Che Guevara shirt, said he was "sort of" a Sanders supporter.
I asked him how his shirt related to his support for Sanders. (This wanna-be Communist faction of the Sanders movement has always troubled me: Growing up in Venezuela under Hugo Chavez' "Socialism," I chose to believe Sanders when he said his was revolution was aimed at Canada's model, full of free healthcare and accessible education, than Latin America's, empty of many basic resources and opportunity.)
Yair told me he was wearing the Guevara shirt because "it represents revolution."
It seemed to me that that is what much of this protest was about — the idea of "a revolution," a word that meant radically different things to different people at City Hall.
Photo: Fabian Ortiz