Betsy DeVos Seeking To Weaken Oversight That Exposed Sex Abuser Larry Nassar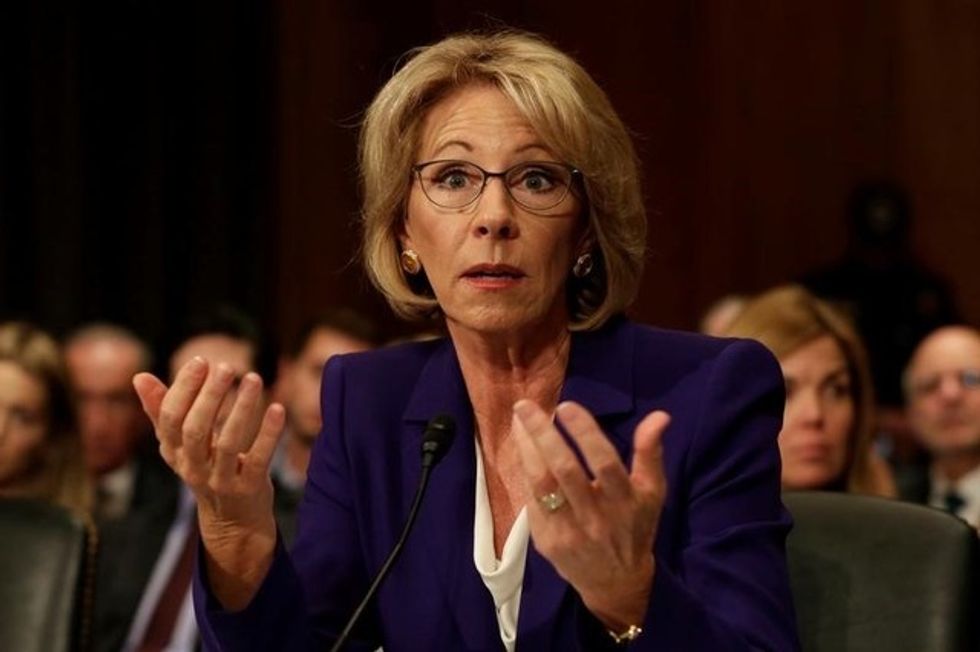 Title IX was the key to exposing Larry Nassar, the former Olympic gymnastics doctor and serial sexual abuser at Michigan State University, who was sentenced this week to 40 to 175 years, in part based on testimony from 156 of his young victims.
Lou Anna Simon, who served as president of the university, resigned after Nassar's conviction. Reporting shows that the school mishandled complaints about Nassar's abuse, which allowed him to prey on more young athletes, despite a federal investigation.
But Betsy DeVos, Donald Trump's secretary of education, is trying to change and weaken Title IX, effectively aiding other serial predators like Nassar.
Under DeVos, the Department of Education is scaling back investigations at the Office of Civil Rights. It's a dangerous step backward from the Obama administration, which pushed for more oversight to protect young women like Nassar's victims.
It was an investigation by the Office of Civil Rights that revealed Nassar and triggered his prosecution.
As investigators try to deal with an influx of cases, DeVos is advocating for less enforcement, with stricter standards of proof in cases involving sexual violence, making it that much more difficult to hold abusers accountable.
Under President Barack Obama, the Education Department instructed schools to use the "preponderance of evidence" — the lowest standard — in sexual violence cases. DeVos, however, has issued directives requiring schools to use "clear and convincing evidence" in such cases instead.
Advocates for victims of sexual violence say the new guidelines have created a "chilling effect" for survivors to come forward. They are suing DeVos in federal court over the new, oppressive rules. SurvJustice, one of the advocacy groups suing, says that under DeVos' policy, it has seen "a decrease in the number of sexual violence survivors seeking its services," and that schools are slower to respond to complaints — or ignoring them entirely.
Stacy Malone, executive director of the Victim Rights Law Center, noted at a related press event, "Their reports will not be taken seriously because survivors will be dismissed as women who had drunk regret sex as opposed to who they really are, victims of sexual violence."
Title IX is the federal law governing discrimination in education.
It was a Title IX investigator who determined Nassar sexually assaulted a 15-year-old girl during a medical appointment in his office at the school. That report validated the claims of other women who sued the school over their assaults.
Reporting on the case, the Lansing State Journal disclosed the contents of the Title IX report of the girl's assault, which noted that "Nassar sexually assaulted her, including digital vaginal and anal penetration, massaging in the genital area and massaging her breast."
Michigan State came under scrutiny in 2010 after a female student alleged that two basketball players raped her. She complained that the school mishandled her allegation and filed a federal complaint about Michigan State in 2011.
In 2014, another student alleged that the school mishandled a sexual assault allegation and filed a federal complaint. That triggered a formal investigation by the Office of Civil Rights.
The office determined the school had fostered a "sexually hostile environment" and was forced to go under federal oversight.
It has now emerged that Michigan State did not fully comply with the federal government, which requested documents that would have included information about Nassar's abuses.
Despite this, DeVos is moving schools away from further accountability.
Sexual predators like Nassar unfortunately have a powerful ally in the Trump administration. During her confirmation hearing, DeVos refused to commit to upholding the standards set in place by Obama.
"Would you uphold the 2011 Title IX guidance as it relates to sexual assault on campus?" Sen. Bob Casey (D-PA) asked her. She said at the time it would be "premature" to make such a promise.
Once she was in office, she started to systematically undo those protections. She even met with so-called "men's rights activists" who advocate for weakening or even eliminating those Title IX provisions and openly attack rape victims.
If DeVos has her way, victims of sexual predators will be further silenced, their pleas for help ignored, and the crimes of their tormentors swept under the rug.
Oliver Willis is a former research fellow at Media Matters for America who has been blogging about politics since 2001. Follow him on Twitter @owillis.
PHOTO: Betsy DeVos testifies before the Senate Health, Education and Labor Committee confirmation hearing to be next Secretary of Education on Capitol Hill in Washington, U.S., January 17, 2017. REUTERS/Yuri Gripas