Biden Promises Gun Recommendations As Another School Shooting Is Reported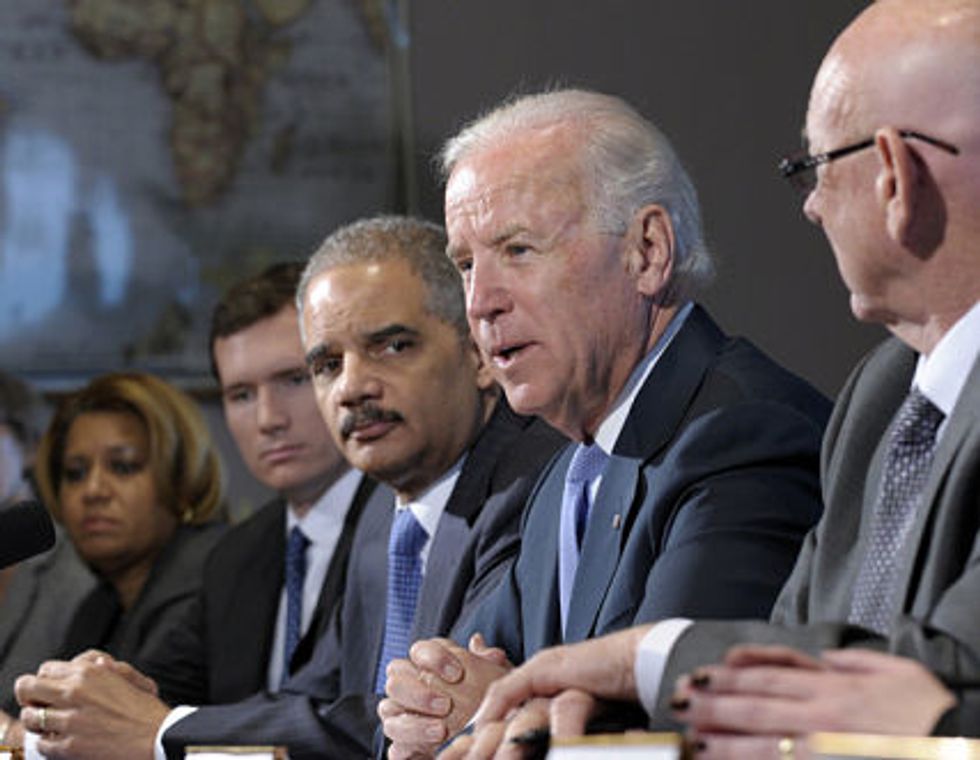 At a meeting with sportsmen groups Thursday afternoon, Vice President Joe Biden said he will deliver a report on addressing gun violenec to President Obama by next Tuesday. As CNN covered Biden's comments, the news channel broke away to give initial reports about a shooting at school outside Bakersfield, CA.
The president appointed Biden as the head of his gun violence task force in the wake of the mass shooting at Sandy Hook Elementary School. In recent days he's been meeting with stakeholders, including retailers and activists.
"There is a surprising — so far — recurrence of suggestions that we have universal background checks, not just [to] close the gun show loophole, but total, universal background checks, including private sales," Biden said.
The vice president also said that his report would address high-capacity magazines and the ability of federal agencies to do research on gun violence, something the NRA has effectively blocked since the mid 90s.
Biden was meeting with representatives of  the Association of Fish and Wildlife Agencies, Ducks Unlimited, and the Outdoor Industry Association. He will meet representatives of the NRA and the entertainment industry later Thursday.
NRA president Wayne LaPierre responded to the shooting at Sandy Hook by calling for armed guards at every school and by blaming videogames and the media for creating a culture of death.
On Wednesday, Biden told gun control groups, "The president is going to act. There are executive orders, executive actions that can be taken." He  made no attempt to backtrack from his suggestion Wednesday, preemptively warning Congress that if they didn't play a role in reducing gun violence, they'll end up with the president's solutions.
The president's press secretary refused to clarify what executive orders may be considered, despite a hysterical reaction to Biden's suggestion from the right. The New York Times' David Firestone explored what executive actions the president might take — they mostly involve better enforcement of current laws and mandating reporting of gun-related crimes. Nothing close to the specter of confiscation the right immediately suggested.
Early reports from Taft High School in Kern County, CA indicated that two people had been shot and a shooter had been taken into custody.
There have been 695 gun deaths in the United States since the Newtown shooting less than a month ago.
Photo credit: Susan Walsh/AP