Big Government Doesn't Help The Poor, Jeb Bush Says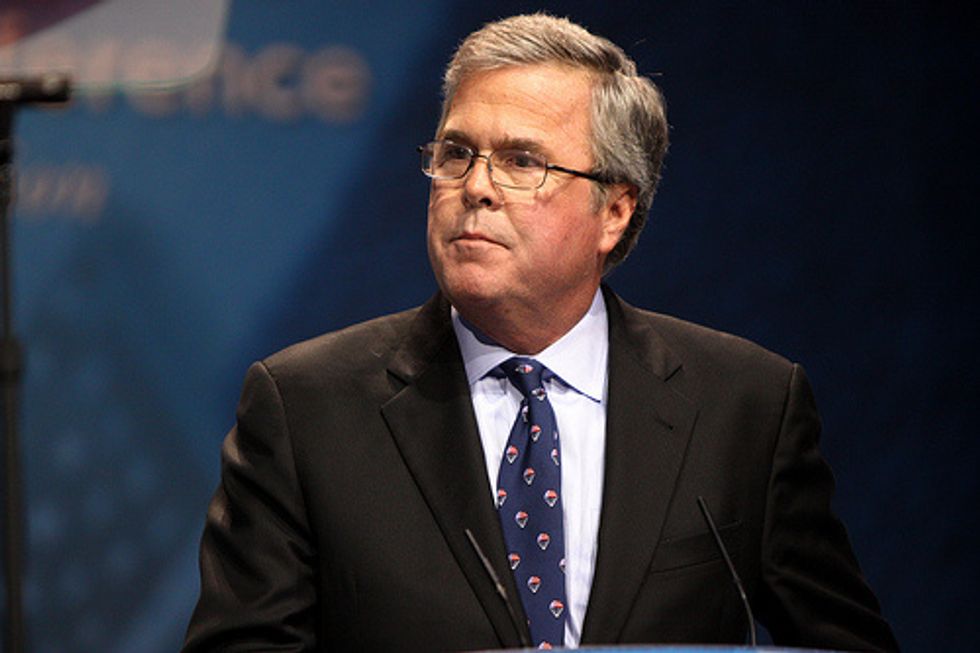 By Lesley Clark, McClatchy Washington Bureau (TNS)
WASHINGTON — Former Governor Jeb Bush of Florida went to one of America's most troubled cities Wednesday to lay out the economic principles for a likely presidential campaign, signaling he'd compete for usually Democratic votes with a conservative pitch to help the poor and middle class.
"Some in the media think conservatives don't care about the cities. But they are wrong," he said at the Detroit Economic Club. "We believe that every American, and in every community, has a right to pursue happiness."
Bush used his speech to frame an economic argument that would contrast the problems of the poor under President Barack Obama and his pro-government approach with the promise of a market-driven agenda.
"How do we recapture the prosperity and opportunity that once defined cities like Detroit?" he said. "This is an urgent issue: Far too many Americans live on the edge of economic ruin."
"Today," he added, "Americans across the country are frustrated. They see only a small portion of the population riding the economy's up escalator. It's true enough that we've seen some recent and welcome good news on the economy. But it's very little, and it's come very late."
Although he didn't announce a campaign, he said he felt compelled back into the public debate: "I'm getting involved in politics again, because that's where the work has to begin."
Bush, whose father, George H.W. Bush, and brother George W. Bush served as president, bashed a Washington fix for the economy. "The progressive and liberal mindset believes that to every problem there is a Washington, D.C., solution," he said.
He said new rules punished people with higher taxes for moving up the economic ladder, and at the other end created a "spiderweb that traps people in perpetual dependence."
He argued that Detroit's woes echo those in the nation's capital, citing "decades of big government policies, petty politics, impossible-to-meet pension promises, chronic mismanagement and broken services."
As an example, he cited Amtrak, saying the railroad loses money on its snack cars even when it has a captive audience.
"If the government can't collect parking fines or sell snacks on a train, why would government know how to enable every citizen to move up in life?" he said.
He pledged more speeches in coming weeks and a "plan of action that is different from what we've been hearing in Washington, D.C."
Bush spoke from prepared remarks for 20 minutes, and grew increasingly engaged as he answered questions posed by the economic council, endorsing an immigration overhaul, accusing Obama of retreating from the world and acknowledging that his family name will present an "interesting challenge" if he decides to run for president.
He also strongly endorsed vaccines, while working to avoid the controversy that's entangled New Jersey Governor Chris Christie and Senator Rand Paul (R-KY), whose statements this week questioning mandatory vaccines were criticized by public health officials.
"Parents have a responsibility to make sure that their children are protected, "said Bush, the father of three. "Over and out."
Bush has garnered tepid reviews from some party conservatives, but he said his ideas were "rooted in conservative principles and tethered to our shared belief in opportunity and the unknown possibilities of a nation given the freedom to act, to create, to dream and to rise."
Democrats panned the speech, calling it divorced from Bush's record as governor of Florida.
"Time and again he lined the pockets of the wealthy and big businesses with tax cuts, at the expense of working families and their children," said Democratic National Committee spokesman Ian Sams.
Bush laid out five "core principles," saying the most important factor isn't government but committed two-parent families.
"Every child has a greater chance at opportunity when they are raised by loving, caring and supportive parents and a committed family," he said. "It's critical that governmental leaders recognize that and support it."
He also championed "growth above all," saying the U.S. shouldn't settle for an economic growth rate of less than 4 percent a year — twice the current average — and that if rules or laws don't contribute to growth, they should be scrapped.
He called for fewer laws restricting the labor market and "reducing the penalties that come with moving up from the lowest rungs of the ladder."
Bush took no swipes at fellow Republicans, even as the moderator likened the 2012 Republican nomination contest to the canteen scene in "Star Wars."
"Heck, I'm going to get in trouble just listening to that," Bush said, laughing. He described modern politics as "chaotic" and said smoke-filled backrooms that picked candidates had been replaced by a "little Wild West."
Paul archly congratulated Bush for the Detroit speech, saying it was "great to see" him take Paul's lead in proposing solutions for revitalizing Detroit.
"We hope Governor Bush continues to emulate Senator Paul by detailing his proposals and reaching out to help the party," Paul's political action committee said in a statement. "Senator Paul will continue to lead the way in expanding the Republican Party by bringing real solutions to American cities like Detroit."
While avoiding his potential rivals, Bush lavished effusive praise on his father and brother, saying George W. Bush had been "a great president" and joking that he'd "take it outside" with anyone who disputed that his dad isn't "the greatest man alive."
But he acknowledged that if he decides to run, his family name will present a challenge.
He added: "It doesn't bother me a bit to be proud of them and love them, but I know for a fact that if I'm going to be successful . . . I'm going to have to do it on my own."
Photo: Gage Skidmore via Flickr