The Biggest Choke of Trump's Political Life: 6 Reasons His Debate With Hillary Was An Unmitigated Disaster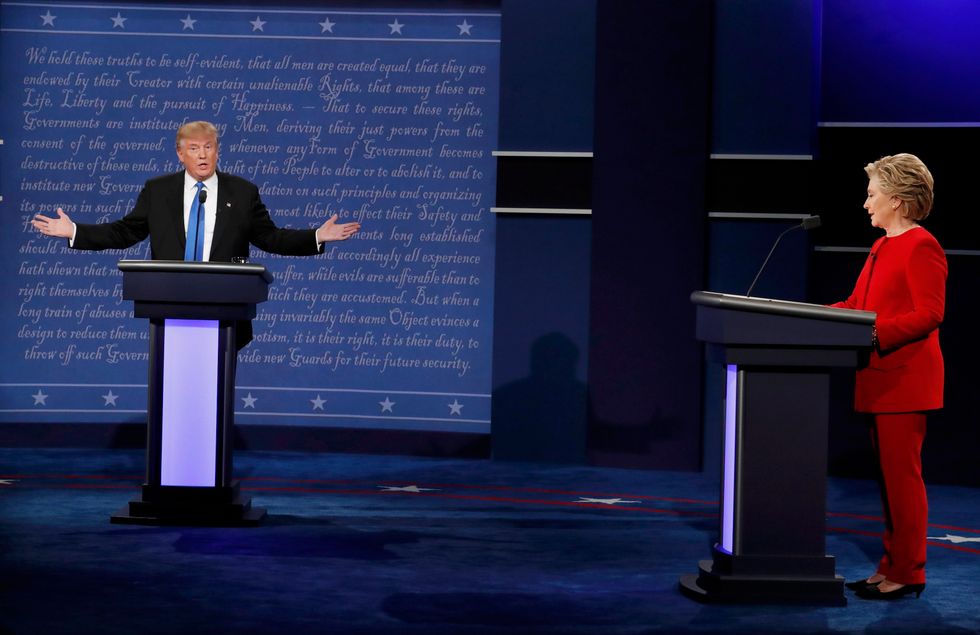 Published with permission from AlterNet
The twilight zone nature of the presidential campaign continued Tuesday, with the fallout from the first debate hounding Donald Trump, bouying Hillary Clinton and leaving millions of voters wondering if the race's dynamics have shifted from the near-tie in recent polls.
With the exception of the Trump campaign bubble and its knee-jerk right-wing media defenders, the universal judgment was Trump badly blew it on Monday night. Even the most ardent Hillary bashers at the right-wing National Review said so, summing it up this way:
"In the first 30 minutes of last night's debate, Trump succeeded—if that is the word—largely by being so pugnacious that he made it difficult for Hillary Clinton to get a word in edgewise. But that strategy was not built to last, and it didn't. After the forum's first half hour, Trump was at his near-worst: thoughtless, rambling, self-contradictory, and hostile—not only to his opponent but to moderator Lester Holt, President Obama, and any number of other enemies real and imagined, up to and including Rosie O'Donnell and a former Miss Universe contestant."
The debate sparked an avalanche of commentary and reactions, from each candidate saying they were pleased with their performance, to Trump saying he was done with playing nice (by not attacking Bill Clinton's marital infidelities), to political and media insiders pinpointing why he did so poorly and she did so much better, to the financial markets reacting positively to what they perceive as a more likely Hillary Clinton victory.
Reputable pollsters will be reporting the debate's impact in a few days after conducting surveys in swing states with large samples. Meanwhile, here are excerpts from a half-dozen of the most intriguing and illuminating reactions, observations and commentaries that surfaced Tuesday.
1. The financial markets don't trust the Donald. Soon after the financial markets opened on Tuesday, stocks rose in response to Clinton's performance. Considering she told the nation she would be raising taxes on the wealthiest Americans including Wall Street, that is remarkable. As Marketwatch.com reported, the Dow Jones rose "more than 100 points following Clinton-Trump debate." They quoted portfolio managers like Diane Jaffee at TCW, who said, "Investors have a better idea about policies of Hillary Clinton, so any sign she is closer to the presidency is a boost." But it wasn't just American capitalists. The Mexican peso jumped more than 2 percent against the dollar. "The peso has been acting as a gauge of the presidential election sentiment on the theory that a victory for Trump will at the very least result in less trade between the two countries, if not the building of a barrier on the U.S. southern border," wrote Marketwatch. People who know business know they don't want Trump.
2. Trump's "biggest choke of his political life." The New York Post has been very pro-Trump. But on Tuesday, columnist John Podhoretz wrote one of the clearest analyses of what went down, including a list of Trump outbursts that he predicted Clinton will use against him. "By the end of the 95 minutes, Trump was reduced to a sputtering mess blathering about Rosie O'Donnell and about how he hasn't yet said the mean things about Hillary that he is thinking," Podhoretz wrote. "Most important, he set ticking time bombs for himself over the next six weeks… As she hammered him on his tax returns, he handed her an inestimable gift by basically saying he pays no federal taxes despite his billions… Clinton quoted him saying in 2006 that he hoped for a housing meltdown because it would provide buying opportunities and thereby goaded him into saying 'that's called business, by the way.'"
Podhoretz continued, "His reply to Hillary's recitation of the fact he'd begun his career settling a Justice Department lawsuit about racial discrimination in Trump housing was that there was 'no admission of guilt,' which is the sort of thing the villain said at the end of 'LA Law' and sounded no better in real life." He didn't stop there, but said Trump betrayed his base and accused him of doing the very thing that Trump slams his opponents for—caving under pressure. "Even when he could have taken her down, he was so incompetent he didn't go for it. A question about cybersecurity was the perfect opportunity to hammer Clinton on her outrageous mishandling of classified information. Instead, he went into a bizarre digression in which he alternately wondered whether his son Barron might grow up to become a hacker and defended Vladimir Putin from the accusation Russia had tapped into the Democratic National Committee's emails (which the FBI says almost certainly happened). That has to count as the biggest choke of his political life."
3. The reality TV star didn't play to the camera. Former CBS-TV anchorman Dan Rather no longer has to play the straight newsman and his observations on Facebook can be riveting. The candidates brought their personas to the debate, which he contrasted by first describing their stage mannerisms. "From the very beginning, the body language tonight was striking," he wrote. "Hillary Clinton, the first woman ever to be on this stage was calm and substantive. Donald Trump interrupted often and slouched and sneered as he turned to address her. This is what Trump's fans like about him, playing the alpha male at all costs. Clinton seemed completely unflustered, which is what her fans love about her. How this all plays to the majority of viewers and voters at home will be in the eyes of the beholder."
But then the longtime TV pro observed that Trump didn't play to the camera, which, remarkably gave the nation an unfiltered glimpse of what a President Trump could be like. "I was surprised by how much this man who has made so much of the means of television spent not looking into the camera, but preoccupied with his adversary," Rather wrote. "Trump came across as amped, a pacing tiger ready to pounce on every answer. His interruptions suggests little regard to the rules. He's itching for a fight. Wants to swing wildly." America's founders hated "demagogues who would appeal to mankind's basest instincts," Rather concluded. "Donald Trump relishes in all of these impulses. For him they are instinctual and a prescription for success… The voters have all the information they need."
4. Trump launches new sexist tirade against women. Trump seemed even more out-of-control on Tuesday morning. First he complained that he had a defective microphone, which magnified his sniffling (which prompted a social media storm pondering if he had used cocaine before the debate). As Clinton told reporters Tuesday, if you're blaming the microphone, you're in trouble. But more importantly, Trump ignited a new misogynist line of attack by going on national TV and attacking a former Miss Universe for gaining weight—after Clinton brought her up during the debate as an example of another woman who had poorly treated, in this case, a member of a key demographic that may help Clinton win Florida and Nevada: Latinas. As the Washington Post's Greg Sargent tweeted, "Clinton camp just lured Trump into ridiculing a woman's weight. Amazingly, he took the bait on national TV."
Sargent's WaPo column elaborated, "On Fox and Friends today, having slept on the exchange in question, Trump defended himself this way: "I know that person. That person was a Miss Universe person. And she was the worst we ever had, the worst, the absolute worst, she was impossible… She gained a massive amount of weight, and it was a real problem. We had a real problem. Not only that, her attitude… Hillary went back into the years and found the girl and talked about her like she was Mother Teresa, and it wasn't quite that way. But that's okay."
By midday Tuesday, Alicia Machado was on her way to being a media star—much like the Khan family, who lost a soldier son in Iraq and told the Democratic Convention that Trump had no respect for Muslims nor the U.S. Constitution. Trump subsequently attacked them, violating an unspoken rule in politics that one never degrades a deceased veteran. Machado had a national press call orchestrated by the Clinton campaign, and was featured in a Cosmopolitan magazine photo shoot. Once again, Clinton showed that she was the better strategist and combatant than Trump, provoking and entrapping the supposedly great dealmaker.
5. Trump and allies claims instant poll victory, but real conservatives say not so fast. As expected, Fox News found a tenuous and twisted way to declare Trump the debate victor on Tuesday. Fox News Politics had this headline, "Online votes declare Trump debate winner, despite media consensus for Clinton." Trying to sound authoritative, their piece cited the most pro-Trump sources imaginable, including the media group run by Trump's campaign chair. "The Drudge Report online vote had 80 percent of respondents giving the victory to Trump, and a Time.com survey had the Republican nominee leading Clinton by 4 percentage points—52 percent to 48 percent—after more than 1,300,000 votes were cast. CNBC and Breitbart votes also had Trump winning the event, at New York's Hofstra University. A Fox News online vote had Trump winning with 50 percent of respondents, Clinton at 35 percent and the other 15 percent declaring no one won."
That last "statistic" is pretty amazing. A third of Fox viewers, who live in that right-wing gated community, agreed she won. Fox then inserted this disclaimer in its report. "The online surveys are not scientific and, in many cases, supporters of either candidate can cast multiple ballots." Trump is the candidate warning about voter fraud, after all. But even this propagandizing was too much for the conservative Weekly Standard, which posted a piece telling its audience not to trust Drudge and Fox on this one: The Standard's Jay Cost wrote, "After the debate, Donald Trump and his campaign have claimed that the Republican nominee won—according to all the polls. One new press release from Trump's campaign says he 'leads post-debate surveys.' It's not true. CNN and YouGov gave the win to Hillary Clinton, while the Drudge Report poll, among several others, had Trump winning handily. Which of these to trust? The Drudge Report poll is not a scientific poll, and therefore its results do not tell us anything about what America as a whole thought. The same is true of other polls like those conducted by Time, CNBC, and the Washington Times. These polls are of no value for gauging public opinion."
6. The real evidence suggests Clinton will get a bounce. In contrast to the Trump bubble, the early evidence suggests that Clinton will benefit from the debate. The infinitely more reputable pollster, Nate Silver, at fivethirtyeight.com said that Clinton got the third biggest post-debate bounce on record, according to a reputable CNN poll. "Start with a CNN poll of debate-watchers, which showed that 62 percent of voters thought Clinton won the debate compared to 27 percent for Trump—a 35-point margin. That's the third-widest margin ever in a CNN or Gallup post-debate poll, which date back to 1984," Silver said. This trend was likely to be seen in more follow-up polls in coming days, he added. "This time, pundits and pollsters seem to agree on the Clinton win… the correlation between the instant-reaction polls and the eventual effect on horse-race polls has actually grown stronger in recent election cycles, perhaps because the conventional wisdom formulates itself more quickly."
Silver also tweeted that Google searches about donating to Clinton's campaign picked up during the debate and outpaced Trump. "Search terms for donating to Clinton spiked somewhat higher than those for Trump during the debate," he tweeted. "About 2x as many searches for 'donate hillary clinton' than 'donate donald trump' over past 24 hours, for instance," he tweeted later in the day.
What's Next?
As the Washington Postreported late Tuesday, echoing Dan Rather's observation, the debate probably satisfied and energized core constituencies of both candidates. "Less certain was how the debate might shape the perceptions of the slivers of the electorate still up for grabs, especially college-educated white women," WaPo noted.
While Trump's newfound attack on the former Ms. Universe is likely to tilt more women against him, there are other key demographic groups whose support Clinton needs to win in November. Millennials, or those under age 35, overwhelmingly don't like Trump. But it is an open question whether Clinton's calls for addressing college tuition (including loan refinancing) and institutional racism will prompt them to turn out and vote for her. The same holds true for first time voters in communities of color, who clearly find Trump offensive but have yet to vote. By this weekend, reliable pollsters will have reports on what these key voting blocks are thinking.
Photo: Republican U.S. presidential nominee Donald Trump speaks as Democratic U.S. presidential nominee Hillary Clinton looks on during their first presidential debate at Hofstra University in Hempstead, New York, U.S., September 26, 2016. REUTERS/Lucas Jackson