Bigoted Heritage: At Right-Wing Think Tanks, Racism As Usual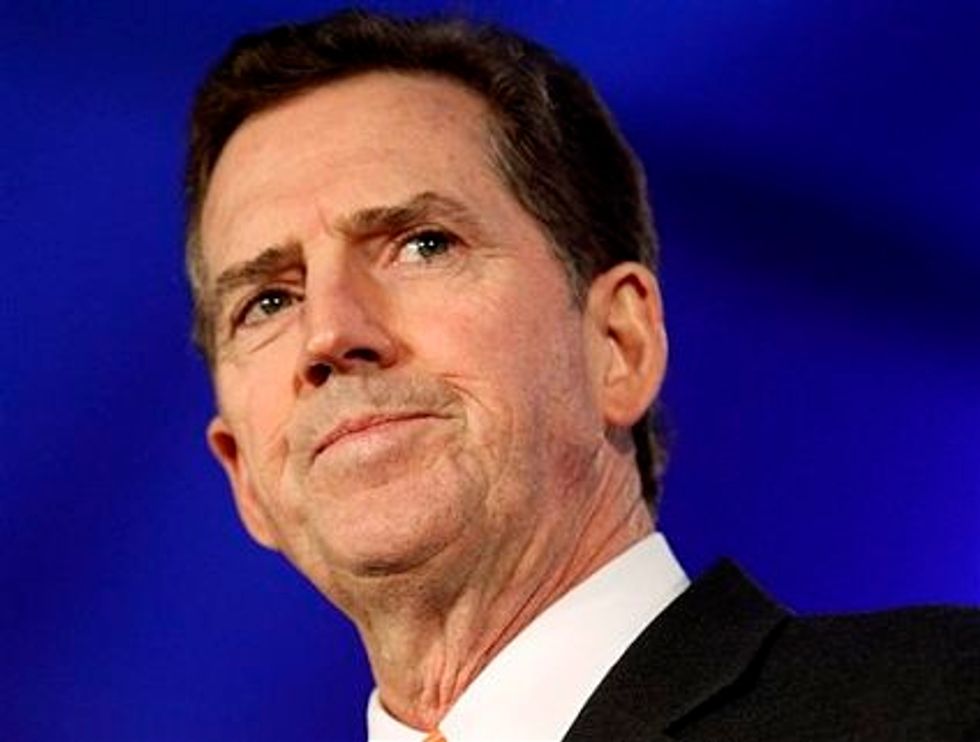 The exposure of a Heritage Foundation research analyst as a proponent of racist theories reopens a troubling intellectual history that the right-wing think tank and its Republican allies would rather not discuss. This fresh embarrassment poses yet another obstacle for Republican leaders who are supposedly seeking to erase their party's polarizing reputation and to connect with non-white voters.
Now led by former South Carolina Republican senator Jim DeMint, the team at Heritage – a lavishly funded Washington outfit long known for propagandistic research studies – certainly didn't advance the Republican outreach effort last week. With a thinly sourced new study that claimed immigration reform would bankrupt the country with trillions of dollars in additional social welfare costs, they undermined Heritage's fragile integrity and offended the Latino voting bloc.
However flimsy, the report certainly reflected a deep split within Republican ranks over immigration policy. What made matters far worse was the subsequent revelation in The Washington Post that Jason Richwine, the study's co-author, had asserted in his 2009 Harvard doctoral dissertation that Latino immigrants are not only less intelligent than America's "white native population," but that their descendants can be expected to suffer from "low average IQ" – a condition he described as "effectively permanent."
Following the Post article on Richwine's dissertation, Yahoo News reported that he has posted inflammatory articles on a "white nationalist" website, Alternative Right, comparing crime rates among Hispanics, whites, and blacks. "The reality of Hispanic crime," he concludes, "should be one of the many factors we consider when setting immigration policy."
Seeking to control the damage from these revelations, Heritage quickly released a statement disowning Richwine's racial theories. "This is not a work product of The Heritage Foundation. Its findings in no way reflect the positions of The Heritage Foundation," said Heritage official Mike Gonzalez in a statement. "Nor do the findings affect the conclusions of our study on the cost of amnesty to the U.S. taxpayer."
But the true history of the Heritage Foundation – and of the American Enterprise Institute, the other major think tank where Richwine enjoyed a sinecure – reflects the ugly racial bias that has long disfigured the right in this country.
Scandalous links between the racist far right and allegedly respectable conservative institutions date back to Heritage's earliest days in the 1970s, when the editorial board of Policy Review, its monthly publication, featured the notorious racial theorist Roger Pearson. Shortly after the Post reported Pearson's role at Heritage, the think tank dumped him. But in the decades that followed, Heritage still lionized racially divisive politicians like Jesse Helms, the late Republican senator from North Carolina, awarding him its "highest honor" in 2002 and depicting him as an "indispensable patriot" when he died in 2008.
Over at the American Enterprise Institute, where Richwine's anti-Hispanic essay still adorns its website, racist "scholarship" is likewise encouraged and disseminated. Charles Murray, author of The Bell Curve, an infamous work of pseudo-science that argues the genetic inferiority of blacks and Latinos, has been based at AEI for more than 20 years. Dinesh D'Souza held a fellowship there when he wrote The End of Racism, a book-length screed urging the repeal of basic civil rights statutes and endorsing racial discrimination by businesses, landlords, and private citizens. While D'Souza's work provoked the resignations from AEI of black conservatives Robert Woodson and Glenn Loury, he eventually moved on to yet another conservative think tank, the Hoover Institution.
These dubious organizations — which continue to provide the intellectual ballast for the Republican Party – have emitted a spreading cesspool of academic and political racism for decades. When I published Big Lies in 2003, I examined how the arguments of Murray and D'Souza had defined a "mainstream conservative position on race" that promoted bigotry and undermined civil rights. Ten years on, despite all the talk of a kinder, gentler GOP, nothing has really changed.
AP Photo/Patrick Semansky, File