Bill O'Reilly Bullies Police Officer Dating His Ex-Wife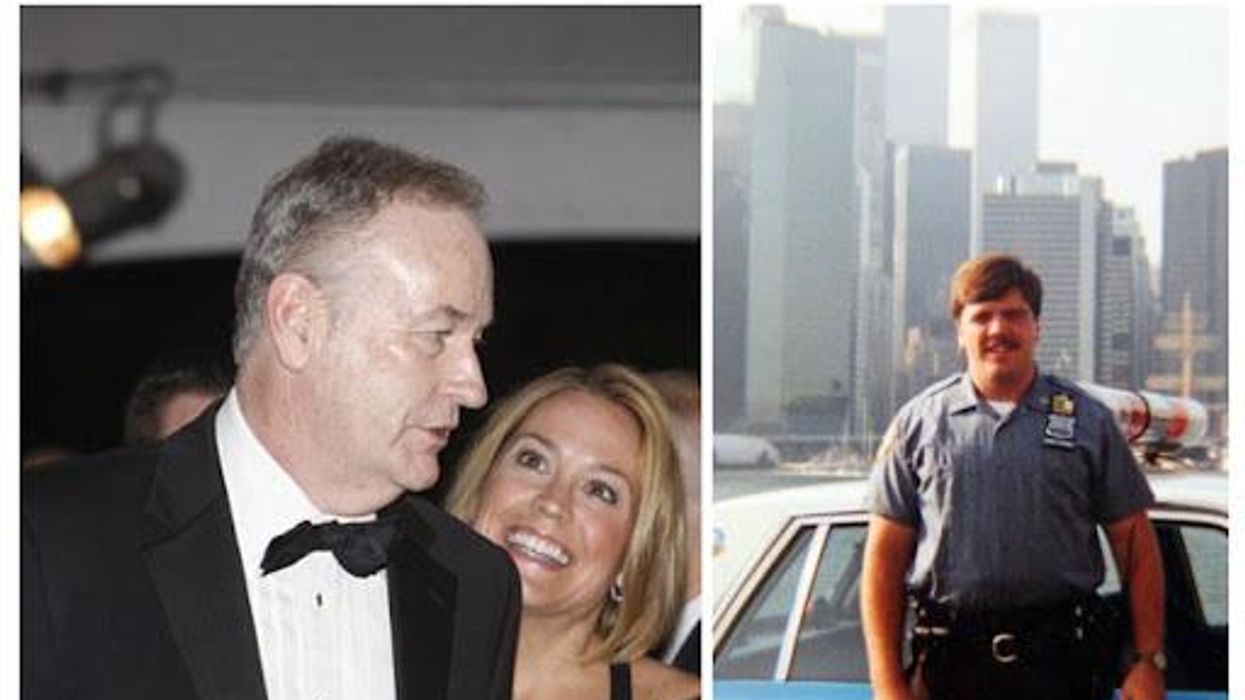 On Tuesday, investigative reporter John Cook reported on the Gawker website that Fox News pundit Bill O'Reilly had pushed his local police department to investigate an officer who allegedly dated O'Reilly's wife while they were separated.
Cook reports that Richard Harasym, an Internal Affairs detective in the Nassau County Police Department in O'Reilly's hometown, was ordered to help O'Reilly's private detectives investigate an officer in the department who was romantically involved with O'Reilly's wife, Maureen O'Reilly (nee McPhilmy). The commissioner of the police department at the time, Lawrence Mulvey, is described as a friend of O'Reilly's and was allegedly expecting him to make a large donation to the police department's nonprofit organization. After declining that assignment, Harasym was reportedly transferred out of the Internal Affairs department. Gawker's sources say that he was transferred because he refused to help O'Reilly.
Internal Affairs is intended to investigate police misconduct, and dating a married woman — though perhaps immoral — is not police misconduct. And the officer in question may not have even been dating a married woman. O'Reilly's nephew, according to Cook, mentioned to staffers at Fox News that McPhilmy started dating the officer while she and O'Reilly were already in a trial separation. Indeed, McPhilmy bought a house under her maiden name last year, and O'Reilly has not been wearing his wedding ring this year — suggesting that they intend to split up, if they haven't already.
It's not hard to see why McPhilmy and O'Reilly may have decided to call it quits. In 2004, O'Reilly was accused of sexually harassing Andrea Mackris, a young producer on his Fox News show The O'Reilly Factor. Among other things, he allegedly called Mackris on the phone and told her steamy sexual fantasies — including one involving falafel — while masturbating with a vibrator. The parties later settled out of court.
But it wasn't all fun and games. When Mackris considered exposing O'Reilly's harassment, he allegedly threatened to enlist his Fox News connections to ruin her life:
"If you cross Fox News Channel, it's not just me, it's [Fox President] Roger Ailes who will go after you. … I'm the street guy out front making loud noises about the issues, but Ailes operates behind the scenes, strategizes and makes things happen so that one day BAM! The person gets what's coming to them but never sees it happen. Look at [prominent Fox News critic] Al Franken, one day he's going to get a knock on his door and life as he's known it will change forever. That day will happen, trust me."

O'Reilly and Fox have been known to retaliate against critics in the past. A few years ago, O'Reilly warned a caller on his radio show, "We have your phone number, and we're going to turn it over to Fox security, and you'll be getting a little visit. … Fox security then will contact your local authorities, and you will be held accountable." And after a New York Times journalist reported that Fox News had lower-than-expected ratings, rumors began to surface that he had spent time in rehab before writing the article.
Fox still appears to be in the business of intimidation, judging by their numerous on-air attacks against John Cook and his employer, Gawker. But Cook says he's not worried about retaliation from Fox News. "I've never been to rehab or anything like that," he says, "and there's nothing they can say that will embarrass Gawker." Moreover, he says, "They just want this to go away, and if they know that if they do anything to us, we'll just write about it." The one thing that Cook expects from O'Reilly is an interview. "O'Reilly has a history of sending out producers to stop people and get ambush interviews," Cook says. "I'm prepared for that."