Billionaires Reap A Cornucopia Of Farm Subsidy Cash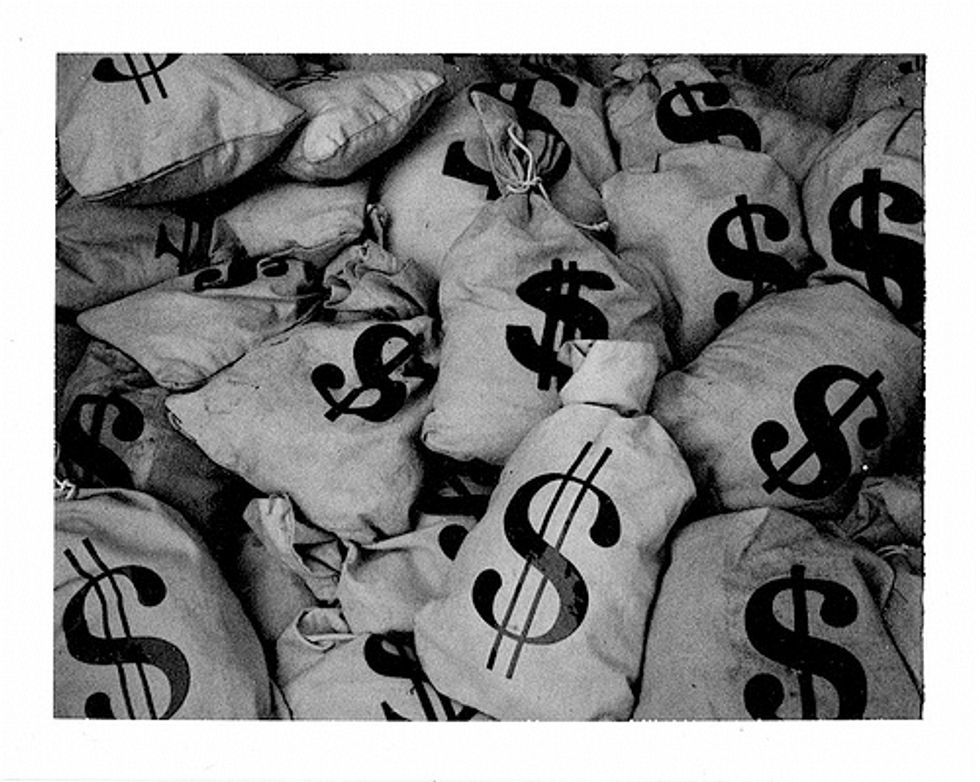 December is a time of many holiday feasts — which makes it a good time to remember family farmers and the tremendous contributions they make to our country, culture, tastebuds and tummies. But not all farmers contribute equally, which is why I'm sending out this special holiday sentiment to one group of unique agriculturalists: Thbbllllttttt!
That raspberry goes out to 50 billionaires who've been farming the U.S. farm subsidy program for years, harvesting a cornucopia of taxpayer cash for themselves or their corporate empires. They include top executives or owners of such diverse entities as Chase Manhattan Bank, Chick-fil-A, DISH Network, Fiji Water, Hyatt Hotels, Microsoft and Victoria's Secret. The diligent watchdogs of the Environmental Working Group matched the "Forbes 400" list of richest Americans with a farm subsidy database to unmask these Gucci-wearing Old MacDonalds. E-I-E-I-O, what a ripoff!
Among the richest of these faux-farmers are three Walmart heirs, whose personal wealth totals $100 billion. Then there's investment huckster Charles Schwab, sitting on a $5 billion wad of wealth, yet pumping half a million dollars' worth of rice subsidies into his California duck-hunting resort. Also, corporate takeover artist Henry Kravis, who has amassed some $5 billion in wealth, took more than a million dollars from us to subsidize safflower, sunflower and other crops raised on two of his ranches.
Especially jarring is the presence of such multibillionaire right-wingers such as oil and entertainment tycoon Philip Anschutz and nuclear waste mogul Harold Simmons. They've expressed disdain for government spending on poor people and other "takers," yet they've gladly taken more than $500,000 each in farm payments.
Actually, the Working Group's tally understates the total haul by these mega-rich tillers of our public treasury, for many also harvest crop insurance subsidies from the Department of Agriculture. But Congress did them the favor of outlawing any disclosure of this list of names to the public, even though it's our money they receive. In fact, the most valuable ag asset that these billionaires have are the congresscritters who pull their legislative plows and carry this farm abundance to them.
Congress is a very poor gardener, for it keeps watering the weeds and pulling the flowers. A conference committee is presently meeting in Washington to hash out a new, five-year farm bill — and what a hash they're making of it!
For some 40 years, one of the most beneficial flowers in the farm-bill garden has been the food stamp program, a symbiotic benefit for poor people who need the food and farmers who need the income they derive from sales generated by the program. Since 2008, when Wall Street crashed our economy, this flower has been especially worthy, keeping millions of knocked-down families from plunging into full-tilt poverty. Yet, with joblessness still raging unabated and poverty increasing, Congress cut $5 billion from food stamp benefits on Nov. 1, and the House now wants to yank an additional $40 billion from it during the next 10 years. Also, in a nasty, gratuitous slap at these hard-hit families, House leaders want to force them to submit to drug testing to receive food.
Meanwhile, the same gardeners are watering the farm program's noxious weeds. Specifically, they're expanding the $14-billion-a-year crop insurance subsidy, turning it into a guaranteed farm income. And guess who'll get the bulk of the benefits? While the House intends to make food stamp recipients prove that their incomes are low enough to qualify for those meager payments, the crop insurance handout requires no means testing and has no limits on how much recipients can get. This means that billionaires, who are only incidental "farmers," will be among the biggest beneficiaries.
You shouldn't be punished for being poor, and you shouldn't be subsidized if you're a billionaire. To help plant some seeds of common sense in American farm policy, contact the Environmental Working Group: ewg.org
To find out more about Jim Hightower, and read features by other Creators Syndicate writers and cartoonists, visit the Creators Web page at www.creators.com.
Photo: dpmshap via Flickr