Billionare Adelson Makes Pro-Trump PAC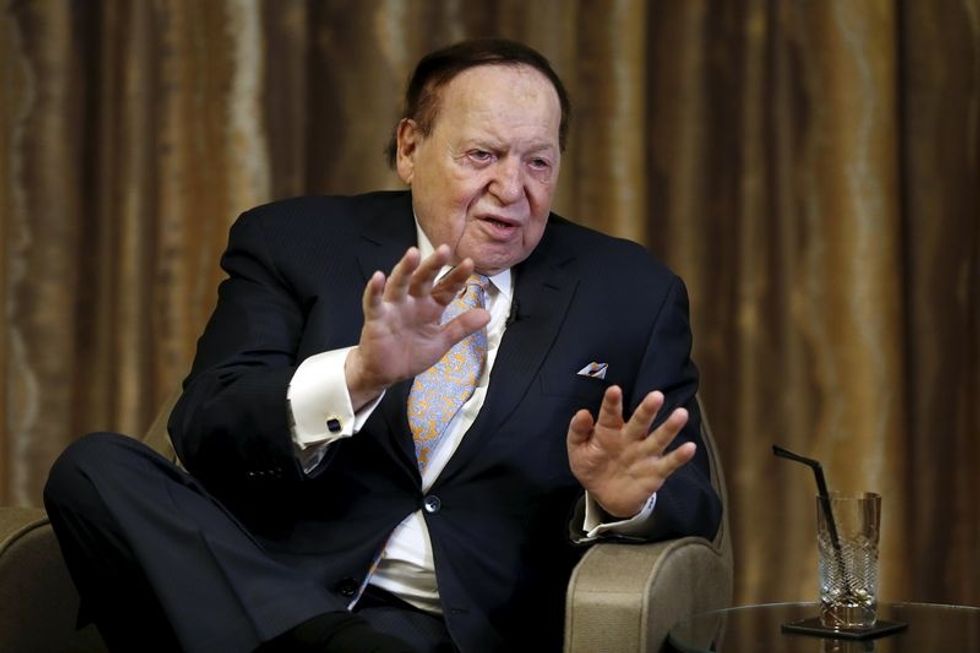 The Wall Street Journal reports Sheldon Adelson, the billionaire casino mogul who spent over $100 million during the 2012 election, plans to establish a super PAC in support of Donald Trump's presidential campaign. Funds raised by the super PAC would also be used to back Republicans in important congressional races.
Adelson has been an omnipresent force in Republican politics for decades. In 2012, he bankrolled Newt Gingrich's failed campaign for the Republican nomination long after Gingrich had a viable change of winning. In 2016, he supported numerous candidates before settling on Trump. Adelson is also known for buying newspapers for use as political organs, both in the United States and Israel, including in January a controversial takeover of the Las Vegas Review-Journal.
According to Politico, Adelson's advisors have been in discussion with GOP bigwigs including New Jersey Gov. Chris Christie; former Rand Paul campaign manager Chip Englander; Josh Holmes, who served as chief of staff for Sen. Mitch McConnell; and former executive directors of the Republican Governors Association (a crucial fundraising organ for the party) Nick Ayers and Phil Cox.
The emergence of Adelson's PAC couldn't be more timely — the GOP's heaviest donors have voiced concern about giving to the two pro-Trump super PACs that already exist. Adelson, whose net worth is reported to exceed $25 billion and who Forbes ranks as the 22nd richest person in the world, could provide the name and pseudo-face necessary to get high-dollar Republicans to open their wallets for a candidacy many are reluctant to support.
Creation of the PAC should ease the qualms of Gov. Christie, who has argued for the operational benefits of running a centralized fundraising operation as opposed to a scattered array of many smaller ones. Since relinquishing his own presidential campaign, Christie, who has come forth as an ardent supporter of Trump and is leading the presumptive nominee's White House transition team, has been a strategically key figure for the conceptual PAC, coordinating discussions between donors and consultants.
Christie also received the ticket revenue, to pay off campaign debts, from a Trump event thrown in his honor in New Jersey. Though Trump rarely sells tickets to his speeches, Christie's loyalty and advice — and his use as an Oreo punchline — were worth it.
Adelson plans to form an all-star team of top-tier political strategists to instill a sense of confidence in the Trump campaign that hasn't been felt by the party's elite.
The New York Times reports Adelson, who withheld support during most of the nominating process, came out in support of Trump at a gala dinner for the World Values Network, a Jewish organization, in early May.
"Yes, I'm a Republican, he's a Republican. He's our nominee," Adelson said. "Whoever the nominee would turn out to be, any one of the 17 – he was one of the 17. He won fair and square."
The Times reports that during a meeting with Trump the following week, Adelson pledged at least $100 million in support of Trump's campaign.
Later, in an op-ed penned for the Washington Post, Adelson wrote: "I am endorsing Trump's bid for president and strongly encourage my fellow Republicans — especially our Republican elected officials, party loyalists and operatives, and those who provide important financial backing — to do the same."
The Associated Press reports Adelson also wrote an email to 50 Jewish Republican leaders asking for their support on behalf of Trump. Adelson wrote that a meeting with Trump left him "specifically convinced [Trump] will be a tremendous president when it comes to the safety and security of Israel."
Trump's schismatic language, such as comments about of banning Muslim immigrants, irked many members of the Republican Jewish Coalition, which includes many top GOP donors who backed other candidates during the primaries.
"Like many of you," Adelson wrote, "I do not agree with him on every issue. However, I will not sit idly by and let Hillary Clinton become the next president. The consequences to our country, and Israel, are far too great to take that risk."
In his endorsement, Adelson referenced the "tooth and nail" fight Republicans have waged against the Obama administration for nearly a decade. "We waged battles over debt, government spending, Obamacare and the Iran nuclear deal," he wrote, noting the "paramount importance" of Obama having lifted sanctions on Iran.
"The alternative to Trump being sworn in as the nation's 45th president is frightening."
"If Republicans do not come together in support of Trump, Obama will essentially be granted something the Constitution does not allow – a third term in the name of Hillary Clinton."
Although Clinton's support for Israel has proven steadfast over the years, apparently her stated allegiance to Israeli Prime Minister Benjamin Netanyahu isn't enough to ease Adelson's concerns that a Clinton presidency would be "Obama Part III," which — as is reflected in Adelson's Post editorial — extends beyond U.S. relations with Israel.
The once-solid alliance between Israel and the United States has indeed faltered under the Obama administration: Obama and Netanyahu aren't on friendly terms, to say the least, and Obama's less-that-total support for Israel in that country's century old conflict with neighboring Palestine led to charges of abandonment last year from Michael Oren, former Israeli ambassador to Washington.
Former Massachusetts governor Mitt Romney made similar comments during his run for the presidency in 2012, backed with $100 million of Adelson's money.
On Tuesday The Jerusalem Post reported senior Israeli government officials, worried Obama will try to pass a UN Security Council resolution during his final days in office, have actually reached out to advisors of Clinton and Trump to begin lobbying against U.S. involvement in an international peace effort.
Trump has voiced neutrality on the issue. He claims his experience as a businessman proves his qualification to broker a peace deal between the two nations.
During an interview with The Associated Press in December, Trump said, "A lot will have to do with Israel and whether or not Israel wants to make the deal — whether or not Israel's willing to sacrifice certain things. They may not be, and I understand that, and I'm OK with that. But then you're just not going to have a deal."
In March, Clinton denounced Trump's unbiased approach during a speech given to the American Israel Public Affairs Committee.
"America can't ever be neutral when it comes to Israel's security or survival," Clinton said. "We can't be neutral when rockets rain down on residential neighborhoods, when civilians are stabbed in the street, when suicide bombers target the innocent. Some thing's aren't negotiable."
On this issue, high-ranking GOP officials, and many in the Republican Jewish Coalition, agree with the former Secretary of State. Speaking to Jerusalem Post, a senior Republican aide said, "When leadership talks, and they're discussing whether or not to endorse [Trump], one of the first things they go back to is: 'I'm not neutral when it comes to Israel and the Palestinians."
Sheldon Adelson wants to send Trump on a trip to Israel before the GOP convention, which begins July 18.
Photo: Gambling giant Las Vegas Sands Corp's Chief Executive Sheldon Adelson speaks during an inteview with Reuters in Macau, China, December 18, 2015. REUTERS/Tyrone Siu