Billions And Counting: Mounting Cost Of U.S. War On IS Militants
@AFP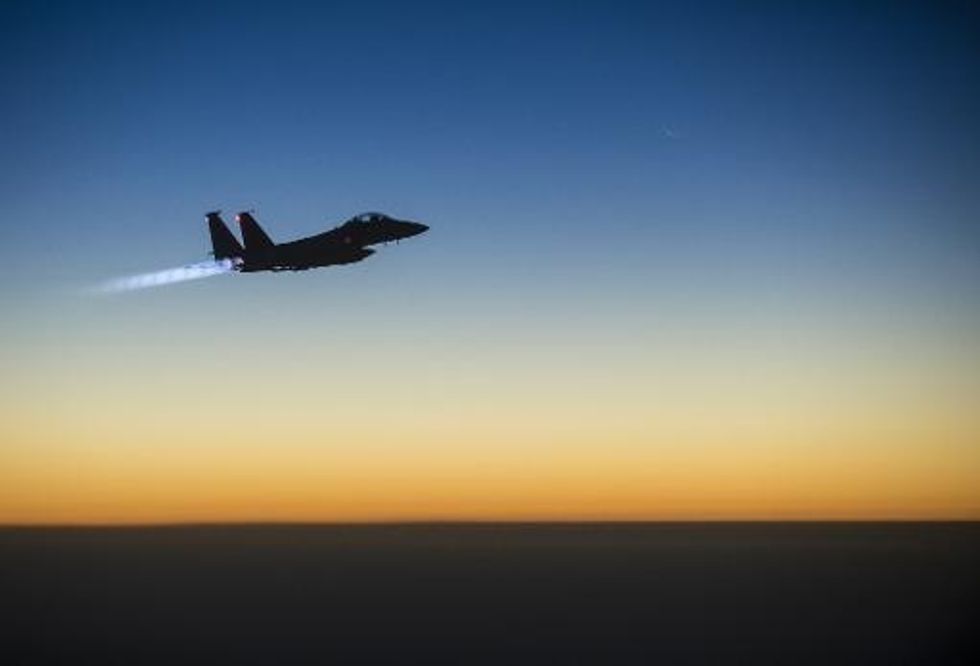 Washington (AFP) – The widening U.S. air war against Islamic State jihadists in Syria and Iraq will cost more than the 2011 Libya conflict and the price could rise to a billion dollars a month, experts said Thursday.
The Pentagon estimated in August the operation in Iraq could cost an average of about $7.5 million a day, but even U.S. defense officials acknowledge that estimate is low and came before President Barack Obama ordered a broader campaign extending into Syria.
Taking into account the larger-scale air operations over Syria, the wear and tear on hi-tech hardware and the cost of even a small troop contingent in Iraq and the region, some budget analysts and former officials say the war's annual cost could rise to more than $10 billion.
"I think you're talking double-digit billions, not single-digit billions," Jim Haslik, a senior fellow at the Atlantic Council, told AFP.
On the first night of air strikes against the IS group in Syria this week, the United States launched 47 Tomahawk cruise missiles from ships at sea and deployed sophisticated F-22 Raptor fighter jets.
Each missile costs about $1.5 million and the F-22 jets cost roughly $68,000 an hour to fly.
The rising costs, however, pale in comparison to the massive funding required to cover the drawn-out counter-insurgency campaigns in Iraq and Afghanistan over the past decade.
"It's still small relative to Afghanistan," said Todd Harrison of the Center for Strategic and Budgetary Assessments.
The bill for the war in Afghanistan comes to a billion dollars a week. The 2003 invasion of Iraq and the subsequent occupation through 2011 cost more than a trillion dollars, according to some estimates.
Even with Obama's vow not to send ground troops into combat, 1,600 soldiers are now in Iraq guarding U.S. diplomats, coordinating air raids and advising Iraqi forces.
Most analysts and former commanders expect that number to creep up as the war continues, adding more costs.
And the White House has stressed that the mission to smash the Islamic State group will likely take months, if not longer.
"It's too soon to say what we will be able to accomplish, and how quickly we might be able to accomplish it," said Harrison.
In the NATO air campaign in Libya in 2011, the U.S. share of the roughly seven-month operation came to about $1 billion.
But after the first few days, the United States pulled back from conducting air strikes and instead provided support to NATO allies with refueling tankers and surveillance aircraft.
Unlike in Libya, the United States appears poised to play a dominant role this time, even with Arab coalition partners taking part in the bombing raids.
"The back of my envelope says this will cost between $15 and $20 billion on an annual basis or between $1.25 and $1.75 billion a month," said Gordon Adams, a professor at American University and former budget official during Bill Clinton's presidency.
Adams cites the Libya operation as a yardstick, and the billions of dollars that were spent on U.S. air patrols to enforce no-fly zones in Iraq in the 1990s.
Although fighter jets are expensive to operate and precision-guided munitions are not cheap to replace, the biggest drain on the budget comes from the large number of surveillance flights required to support the bombing runs, according to Harrison.
"You're talking a pretty large area that we're trying to keep watch over. That could require a lot of ISR missions on a continuing basis," he said, referring to intelligence, reconnaissance and surveillance.
The Pentagon says it is running 60 surveillance flights a day in Iraq, for an operation that the White House has warned could last three years.
Funds for the air campaign are expected to come out of the Pentagon's catchall war budget, the Overseas Contingency Operations fund.
Separate from the regular defense "base" budget, the OCO fund is often portrayed as a "credit card" to cover the costs of wars.
Congress increased the fund to about $85 billion for the current fiscal year ending this month. But the Pentagon — anticipating the drawdown of troops in Afghanistan — is planning a big drop in the OCO budget for fiscal year 2015, to about $54 billion.
As long as troop numbers remain low though, some experts say the cost of the war may not make a significant dent in the Pentagon's budget plans.
"Until there are major ground forces involved, at least 10,000, I don't think this is going to be pricey," said a former Pentagon official who spoke on condition of anonymity.
©afp.com / Senior Airman Matthew Bruch