Bipartisan Group Of Senators Unveil Immigration Reform Plan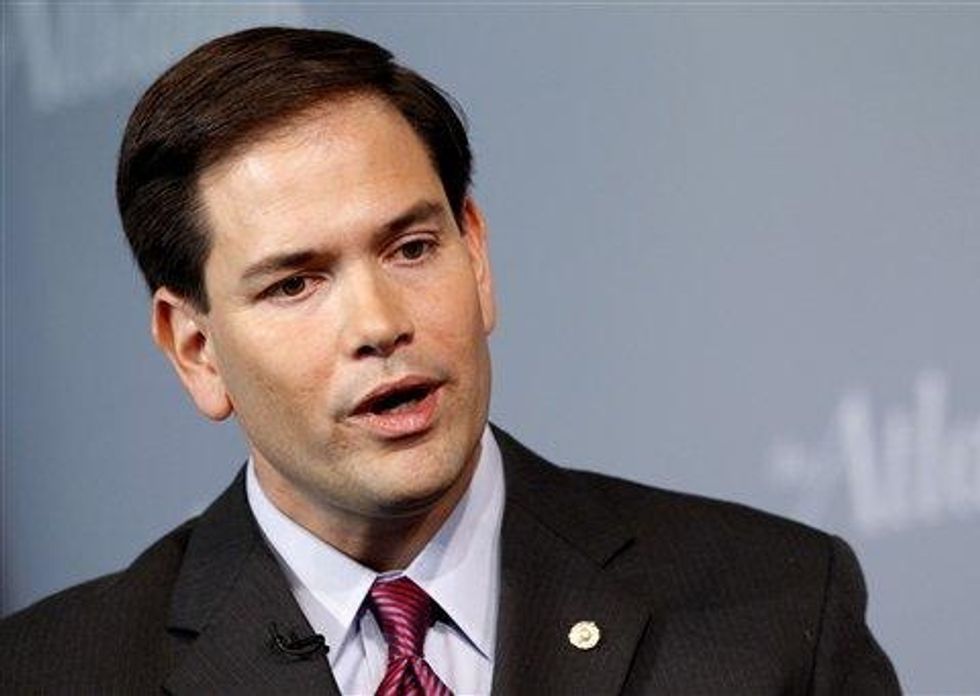 A bipartisan group of eight U.S. senators — Chuck Schumer (D-NY), Bob Menendez (D-NJ), Dick Durbin (D-IL), Michael Bennet (D-CO), John McCain (R-AZ), Lindsey Graham (R-SC), Jeff Flake (R-AZ), and Marco Rubio (R-FL) — unveiled a proposal for comprehensive immigration reform at a Monday afternoon press conference on Capitol Hill.
"We still have a long way to go, but this bipartisan grouping is a major breakthrough," said Senator Schumer.
"This is the first step in what will be difficult, but achievable," Senator McCain concurred. "I think everyone here agrees that it is not beneficial for our country to have these people here hidden in the shadows. Let's create a system to bring them forward, allow them to settle their debt to society and fulfill the necessary requirements to become law-abiding citizens of this country."
The eight senators originally unveiled their plan — which can be read in its entirety here — over the weekend. The plan is built around "four basic legislative pillars":
-Create a tough but fair path to citizenship for unauthorized immigrants currently living in the United States that is contingent upon securing our borders and tracking whether legal immigrants have left the country when required;
-Reform our legal immigration system to better recognize the importance of characteristics that will help build the American economy and strengthen American families;
-Create an effective employment verification system that will prevent identity theft and end the hiring of future unauthorized workers; and,
-Establish an improved process for admitting future workers to serve our nation's workforce needs, while simultaneously protecting all workers
The first pillar — creating a path to citizenship for the more than 11 million undocumented immigrants currently living in the United States — is by far the most controversial. Under the senators' plan, undocumented immigrants would receive temporary legal status after registering with the federal government, undergoing a background check, and paying a fine and back taxes.
Immigrants under probationary status would be unable to earn a green card until a commission comprised of governors, attorneys general, and community leaders from Southwestern states determine that new border security measures — including the increased use of unmanned aerial drones — have been successfully implemented. At that point, the immigrants would be placed at the "back of the line" for a green card, behind those who have already applied legally.
Whether the commission's recommendations are binding will have a huge impact on the effectiveness of the plan. Although Senate staff told The Washington Post's Greg Sargent that the enforcement commission's judgments will only be advisory, Senator Rubio declined to confirm that at the press conference. As Sargent points out, "If this commission had the power to dictate when the citizenship process begins, it could endanger the entire enterprise by giving people like Jan Brewer veto power."
The plan would make it easier for certain groups of immigrants to obtain legal status. Those eligible for the DREAM Act — which Republicans have repeatedly blocked in Congress — would not face the same requirements. Furthermore, undocumented immigrants who work in the agriculture industry will be exempt from the requirements "because of the role they play in ensuring that Americans have safe and secure agricultural products to sell and consume." Finally, any immigrant who receives a PhD or master's degree from an American university in science, technology, engineering, or math would automatically receive a green card.
Each of the senators to speak at the press conference expressed optimism that an agreement could be reached. "The politics on this issue have been turned upside-down," Senator Schumer said. "For the first time ever, there is more political risk in opposing immigration reform than in supporting it. We believe we have a window of opportunity to act, but we will only succeed if the effort is bipartisan."
Similarly, Senator Menendez asserted that there's a "spirit and commitment" around immigration reform "we haven't seen in some time."
That four high-profile Republicans have signed on to an immigration plan including a path to citizenship represents a dramatic shift from the party that just ran a presidential candidate whose immigration plan boiled down to making immigrants so miserable that they'd "self-deport."
As Senator McCain made clear on ABC's This Week on Sunday, after President Obama won nearly 70 percent of Latino voters in the 2012 election, the GOP finally realized that it needs to moderate its stance on immigration.
"Look at the last election," McCain said. "We are losing dramatically the Hispanic vote, which we think should be ours, for a variety of reasons, and we've got to understand that."
There is reason to believe that immigration reform alone won't solve the Republican Party's problems with Latino voters, however. McCain and the GOP may think that Latino voters should be theirs, but according to a Pew poll from last April, Latinos are actually significantly more likely than the general public to describe themselves as liberal. While dropping their extreme immigration positions couldn't hurt Republicans' standing with Latino voters, as long as 75 percent of Latinos favor a "bigger government providing more services," they are unlikely to become a reliable Republican constituency.
There is also reason to doubt whether a plan providing a "path to citizenship" can pass through the Republican-controlled House of Representatives. Although McCain said at the press conference that he's "encouraged" by Speaker John Boehner's initial response, some conservative congressmen — such as Rep. Raul Labrador (R-ID) and Rep. Lamar Smith (R-TX) — have already signaled their opposition.
President Barack Obama, on the other hand, is almost certain to be onboard with the plan. Senator Durbin asserted at the press conference that "I think we have clear presidential support here," a notion that White House Press Secretary Jay Carney supported at his daily briefing earlier in the afternoon.
"This is a big deal. This is an important development," Carney said, before noting that the bipartisan framework includes "principles that mirror the president's blueprint" for reform.
President Obama is scheduled to put forth his own immigration proposal on Tuesday at an event in Las Vegas.
Photo credit: AP/Haraz N. Ghanbari, File