A Birther No More? Trump Makes Maximum Donation To Ted Cruz's PAC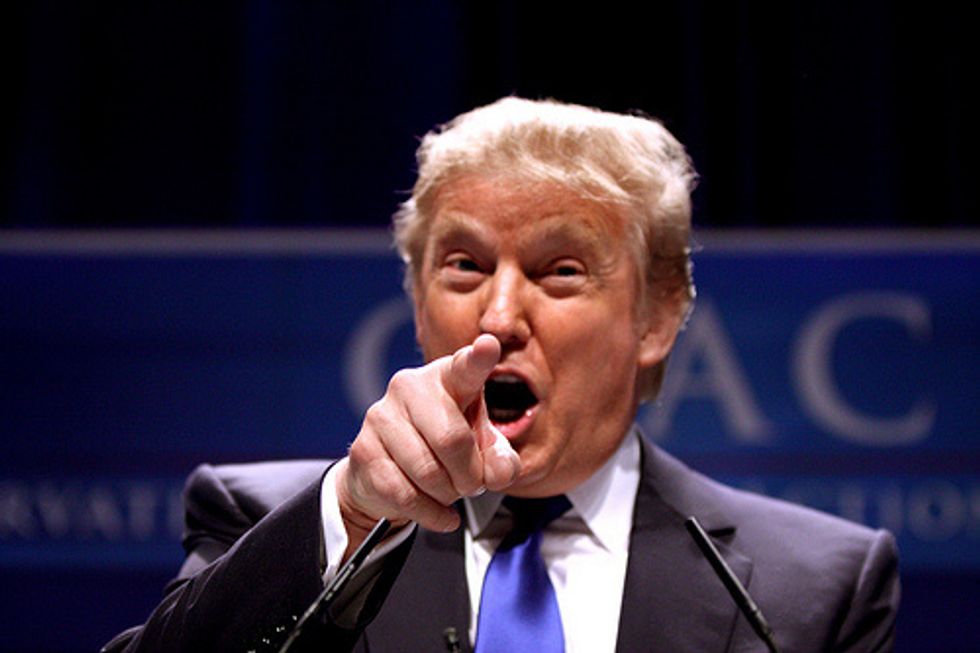 Donald Trump may not be sure if Senator Ted Cruz (R-TX) is eligible to be president, but he has no problem giving the Tea Party hero a chunk of his fortune.
According to a report in The Hill, Trump has donated $5,000 — the maximum legal amount under current election law — to Senator Cruz's political action committee, the Jobs Growth and Freedom Fund.
If the PAC's previous spending habits are any indication, Trump's $5,000 will mainly go toward paying various political consultants.

Chart via Center for Responsive Politics
Although contributions make up the smallest part of the pie, Cruz's PAC has donated $23,800 to nine politicians. Trump will surely be heartened to learn that two of them — Senator James Inhofe (R-OK) and Rep. Steve King (R-IA) — have joined his birther quest to prove that Barack Obama is not eligible to serve as president.
Cruz, who was born in Canada but is a natural born citizen because of his American mother, has also faced birther-themed questions. In August 2013, Trump himself answered a question about Cruz's eligibility to be president by saying, "If he was born in Canada, then perhaps not." (As usual, Trump is wrong.)
What convinced Trump to shift from birther attacks to writing checks? According to The Hill, he was won over by Cruz's disastrously failed plan to force a government shutdown in the hopes of blackmailing Democrats into dismantling the Affordable Care Act.
"He took a stand recently, that if he had just a little backing — and Ted and I have spoken about this — from other Republicans … he would have negotiated one hell of a deal," Trump said of the shutdown plan during a February speech at the Palm Beach County Republican Party's Lincoln Day Dinner. "It might not have ended Obamacare, but you would have really gotten a big chunk out of it."
Trump's admiration for Cruz's shutdown plan puts him in a small minority. Much like the idea of Donald Trump running for public office, the scheme was cheered by only a tiny segment of the American fringe — including Donald Trump.
Photo: Gage Skidmore via Flickr