Bizarre Meets Bland: Eastwood's Monologue Disrupts Romney's Big Moment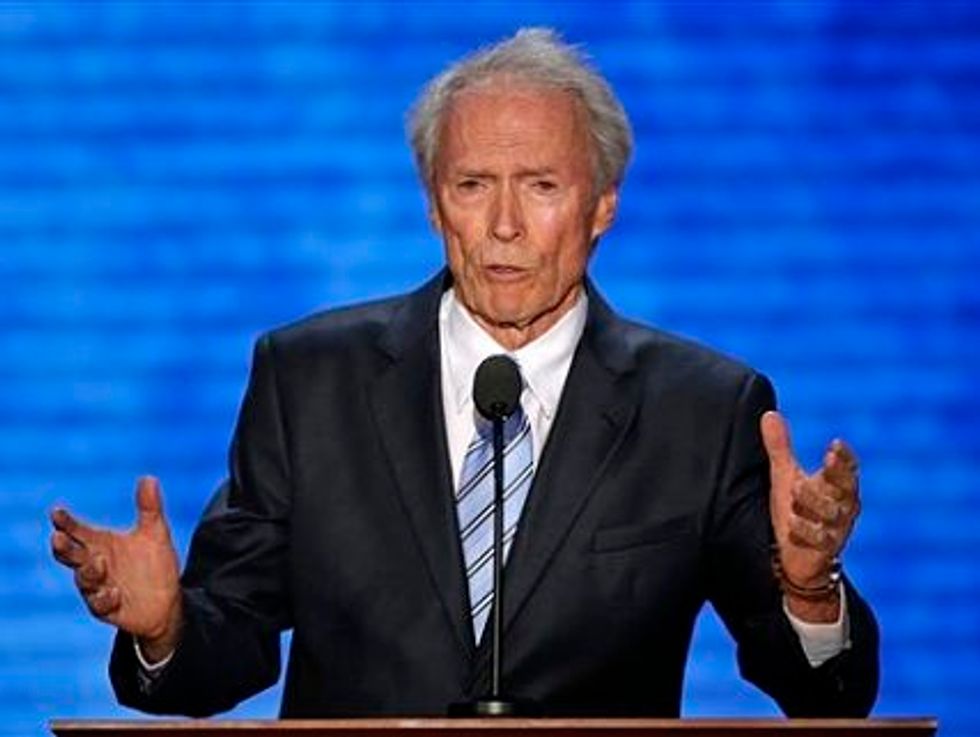 Not long before he ascended the stage in Tampa last night to celebrate his triumph, Mitt Romney's very difficult task became almost impossible. While delivering one of the least memorable acceptance speeches of any presidential nominee in memory, he  suddenly had to extricate his party's convention from the strange shadow cast over the proceedings by Clint Eastwood.
The great director's right-wing political opinions are hardly surprising after all these years, but his performance preceding Romney's big moment was so tasteless, so juvenile, so incoherent as to inspire a sort of awe. While pretending an empty chair was the president, quipped writer Jamelle Bouie, Eastwood epitomized cranky conservatism: "An old white man arguing with an imaginary Obama."
The imaginary Obama showed up in Romney's address too, although in a far less entertaining guise. He's the nonexistent president who threw Israel under the bus, demeaned American success, and apologized for America in a tour around the globe. Romney himself showed up in the speech; although he barely mentioned his experience in government as chief executive of Massachusetts; so did his entire family, including those venerable ancestors who survived on the government dole after fleeing Mexico; then the late Neil Armstrong; Apple genius Steve Jobs, who actually offered to help Obama's re-election campaign before his untimely death; the unemployed, to whom he pledged 12 million jobs during his first White House term; various female Republican officeholders or former officeholders; Jimmy Carter; Fidel Castro, Vladimir Putin, and Osama bin Laden; and the retired Episcopal priests who benefited from Bain Capital's investments. More relevant figures, like George W. Bush, were understandably omitted.
As that old Republican favorite Winston Churchill might have said, "This pudding lacks a theme."
With so much extraneous, disconnected material crammed into his speech, there wasn't much time left for the nominee to explain how he planned to produce those 12 million jobs, which would exceed the four-year record of Bill Clinton, job-creating champion of all postwar presidents. Undecided voters listening to Romney as he stung Obama and slung promises probably heard little that eased their skepticism toward him.
The most revealing aspect of the speech was Romney's defensive response to the president's attacks on his Bain Capital career – which he tried to redefine as an attack on "success." Clearly he and his handlers believe those attacks have cut deeply and could not be left unanswered as he sought to reintroduce himself. But by renewing the discussion of Bain – and staking his political profile on the private equity firm – he reopened all the topics that have damaged him so badly, from hidden tax returns and offshore investments to the ruthless business practices that made him rich.
Lacking a theme and a plan, this acceptance speech seemed unlikely to liberate Romney from the disabling image that prevents him from overtaking an incumbent still weakened by economic stress.
Photo Credit: AP/J Scott Applewhite