Black Friday Crowds Thin After U.S. Stores Open On Thanksgiving
@reuters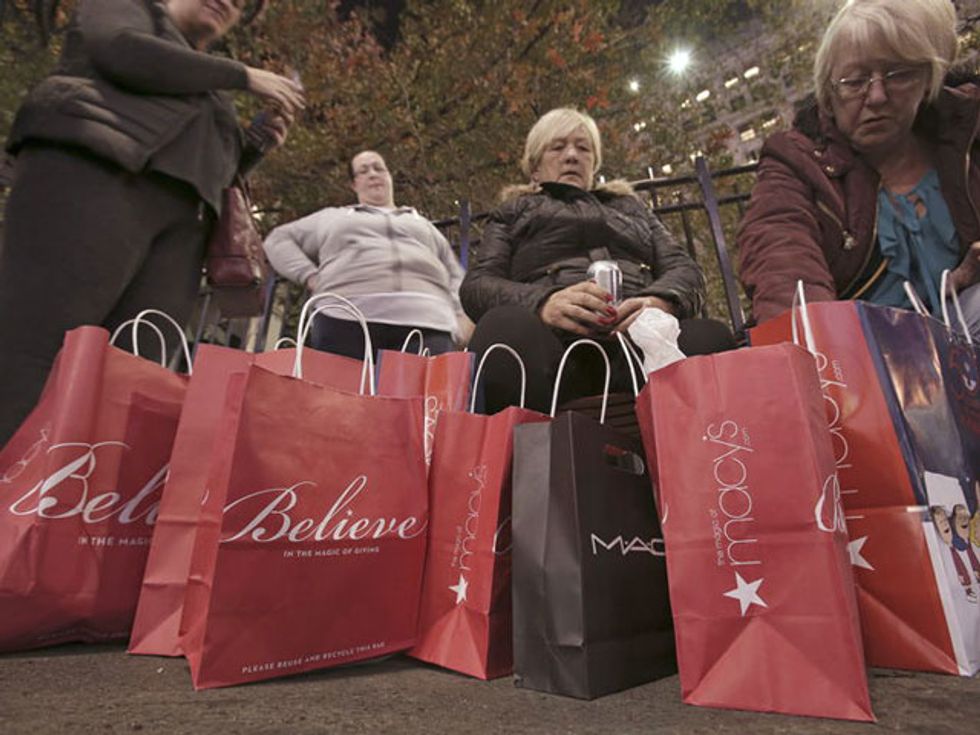 By Nathan Layne and Nandita Bose
PITTSBURGH/CHICAGO (Reuters) — Crowds were thin at U.S. stores and shopping malls in the early hours of Friday, initial spot checks showed, as shoppers responded to early Black Friday discounts with a mix of enthusiasm and caution.
Many shoppers headed out to stores on Thanksgiving evening, a month before Christmas, reflecting the new normal in U.S. holiday shopping, which was traditionally kicked off the next day, Black Friday.
In an effort to attract the most eager holiday shoppers and fend off competition from Amazon.com Inc (AMZN.O), U.S. retailers have increasingly extended their holiday deals by opening stores on the evening of Thanksgiving.
"It's still early, and from what we are seeing so far the crowds are good but not great," Craig Johnson, president of Customer Growth Partners, said late on Thursday. The retail consultancy had 18 members studying customer traffic in different parts of the country.
Milagros Munez, 39, a law clerk, was shopping for toys at the Target store in New York's Harlem neighborhood. "We actually came early this morning to miss the crowds. Now that some stores are open all night, I feel like more people go in the evening."
The Macy's Inc (M.N) store at Water Tower Place mall in Chicago saw thin crowds in the early hours of Friday after a fairly busy Thanksgiving evening, store associates said.
Nia Darrell, a 23-year-old student, was shopping for coats and handbags at the store with two friends.
"I shopped online yesterday and picked up most of what I wanted," she said." I'm out because Black Friday is more like a tradition but the discounts are similar even online this year."
ONLINE SALES STRONG
Shoppers in the United States spent more than $1 billion online, 22-percent more than last year, between midnight and 5 pm ET on Thursday, according to the Adobe Digital Index, which tracked 100 million visits to 4,500 U.S. retail sites.
Many stores around the country were full on Thanksgiving evening. Local media reported brawling shoppers at a packed Kentucky mall on Thursday evening, forcing a police officer to intervene and break up the fight.
Early Black Friday discounts at stores and online included buy one get 50 percent off on the second "Star Wars" toys at Target Corp (TGT.N), $200 off quadcopter drones at Best Buy Co Inc (BBY.N), and a 50-inch Samsung smart TV for $499 at Wal-Mart Stores Inc (WMT.N).
As much as 20 percent of holiday shopping is expected to be done over the Thanksgiving weekend this year, analysts said. The four-day shopping burst will help set the tone for the rest of the season, signaling to retailers whether they need to drop prices or change promotions.
The shopping season spanning November and December is crucial for many retailers because the two months can account for anywhere from 20 to 40 percent of their annual sales.
Shoppers are expected to be cautious with their spending again this year. The National Retail Federation is expecting holiday sales to rise 3.7 percent, slower than last year's 4.1 percent growth rate, due to stagnant wages and sluggish job growth.
At around 6 am on Friday, several hundred cars were in the parking lot wrapping the Ross Park mall in Pittsburgh. There was a good crowd walking the mall although it was not overly crowded.
Jorgette Clark, 27, said her budget would probably be lower this year because her husband works in the energy industry.
"I feel like we scaled back this year. Our husbands work in the oil fields… It's probably a smaller Christmas this year."
(Additional reporting by Kylie Gumpert in New York, Writing by Nandita Bose in Chicago; Editing by Nick Zieminski)
Photo: Women sit outside after shopping at Macy's Herald Square store during the early opening of the Black Friday sales in Manhattan, Nov. 27, 2015. REUTERS/Andrew Kelly