Black Votes Matter: How Activists Fight Vote Suppression
@alexvhenderson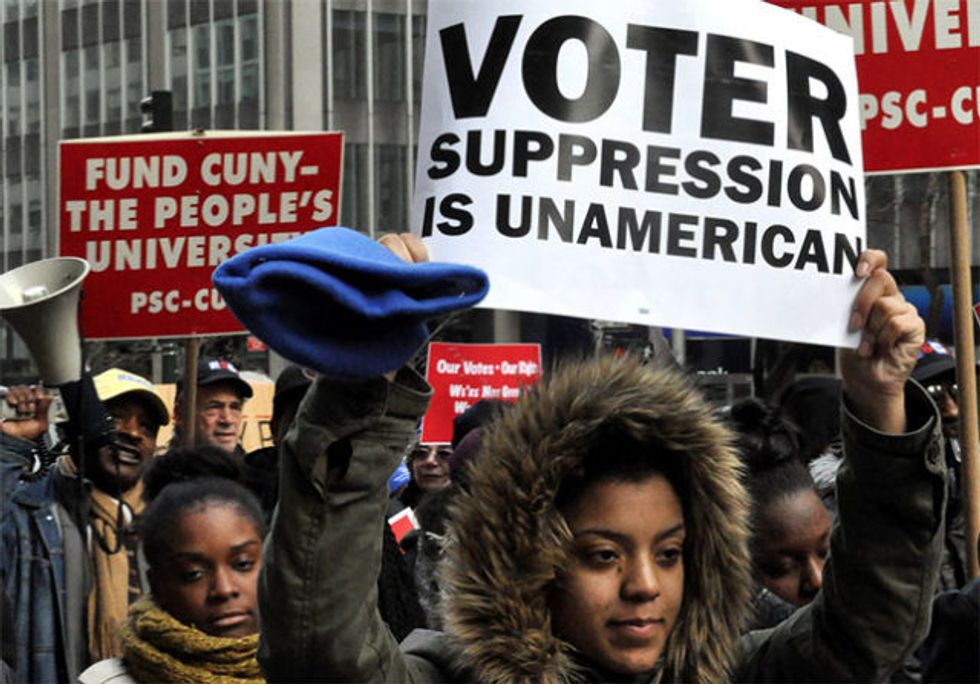 Reprinted with permission from AlterNet.
In the 2018 midterms, Republicans all over the U.S. have been making a concerted effort to suppress voters of color—whether they are African-Americans in Georgia, Native Americans in North Dakota or Mexican-Americans in Texas and Arizona. But Black Voters Matter is a nonpartisan organization that has been trying to do just the opposite. One of its stated goals for black communities is "increasing voter registration and turnout," and the group has been conducting a bus tour across several southern states with that goal in mind.
One of the states that Black Voters Matter visited in October as part of that tour was Georgia, where Democrat Stacey Abrams has been in a tight gubernatorial race against Republican Brian Kemp. As Georgia's secretary of state, Kemp has been going out of his way to suppress voters—especially in areas of Georgia where there is a large African-American population. And when Black Lives Matter tried to get a bus of older African-American voters to a polling place in Jefferson County, Georgia on October 15 (when early in-person general election voting in Georgia began), they weren't allowed to continue. County officials said the bus constituted prohibited "political activity," and all of the seniors were ordered off the bus.
LaTosha Brown, co-founder of Black Voters Matter, told the Atlanta Journal-Constitution, "We knew it was an intimidation tactic. It was really unnecessary. These are grown people."
On October 16, Black Voters Matter posted on Twitter, "Yesterday, we experienced voter suppression in Louisville, Georgia. We had a whole busload of beautiful black elders ready to go vote when the County Commissioner shut us down and made our elders get off the bus without having the chance to vote."
If Abrams wins next week on Tuesday, November 6, she would become the first female African-American governor of a state where—in the late 1960s—Gov. Lester Maddox (a segregationist Democrat) was decrying the end of Jim Crow laws in the southern states, including Georgia, and took pride in his refusal to serve blacks in his restaurant in Atlanta. Run the name Lester Maddox by many of the African-American seniors who were ordered off that Black Lives Matter bus on October 15, and many of them could probably recite chapter and verse about his commitment to racial oppression.
In 2017, Black Voters Matter did a lot to encourage voter registration and turnout in Alabama. When Essence's Donna M. Jones interviewed Black Voters Matter in August, she described it as one of the groups that was "instrumental in Doug Jones winning the Senate race in Alabama" last year.
Black Voters Matters' bus tour has also included visits to Mississippi and Florida, where Democratic Sen. Bill Nelson is running for reelection against Gov. Rick Scott—and where Tallahassee Mayor Andrew Gillum could become Florida's first African-American governor on November 6 if he defeats Republican gubernatorial nominee Ron DeSantis.
Alex Henderson is a news writer at AlterNet and veteran political journalist. His work has also appeared in Salon, Raw Story, Truthdig, National Memo, Philadelphia Weekly, Democratic Underground, L.A. Weekly, MintPress News and many other publications. Follow him on Twitter @alexvhenderson.