Bob Seger Turns A Page With A Nashville Sound And Liberal Lyrics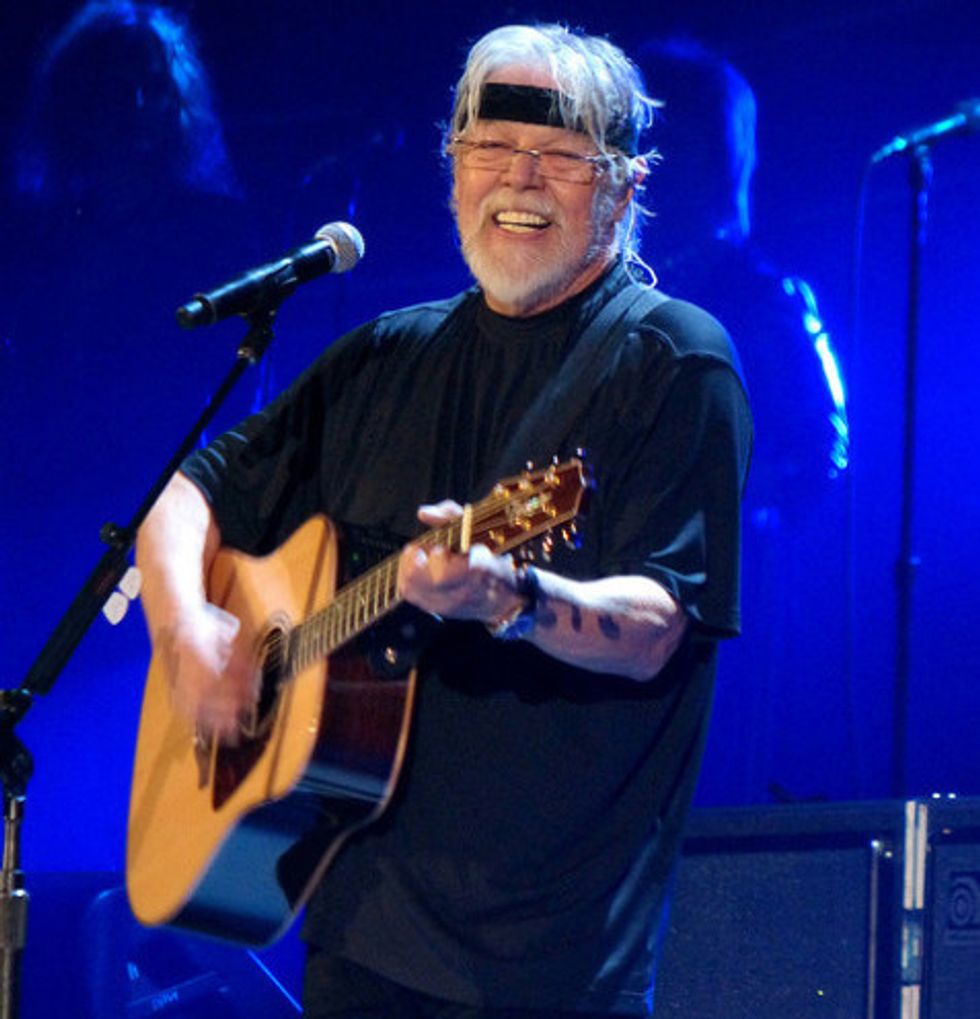 By Mikael Wood, Los Angeles Times (TNS)
SAN DIEGO — A chocolate-chip cookie resting on a plastic foam plate before him, Bob Seger sat in his dressing room at a quarter to 8 on Wednesday night dressed in jeans, sneakers and a faded black Indian Motorcycles T-shirt.
An hour later, the veteran rocker bounded onstage at Viejas Arena here having changed … well, not much at all. Instead of the tee, he wore an untucked black button-down. And after two songs he pulled a sweatband around his head, more a concession to necessity than a style statement.
"I'm 69 years old," he said by way of explanation before the concert. Then he laughed, his longtime smoker's rasp filling the backstage air. "There's not a lot of visual appeal."
Seger's live show is indeed a bare-bones production. The singer and his trusty Silver Bullet Band plow through hits like "Mainstreet" and "Old Time Rock & Roll" with only their musical instruments for stage decoration.
But his tour actually follows one of Seger's splashier studio albums in "Ride Out." Released in October, when it debuted at No. 1 on Billboard's rock chart, the disc delves more deeply into country music than Seger has in the past, a kind of full-circle move after his recent embrace by Nashville. And it finds this proud Michigan native — an icon of the red-state heartland — surprisingly holding forth on a variety of issues closely associated with liberal politics.
"Let's talk about mining in Wisconsin/ Let's talk about breathing in Beijing," he bellows in "It's Your World," "Let's talk about chemicals in rivers/ Let's talk about cash as king." He takes up gun violence in "The Devil's Right Hand," a song by Steve Earle. Other tunes ponder climate change and income inequality.
"I've never been quite this out-front about this kind of stuff," he said. "But I'm gonna be 70 in May. Who knows? This could be the last album I make. Better late than never."
Active in music for 50 years, Seger became one of rock's biggest stars in the late 1970s with albums such as "Night Moves" and "Stranger in Town," an ordinary guy describing extraordinary emotions. But as Seger tells it, it was a flight to Los Angeles a few years ago that inspired him to turn his attention to the environment.
"We were flying over the Rockies and I looked out the window and saw no snow," he recalled. "They were barren. I said, 'Wow, I've never seen that before. Maybe Al Gore's right.'"
Seger set about reading everything he could find on the topic, including Elizabeth Kolbert's The Sixth Extinction and Naomi Klein's This Changes Everything, which he called "devastating."
"It's about taking responsibility for how you make your money," he said.
With children ages 19 and 22, Seger said he was motivated by "wanting them to have a future and a good place to live." Yet "Ride Out" avoids the do-gooder dogma that can bog down similarly intentioned work by Bruce Springsteen or U2.
"None of these songs preach," said Alto Reed, the Silver Bullet Band's longtime saxophone player, and he's right: As in the days of the vintage "Turn the Page," Seger relies on a storyteller's approach. Take "All of the Roads," where an experienced man looks back on his life and hopes "I gave and I didn't just take," or "The Fireman's Talkin'," an ecologist's warning that he said he wrote from the perspective of his brother-in-law, a firefighter in Phoenix.
That flair for scene and character is part of what's endeared Seger to young country stars such as Eric Church, who's opened for Seger on tour, and Jason Aldean, who last year shared an episode of CMT's "Crossroads" with the older singer.
"You listen to a song like 'Against the Wind' and you're hanging on every word of the thing," said Aldean. "You can't help but be drawn into it."
Seger recorded "Ride Out" in Nashville, mixing his usual musicians with some of Music City's top-tier session players. The result emphasizes the rustic edges of Seger's sound, with lots of fiddle, banjo and mandolin. And beyond the Earle song, Seger covers "Adam and Eve" by Kasey Chambers and "California Stars," a Woody Guthrie lyric first set to music by Wilco and Billy Bragg.
Fans in San Diego, many wearing T-shirts commemorating Seger tours from the '80s and '90s, pumped their fists to the rootsy new songs just as they did to the harder-edged oldies. And if anybody took issue with the progressive sentiment of "It's Your World," you couldn't tell from the arena floor.
"I don't think I'm saying anything that isn't true," Seger said. "And I think people realize that."
As evidence, he cited a U.N. report and a recent poll — one he called "heartening" — that said half of Republican voters support government action to address global warming.
"When I wrote the song I was worried about turning off all my red-state people — or turning off my friend Kid Rock," he added, referring to the proudly conservative rap-rocker. "But you know what? Now it's reality."
Seger seemed equally untroubled by the potential effects of his decision to keep his music off Spotify and to limit what's available on iTunes. Saying the digital platforms don't fairly remunerate songwriters, he made the choice sound like a simple one.
"I'm fine," he said. "But a lot of songwriters are struggling."
And if his low digital profile means younger listeners — fans of Aldean and Church, for instance — aren't exposed to his work? He laughed again.
"Look at me," he said. "I don't know if they'd listen to me anyway."
© 2015 Los Angeles Times, Distributed by Tribune Content Agency, LLC
Image: Adam via Flickr