The Boehner-McConnell Relationship: Mutual Respect, Low Drama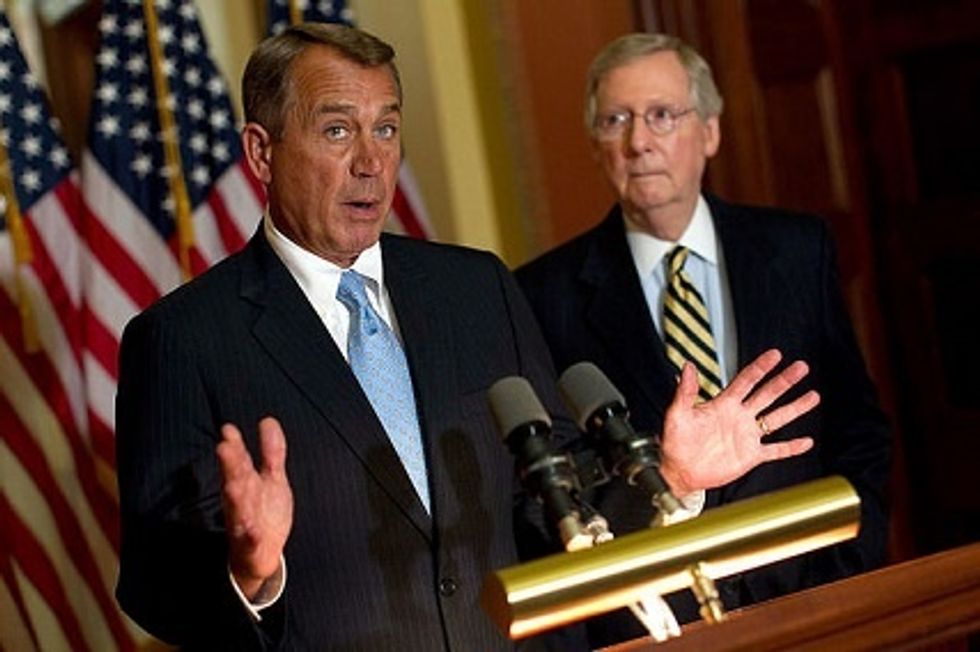 By Matt Fuller, CQ Roll Call (MCT)
WASHINGTON — John A. Boehner and Mitch McConnell have never been best friends.
But they aren't enemies, either. Far from it, say staffers and sources who know both lawmakers. The speaker and the Senate's presumptive new majority leader have built, over the years, a solid professional relationship based on a sturdy sense of mutual respect.
That relationship is in the spotlight now more than ever, with Republicans emboldened in the wake of Tuesday's wave election that saw the GOP pick up at least eight seats in the Senate and more than a dozen in the House.
Sources told CQ Roll Call that Boehner and McConnell don't have to be close personally to get things done.
"While they've never played horseshoes on the speaker's lawn, they spend a lot of time together, speak regularly and have demonstrated an unprecedented working relationship between the leaders of the House and Senate," Don Stewart, a McConnell spokesman, told CQ Roll Call.
Their staffs also report that Boehner and McConnell meet almost every week the House and Senate are in session, unofficially alternating whose office they meet in. (Aides note their relationship isn't so rigid that they have to ensure office meeting parity.)
Aides also acknowledge that while they have slightly different styles, they're on the same page when it comes to substance. A former senior GOP aide familiar with both McConnell and Boehner said they are "two adults in a room that is usually lacking in adults."
Both are establishment Republicans with pro-business, anti-drama leanings.
Their Capitol offices are separated by a short stroll across the Rotunda, just as their states are separated by the Ohio River. Boehner's Cincinnati-suburbs district is about 20 miles north of Kentucky — a fact President Barack Obama has occasionally tried to use as leverage against the GOP leaders, dinging them for their opposition to a jobs bill in 2011 that could have provided money to improve the Brent Spence Bridge.
But even though there's history to the Boehner-McConnell relationship, Tuesday's elections inevitably alter the dynamic — and raise the stakes enormously for both men.
McConnell has spent much of the past four years bailing Boehner and his Republican Conference out of jams. (Remember the fiscal cliff?) But now, McConnell may need Boehner to return the favor.
While Republican gains in the Senate were greater than many expected, McConnell's majority is still thin — too thin to beat a Democratic filibuster — and the 2016 elections already loom over McConnell's delicate majority.
Boehner, on the other hand, has the largest GOP House majority since March of 1929. Finally, he will have the legislative room to ignore some of the untamed conservatives in his own conference without having to beg Minority Leader Nancy Pelosi for votes.
Of course, what the House sends the Senate will have to take into account the fragile– and possibly fleeting– Republican majority in the upper chamber. With 24 Republican senators (and only 10 Democrats) facing voters again in two years, Boehner and the House have to be conscious of the votes they force on the vulnerable GOP majority.
That's where the relationship will be tested. That's where communication will be key.
But those who know Boehner and McConnell well don't anticipate problems.
One of Boehner's most frequent dinner companions, Sen. Richard M. Burr, (R-NC), told CQ Roll Call this week that Boehner and McConnell have worked together "religiously" for years.
And while it may seem like Burr would be a natural intermediary for Boehner and McConnell, he doesn't think that'll be necessary.
"I don't think they need a go-between," Burr said.
Of those potential, but perhaps unnecessary, go-betweens, House Appropriations Chairman Harold Rogers of Kentucky would also seem like a natural fit.
But in a recent interview with CQ Roll Call, Rogers said that while he was "very hopeful and anxious that Mitch take over the majority leader's slot," he wants to see a renewed focus on passing and conferencing appropriations bills "the old-fashioned way."
He's more interested in restoring the appropriations process than in serving as an intercessor between the speaker and McConnell.
As Burr said of the legislative relationship between the leaders, "Nobody needs to be involved in that other than the two leaders and their staffs."
Burr looked at the Republican majorities in both chambers as opportunities for Boehner and McConnell to govern. And while he agreed the House would have to be mindful of what it sends to the Senate, he thought it was more important that Republicans produce legislative results — specifically mentioning a tax overhaul, a repeal of the medical devices tax and legislation forcing the implementation of the Keystone XL oil pipeline.
"We have two years for Republicans in Congress to prove to Americans that they can govern," he said.
The day after the election, Boehner and McConnell were already trying to present a united front, co-authoring a Wall Street Journal op-ed that laid out the contours of a preliminary agenda in the 114th.
"The skeptics say nothing will be accomplished in the next two years. As elected servants of the people, we will make it our job to prove the skeptics wrong," they wrote.
Of course, Obama still occupies the White House. And anything passed by the House and Senate will still need the president's signature.
While that prevents Congress from achieving conservative fantasies such as repealing Obamacare, it leaves plenty of smaller items on the margins that Republicans can pressure Democrats and the president with — all the while drawing stark contrasts in advance of the perpetual next election.
Photo: Peter Stevens via Flickr