Boehner: Sequester Threatens National Security And Jobs, But I Won't Stop It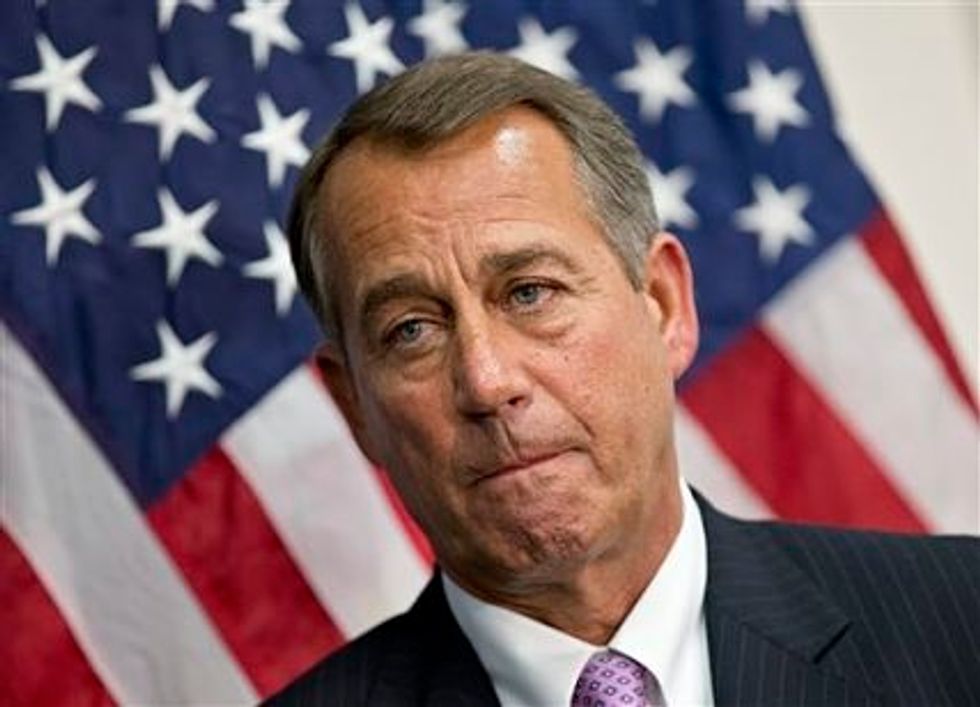 House Speaker John Boehner published an op-ed in TheWall Street Journal on Wednesday that begins by asserting that "a dramatic new federal policy is set to go into effect that threatens U.S. national security, thousands of jobs and more."
Boehner concludes by stating that the sequester — the "federal policy" he's referencing and his majority voted for — will go into effect unless the president names an equal amount of cuts, which would still likely destroy around  750,000 jobs, according to CBO estimates.
Of course, the House GOP knows that the president is not willing to agree to any deficit reduction that is entirely made up of cuts. That's what he did in 2011 and the only reason any new savings have come from taxes is that the Bush tax breaks expired at the end of 2012, and Republicans were forced to compromise only a slight increase on income over $400,000 in order to prevent increases on all taxpayers.
Republicans demanding huge deficit reductions without any new taxes or even any closing of loopholes for big oil, hedge fund managers and corporate jets is exactly how we ended up in this successive series of manufactured crises. Not only are cuts more likely to be harmful to the economy than tax increases on those who can afford to pay, it's the opposite of the policy that Americans prefer.
A clearly decisive 76 percent of Americans support deficit reduction that combines spending cuts and tax increases, according to a new Pew poll.
Despite this, Boehner and Republicans seem resigned that the sequester will happen, though it will inflict economic damage while doing almost nothing to reduce the long-term deficit, which is America's actual problem.
Instead of trying to compromise a solution to what they agree is destructive policy, they've decided to try to blame it on the president, as his popularity hits a three-year high and theirs hits a three-year low, according to a new poll from Bloomberg.
Of course, this is disingenuous. The sequester was simply a way to resolve a crisis that was created in 2011, when Republicans threatened default for the first time in U.S. history, demanding cuts in exchange for raising the debt limit. They agreed to the sequester, which the president proffered in hopes that the intractable Republican positions on raising taxes or ending tax breaks would eventually be broken by the voters' will. Leading up to the election, Obama continued to threaten any sequester replacement that simply shifted the cuts to ones Republicans preferred without the "balanced" approach to deficit reduction that was a central aspect of his campaign.
Now, even after President Obama received nearly five million more votes than his Republican opponent and House Republicans received more than a million fewer votes than their Democratic opponents, Speaker Boehner's approach hasn't changed.
Except now, instead of selling cuts as being helpful to the American economy, as he did for the last two years, Boehner is admitting that cuts will punish workers and kill jobs
It's a stand so baffling that even conservatives are confused by it.
"Why would Republicans support a measure that threatens national security and thousands of jobs?" asks the Washington Examiner's Byron York.
Republicans — by Speaker Boehner's own admission — are threatening national security and hundreds of thousands of American jobs to protect tax breaks for corporations and the richest Americans who have benefited most from the recovery.
If that's the lesson they learned from the 2012 election, 2014 could be a very good year for Democrats.
AP Photo/J. Scott Applewhite