Boehner Suggests He Won't Cave To Conservatives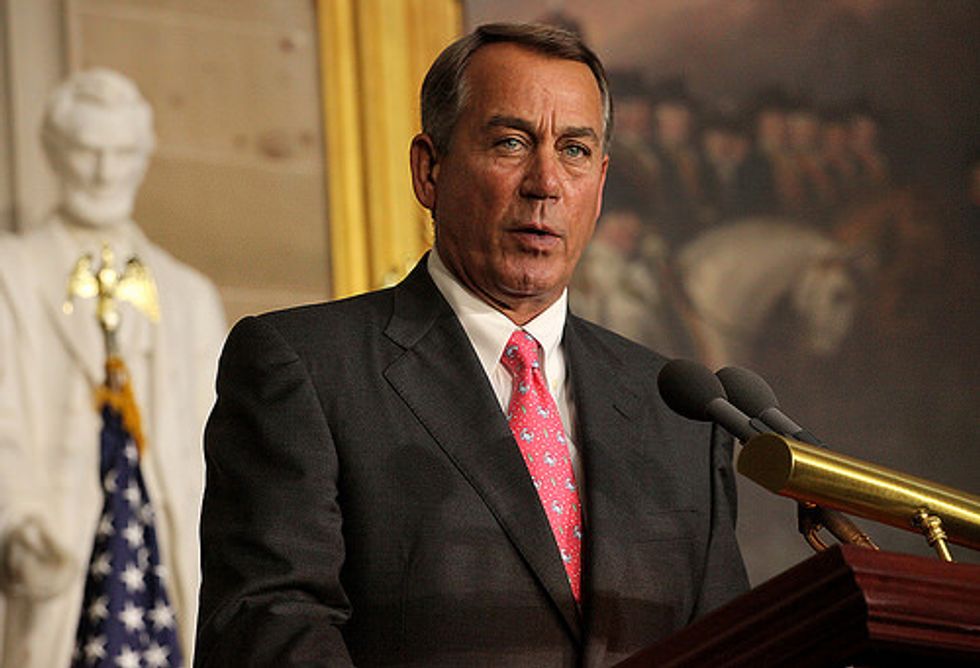 By Matt Fuller, CQ Roll Call (TNS)
WASHINGTON — As conservatives push back against a bill to fund the government past Dec. 11, Speaker John Boehner signaled Thursday that he didn't expect to make any sizable changes to the bill in order to placate voices to the right.
"I expect that we'll have bipartisan support to pass the omnibus," Boehner told reporters Thursday, in response to a question on whether the Ohio Republican anticipated needing some Democratic votes to pass the bill, and whether that would give Democrats leverage on negotiating riders in the appropriations bill.
Conservatives are bashing the bill — which would fund all elements of government until October except the Department of Homeland Security, which would be funded until March or February — because it does not block President Barack Obama's executive action on immigration.
Just before Boehner took the podium during his weekly press conference, Heritage Action, an influential outside conservative group, announced they would "key vote" against the bill unless it contained language to stop Obama's "unlawful amnesty program."
Boehner pledged to fight Obama's executive action "tooth and nail." Asked on Thursday just how sharp those teeth and nails are — if Republicans were really doing enough to stop the president — Boehner didn't seem eager to give in to conservatives.
"We think this is the most practical way to fight the president's action," Boehner said. "And, frankly, we listened to our members. And we listened to some members who, frankly, were griping the most. This was their idea."
While legislative language of the bill has not been released, members know the broad strokes. And Boehner suggested Thursday that there wouldn't be major changes to the legislation that's already been laid out to the GOP conference.
"I think we've laid out a reasonable course of action, suggested by our members," Boehner said.
"Frankly, I'm pretty comfortable with where we are," he added, seeming to refer to whether the House had the votes to pass such a plan.
GOP leadership contends Republicans will be in a better position to fight the president's executive action come January, when Republicans take hold of the Senate. But it remains unclear just how Congress could stop the executive action without defunding the Department of Homeland Security.
Asked how Republicans might actually block the executive action, Boehner said there were "a lot of options on the table.
"And I'm not going to get into hypotheticals into what we could or couldn't do," Boehner said, "but I do know this: Come January, we'll have a Republican House and a Republican Senate — and we'll be in the stronger position to take actions."
But Boehner also said there were "limited options in terms of how we can deal with this," and many Republicans believe that by not blocking the president's immigration action, Republicans are condoning it. And by giving in now, in December, it makes it less likely that Republicans will fight the action later, in February or March.
Still, leadership insists there are ways to punish the president for his immigration order. One such idea was to not invite Obama to give a State of the Union Address. Boehner, however, didn't seem to like that idea.
"The more the president talks about his ideas, the more unpopular he becomes," Boehner said. "Why would I want to deprive him of that opportunity?"
Photo: Talk Radio News Service via Flickr