Book Review: 'On Highway 61'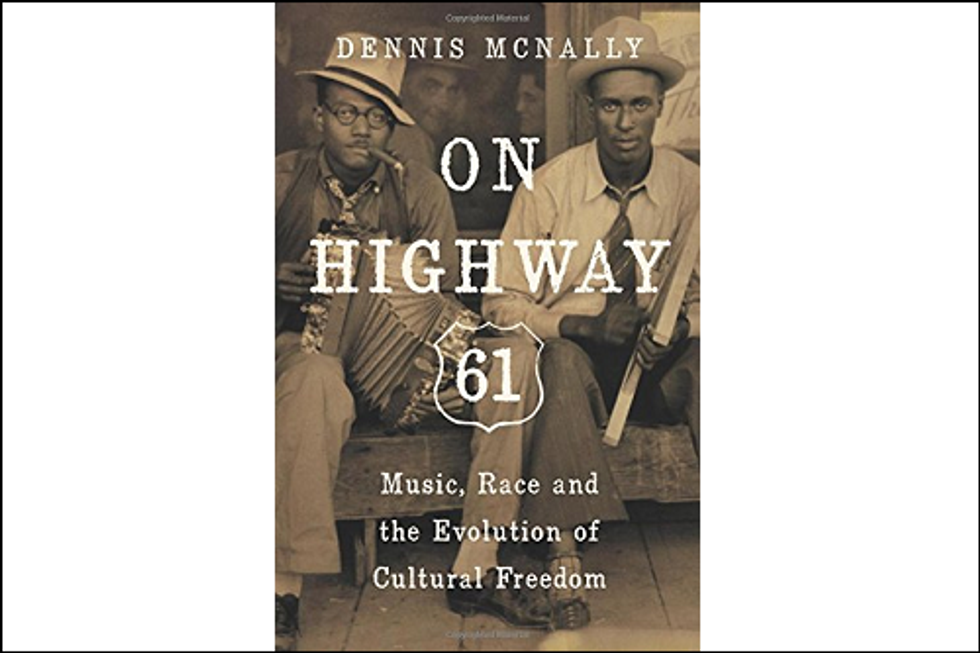 Highway 61 — which connects Duluth, Minnesota, with St. Louis, Memphis, and New Orleans — also served as Bob Dylan's musical lifeline. "I always felt like I'd started on it, always had been on it and could go anywhere, even down in to the deep Delta country," Dylan wrote in his memoir. "It was the same road, full of the same contradictions, the same one-horse towns, the same spiritual ancestors." That stretch of asphalt also furnished the title for Dylan's 1965 album featuring "Like A Rolling Stone."
Dennis McNally's new book, On Highway 61
, effectively traces Dylan's musical genealogy, but it's much more than a study of his influences. McNally's larger argument is that an "American alternate voice" that started with Henry David Thoreau can be heard in Mark Twain's fiction as well as the African-American music that radiated from the Mississippi River. For all its variety, that music consistently emphasized cultural and spiritual freedom and gradually widened white America's vision and increased its tolerance. The civil rights victories of the 1960s, McNally maintains, were the result of that "long, rich progression" whose apotheosis was Dylan.
In many ways, On Highway 61 serves as a prequel to McNally's previous works: Desolate Angel
, his biography of Jack Kerouac, and A Long Strange Trip
, his bestselling history of the Grateful Dead. (McNally worked for the Dead as a publicist after earning a Ph.D. in American history.) Elsewhere McNally casts those works as a two-volume history of the post-war counterculture, but in his new book, he "wanted to dig into older and deeper roots" of the 1960s. In doing so, he found "a fundamental origin in the ongoing relationship between white, often young Americans and African-American culture, primarily music."
McNally begins with Thoreau, the New England abolitionist who questioned American materialism and celebrated the pastoral. Thoreau visited the Mississippi River Valley only once toward the end of his life, and McNally offers no evidence that he ever turned his gaze to African-American music. (We know he enjoyed sea chanteys, especially "Tom Bowline.") But if Thoreau is an unlikely point of origin for this regional history, his anti-war posture, civil disobedience, transcendentalism, and back-to-the-land impulse make him the perfect avatar for the 1960s.
From Thoreau, McNally shifts to Mark Twain, whose birthplace of Hannibal, Missouri, lies on Highway 61. Twain married into a New England abolitionist family, set his greatest fiction on the Mississippi River, and associated freedom with America's vast hinterland. ("But I reckon I got to light out for the Territory ahead of the rest," Huck Finn concludes, "because Aunt Sally she's going to adopt me and sivilize me, and I can't stand it.") McNally makes no case for Thoreau's direct influence on Twain, and once a shared emphasis on the pastoral connects the two writers, that notion fades from view. What remains is "the freedom principle," which McNally presents as an alternative to the dominant strain of American materialism.
Twain enjoyed minstrelsy and was an ardent fan of the Fisk University Jubilee Singers, whose spirituals he endorsed as late as 1897. According to McNally, these two genres virtually exhausted professional black entertainment in the late nineteenth century. (Shows based on Uncle Tom's Cabin, which were popular even decades after the Civil War, were the only other reliable vehicle for black entertainers.) Music critic and Dylan biographer Robert Shelton has argued that spirituals were even more problematic than minstrelsy insofar as they represented white society's appropriation of an African-American form. McNally respectfully disagrees but notes that spirituals wouldn't become popular with black audiences until the twentieth century.
After describing the rise of ragtime in and around St. Louis, McNally shifts to a higher gear. In short order, he offers capsule biographies of trailblazing bluesman W.C. Handy, Charley Patton, jazz pioneers Jelly Roll Morton and Buddy Bolden, and Louis Armstrong. It was Armstrong, McNally argues, who placed jazz at the center of American culture and "set the music free." McNally mentions but declines to explore the more complicated question of Armstrong's personal freedom. In fact, Armstrong encouraged black artists to seek the protection of a powerful white patron, and his own turned out to be the Chicago mob. And though many thought Armstrong's showmanship bore an uncomfortable resemblance to minstrelsy, McNally's broader point about his centrality is well taken.
McNally's narrative stays in overdrive for the next 150 pages. Along the way, we meet Bessie Smith, Robert Johnson, Lead Belly, Duke Ellington, Woody Guthrie, Hank Williams, Dizzy Gillespie, Thelonius Monk, Odetta, Muddy Waters, Pete Seeger, Jack Kerouac, Miles Davis, Elvis Presley, and many others. We also make short stops for the folklorists and record labels that gathered and disseminated the music. Readers may lose sight of McNally's larger argument as the cast of characters grows, but two important themes emerge from the middle portion of the book. The first is that white musicians admired and absorbed the innovations of their African-American counterparts and idols. By way of example, McNally sketches Chicago during the 1920s, where Hoagy Carmichael, Bix Beiderbecke, Gene Krupa, and Benny Goodman steeped themselves in the fertile jazz scene. McNally is alert to thorny issues of white appropriation and domination, and though he declines to explore that question in depth, he uses it to temper what might otherwise read as a triumphalist story of American cultural progress. (That story must now accommodate the strife in Ferguson, Missouri, which lies close to Highway 61.)
The second major emergent theme is that African-American music and its popularity set the stage for the civil rights movement. Again, any attempt to see that movement steadily and whole would hijack the book, and McNally wisely focuses on how American music paced, reflected, and sometimes modeled broader social change. Interestingly, McNally maintains that the folk revival of the 1950s, which is tightly linked to the civil rights movement in the public imagination, was merely one manifestation of the freedom principle — more intellectual than ragtime and jazz, but no more central to the civil rights dialogue.
The last quarter of the book is straight Dylan biography. The book's main thesis disappears until McNally considers the recording of "Like a Rolling Stone." With that song, McNally asserts, Dylan became the center of a cultural nexus that was "the manifestation and fulfillment of the freedom principle that had existed since Thoreau." McNally carries his narrative though Highway 61 Revisited, noting that Dylan finished recording it the same week that Congress passed the Voting Rights Act. He also asserts that Dylan "represented a great flowering of the influence of the African American quest for freedom on the arts, both in his genuine commitment to the civil rights movement and his use of black influences in his music."
Some readers may find this formulation problematic. Dylan was important and seminal, but his relationship to the civil rights movement and his "use of black influences in his music" didn't distinguish him from many precursors, contemporaries, or later artists. Here and elsewhere, McNally's thesis is perhaps better understood as an organizing device for a wide-ranging story about African-American music and its reception. Likewise, Highway 61 focuses that story geographically, but some of the music McNally discusses originated or flourished elsewhere. Chicago receives a great deal of attention, as does New York, where Dylan recorded Highway 61 Revisited on Seventh Avenue, perhaps the least pastoral spot in North America.
In short, McNally's saga is no simple highway. Both the map and the territory resist reduction, and the underlying story isn't built for speed. But On Highway 61's considerable pleasures are more about the journey than the destination. To paraphrase Thoreau's mentor, McNally doesn't take us where the path may lead; instead, he goes where there is no path and leaves a trail.
Peter Richardson is the book review editor at The National Memo. His history of Ramparts magazine, A Bomb in Every Issue, was an Editors' Choice at The New York Times and a Top Book of 2009 at Mother Jones. In 2013, he received the National Entertainment Journalism Award for Online Criticism. No Simple Highway, his cultural history of the Grateful Dead, is scheduled for January 2015.