Boot Camp For Functional Fitness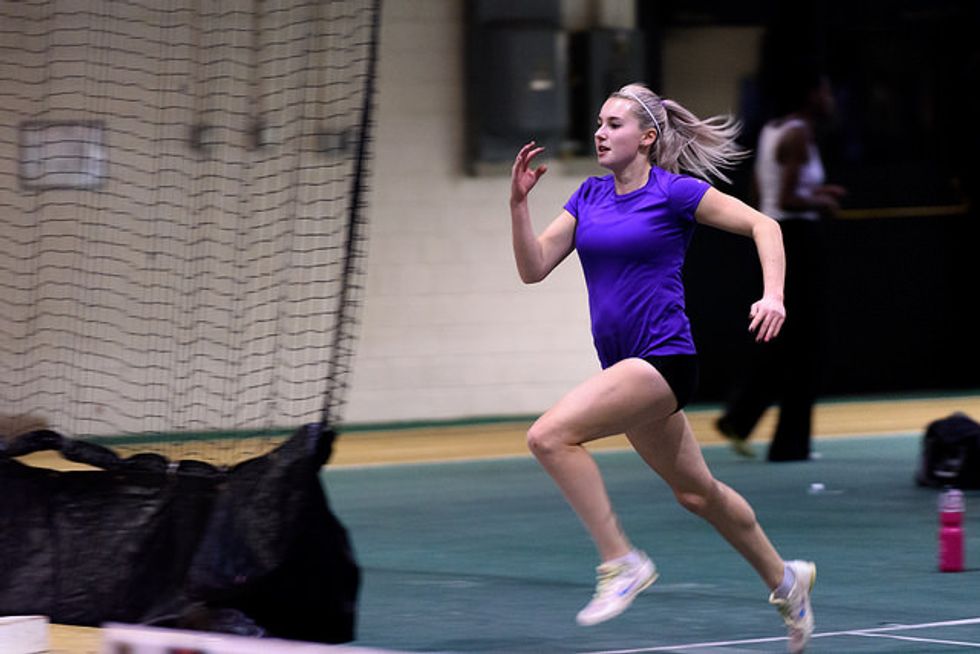 By Lori Nickel, Milwaukee Journal Sentinel (TNS)
MILWAUKEE — Many things may come to mind when you think of a fitness boot camp — and a lot of them may be pretty intimidating. The name alone can send people in the other direction.
But Margaret Erhart, 53, takes the Metabolic Circuit Conditioning boot camp at Fuel Up. Go! Fitness & Nutrition on Saturday morning for one reason.
"When I haul my 40-pound bag of kitty litter in from the store down to the basement, I can do that," she said during a 10-second rest between exercises at her boot camp.
She can feel her strength when she cleans out her gutters.
She does it for functional fitness.
And this is why gyms and workout facilities with classes like boot camp are worth considering.
Yes, some work out to try to look good in a swimsuit and others work out for a certain number on the scale. But what often gets overlooked is how much stronger and healthier we are while managing everyday tasks because of this style of intense interval training.
Most boot camp classes follow a basic format in a 45-minute group exercise class — meaning there's at least a handful of participants, and often a lot more — led by a trainer.
The trainer sets up stations with a different exercise at each one. Some are cardiovascular, others work on upper- and lower-body weight training, and others are for core. Each exercise is performed for 45 seconds (this can vary from 30 to 90 seconds). Then there is a short rest while everyone switches and rotates to the next station.
The goal is to go as hard as possible for those short bursts.
This 45-second, 45-minute workout formula appeals to the masses for a lot of reasons.
It's efficient.
"If you don't have a lot of time, this is a perfect thing for you to do," trainer Lauren House said. "We go hard for 45 minutes, and at the end people are drained.
"We'll usually have eight stations, and you'll go through each four times. Metabolic means it will burn a lot — in a little bit of time."
You probably don't need more than a 45- to 60-minute workout every day.
"Males and females, we both have testosterone," said Eric Gramza, the owner and trainer of Fuel Up. Go! "Testosterone is that anabolic, building component that we all want to have released when we're exercising, when we're strength training.
"Those basically peak and fall within 60 minutes. So, unless you're training for an athletic event that's going to take longer than 60 minutes, you don't need to exercise for longer than that."
Accountability. Group exercise classes create a team atmosphere.
"They do a lot of these classes with partners," Erhart said. "There's a lot of teamwork. So that will get you motivated to get here. You're obligated to the group, to each other."
Good coaching.
Some days the only motivation you'll have is to show up for class. Just get there. If you have a good trainer, that's all the motivation you'll need.
"The leaders, Lauren and Eric, I think they care passionately about each of us," said Erhart, a softball player, cyclist and kayaker. "What we're doing, what the program is doing for us, and that we attend."
You don't want your "truck tires spinning in the mud."
Many people can go work out on their own. But there are some exercises that are best to do with the right form, both to avoid injury and to get the most benefit from doing it. A watchful trainer will check to see that we're doing it right. Is the caboose down on a plank? Are the elbows tucked in on triceps and biceps work? Are we doing squats the best way to protect our knees?
"People can go to the gym for 60 minutes and look at what others are doing, or do something they've seen on the internet. Sure that's better than sitting on the couch," Gramza said. "But it can be like truck tires in the mud.
"You can hammer on the gas and go 75 miles an hour. But you're just spinning your wheels and not really going anywhere.
"You're making the time investment. You might as well get the most out of it. Exercise is really a science."
Gramza and House are certified by the National Strength and Conditioning Association and Certified Strength and Conditioning Specialists, qualifications that help them teach their clients the best, safest and most efficient way to work out.
This is a proactive step in your long-term health. It is an investment.
Tom Burzynski, 50, and his wife Marsha, 53, have been doing this Metabolic Circuit Conditioning with Gramza for nine years.
"We took a look at friends and family members who had a lot of health issues and were older than us," Tom said. "We decided that we didn't want to have poor health as we got older. We wanted to stay healthy, not put on as many pounds — but it really helps your mental outlook, too. We tell Eric and Lauren we could have a really bad day, but we always leave here in a better mood."
It helps in coming back from injury.
Amy Jacobs, 31, a regular Ragnar Relay runner, has used this boot camp for the last year as a way to diversify her rehabilitation from a torn anterior cruciate ligament. She does the high-intensity, interval training class on Thursdays and the Metabolic Circuit Conditioning on Saturdays.
"It's helping me get back in to shape," Jacobs said. "I use to run a lot of half marathons and I'm trying to get back into that."
It's very hard to get bored in these classes.
"No. No way. They're always different," Jacobs said.
(c)2015 Milwaukee Journal Sentinel. Distributed by Tribune Content Agency, LLC.
Photo: David Albo via Flickr