As Brazil's Protests Shrink And Intensify, Analysts Predict Change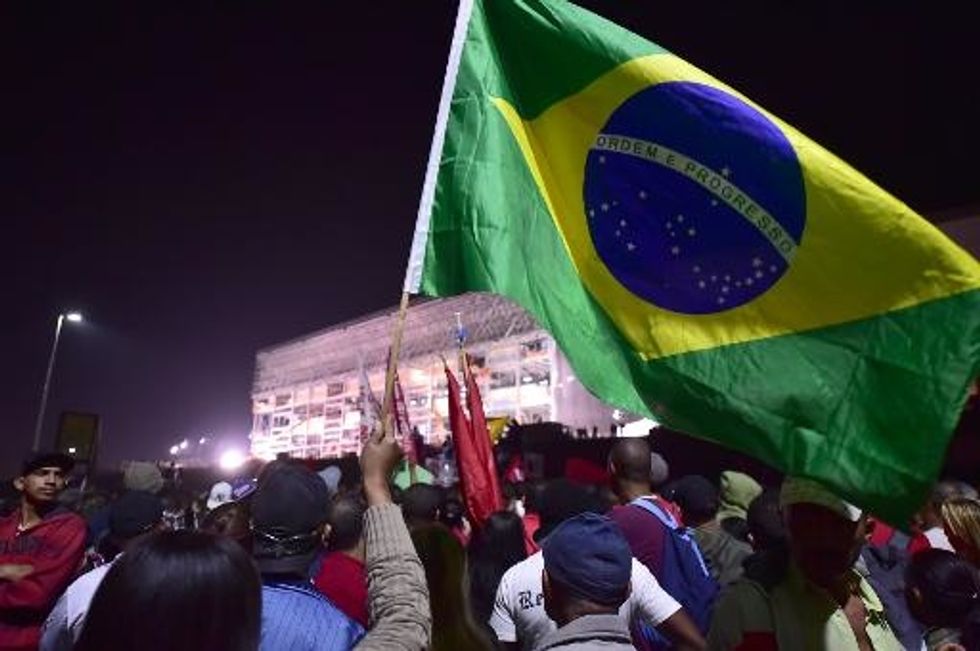 By Mimi Whitefield, The Miami Herald
Protestors in a handful of Brazilian cities have clashed with police, thrown rocks and dodged rubber bullets and tear gas canisters since last week's opening of the World Cup.
But this year's protests are different from the massive demonstrations during the 2013 Confederations Cup, when more than 1 million Brazilians, mostly middle and lower-middle class, took to the streets on a single night.
In the year since the Confederations Cup, there have been hundreds of protests across Brazil. But recent demonstrations are smaller, more targeted on specific interests — including labor demands for higher salaries — and often more violent.
During last week's protests in Fortaleza, for example, demonstrators overturned a police car and broke the glass doors of two banks, and on Sunday police used stun grenades and tear gas to stop about 200 protestors who were marching on Maracana stadium in Rio de Janeiro.
Since the first Confederations Cup protests, it's become more common to find masked and hooded adherents of "Black Bloc" tactics — acts of vandalism and violence — sprinkled in with more peaceful protesters. Such anarchist tactics emerged in Europe during the 1980s and were much in evidence during the World Trade Organization protests in Seattle in 1999.
"The middle class is now almost totally out of the streets. The dissatisfaction is still there, but they are scared of the violence and the Black Blocs. Now, it's much more aggressive," said Armando Castelar Pinheiro, an economist who is coordinator of applied economic research at the Getulio Vargas Foundation.
Paulo Sotero, director of the Brazil Institute of the Woodrow Wilson International Center, agrees that the violence serves as a disincentive for many Brazilians who might otherwise be in the streets. "They want to protest policy — not break things," he said.
Some analysts say rather than an embarrassing black eye for Brazil as it tries to stage the globe's largest soccer tournament and take a place among the world's developed nations, the year of protests actually represents democracy at work and is a step forward for Brazil.
Now, the question is whether protesters' steady drumbeat of complaints about poor public health services, a mediocre public education system, government corruption, displacement of people living near Cup construction areas, and the high cost of preparing for the soccer extravaganza will transition into a legitimate social movement after the last goal is scored.
"People will remember how the World Cup articulated a new narrative for Brazil based on a new political dynamic," said Ricardo Sennes, a senior Brazil fellow at the Atlantic Council's Adrienne Arsht Latin America Center.
But it may take time for such a viewpoint to develop. A recent Pew Research Center poll shows that 61 percent of Brazilian respondents think hosting the World Cup is bad for Brazil because it takes money away from schools and public services.
Thirty-nine percent said it would hurt Brazil's image around the world, while 35 thought it would help Brazil's international image and 23 percent said it would have no impact.
Sennes said Brazilians need to look at the bigger picture. Rather than the fancy million-dollar stadiums built for the World Cup, the soccer tournament's most important legacy will be strengthening of civil society in Brazil and stimulating a dynamic new political debate, he said.
Sotero said because the World Cup protests have touched on important public policy issues for Brazil, they are indeed an awakening. He quotes Brazilian anthropologist Roberto DaMatta: "The World Cup has been useful to convey profound political messages that touch on themes that are fundamental for the country."
There is no doubt that the World Cup and its 12 new or renovated arenas have become a lightning rod for dissent in soccer-loving Brazil. But it's more because they symbolize the contradictions in a polarized Brazilian society, said Sennes.
If the country could produce stadiums up to the standards of FIFA, soccer's international governing body, Brazilians thought they should also be able to demand FIFA-quality public services, he said.
Labor unions pushing for wage increases and other demands also achieved some degree of success on the eve of the World Cup, and Castelar said he expected to see labor, mobilized by social media, to continue taking to the streets. "These protests, I think, are here to stay," he said.
The $11.6 billion the Brazilian government spent preparing for the Cup brought two main challenges to the forefront of public attention, Sennes said in a new report, "Will Brazil Get What It Expects from the World Cup?"
In broad brush strokes, the challenges are how public resources are allocated and government inefficiency and lack of transparency.
While 40 million people moved into the middle class in the past decade, the government didn't prepare for an economic down cycle, throwing Brazil's development model into question, said Peter Schechter, director of the Arsht Latin American Center.
The Brazilian political system, created after the end of Brazil's military dictatorship in 1985, wasn't built to address efficiency or effective public policy, according to the report.
"Empowered social groups from the middle and lower classes are demanding more and better social policies along with new priorities and transparency in public fund allocation," the report said.
Kenneth Dossar, a Temple University professor who lived through the civil rights movement in the United States, sees Brazil's year of protests growing into a social movement with affinities to American blacks' struggles for equality and opportunity.
"What we're seeing now with the protests against the World Cup is an important social movement," said Dossar.
He said Brazil's black movement, which was blocked from making gains during Brazil's 1964-1985 military dictatorship, also is beginning to gain momentum. "You have a lot of things percolating in Brazil now," said Dossar, a professor of African-American studies who has been visiting and researching in Brazil for the past 30 years.
Sotero said he expects the protests will remain relatively low key during the Cup. "I think Brazilians generally love the World Cup — despite the criticism about the expenditures and cost overruns. Once the World Cup starts, soccer takes over.
"But there is one scenario where things could get a bit more hairy — if Brazil is knocked out of the tournament early. Brazil will likely face tough competition in the second phase."
An early Brazilian exit, he said, could cause Brazilian dissatisfaction to brim over.
Still, he said, whether Brazil wins or loses, he doesn't expect the World Cup outcome will have much impact on Brazil's October presidential election.
Although President Dilma Rousseff is still ahead in the polls, her numbers have been falling. But in a June election simulation from Datafolha, the percentage of votes her chief rival, Sen. Aecio Neves, would potentially receive also was down marginally.
Because of the delays in finishing stadiums and the many airport and transportation projects that weren't completed, Brazil has already lost the positive narrative surrounding the Cup, Sotero said.
It's unlikely that one candidate or another will be able to capitalize on a Brazilian win or loss — a sign that Brazil has matured politically, he said.
That wasn't always the case. During the 1970 World Cup, the military government of Gen. Emilio Garrastazu Medici used the victory by perhaps the greatest Brazilian team of all time to try to deflect attention from its deplorable record of repression. That was the year that Rousseff, a former guerrilla, was captured and tortured by the dictatorship.
"Can you do that again? No. Brazil is now a thriving democracy with a lot of challenges. But we're very capable of separately our soccer from our political reality," Sotero said.
"If Brazil wins the World Cup this year, people will be very happy; we will be removing the curse of never winning a World Cup at home," he added. "But after that, life will go back to normal. The problems we had leading up to the World Cup will still be there.
"The election one and a half months after the close of the World Cup will be framed more on what's going on with the economy and the programs the candidates are putting forward," he said. "It will turn on things that are most relevant to people's lives."
Castelar said, for example, people will focus on issues such as high inflation, the slowing economy as China's appetite for Brazilian commodities wanes, and how long it takes Brazilians to commute to their jobs.
In order to tame inflation, he said, Brazil needs to lower real wages — a move that will only increase dissatisfaction, especially among labor unionists.
Brazil also is way behind on preparations for the 2016 Summer Olympics in Rio de Janeiro, and that could lead to new frustrations. "The controversy will remain," Sotero said.
©afp.com / Nelson Almeida