British Finance Minister Cuts Corporate Taxes To Stay 'Competitive'
@reuters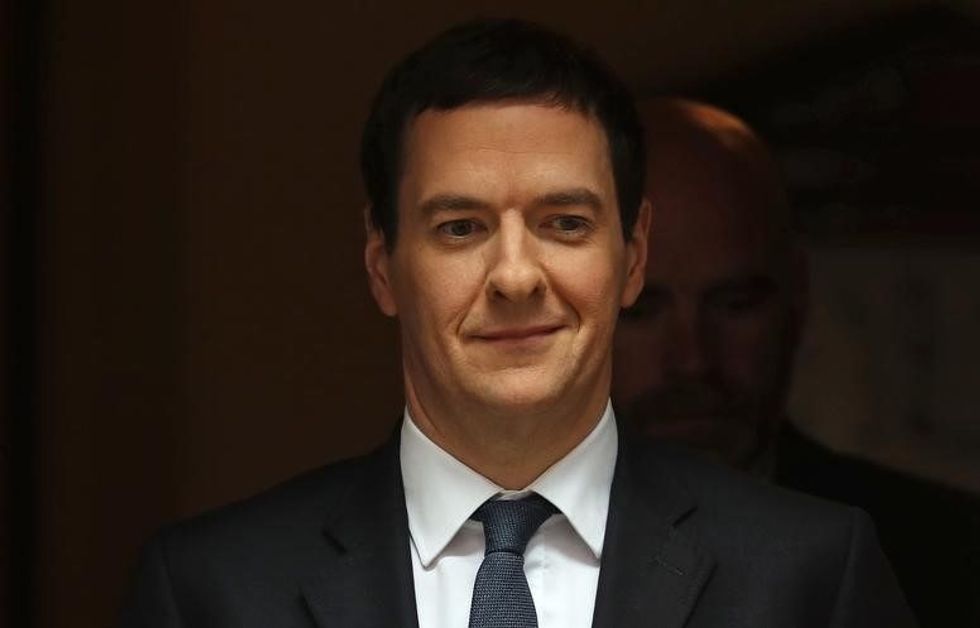 By William Schomberg and Conor Humphries
Britain has announced plans to cut corporation tax to less than 15 percent in an attempt to cushion the shock of the country's decision to leave the European Union, raising the prospect of competitive tax cuts across the bloc.
Finance minister George Osborne told the Financial Times he wanted to build a "super competitive economy" with low business taxes and a global focus.
The new rate, which was announced without a target date, compares with Osborne's previous target to cut corporation tax to 17 percent by 2020 from 20 percent now. It compares with an average of 25 percent among most developed economies.
Ireland, where a 12.5 percent corporate tax rate has been a cornerstone of economic policy for 20 years, drawing investors such as Pfizer and Apple, said Osborne's announcement showed how quickly the EU's dynamics were changing after the Brexit vote.
"This is a very stark reminder of how the world is changing as a result of the referendum result in the United Kingdom," Public Expenditure Minister Paschal Donohoe told RTE radio.
"The tectonic plates are shifting and this is a very early sign of it. It's a sharp reminder here, to us, that your tax system and how it's structured is an essential part of our national competitiveness," Donohoe said.
Ireland's transport minister said Osborne's move was an "obvious attempt" to lure investors away from Ireland.
"If the headline figure was to come down to 12.5 percent in the UK, it would be threatening to us and we would have to adjust accordingly and make ourselves more attractive again," Shane Ross, an independent minister, said.
The Netherlands said it would review its tax rates to ensure it remained attractive. "It is something we are thinking about with an eye to the future," finance ministry spokesman Paul van der Zanden said. "On the one side we want to fight tax avoidance and on the other we need to look at our investment climate."
A spokesman for Germany's finance ministry said plans to cut corporation tax should be fair. "It is clear that it is the (German) government's aim that the issue of taxes is dealt with in a fair way in the single market," Martin Jaeger said.
The Organisation for Economic Cooperation and Development, in a June 24 internal email seen by Reuters, said a further cut in British corporation tax was unlikely but if it happened it would "really turn the UK into a tax haven type of economy."
"NOT THE RIGHT WAY" TO START EU NEGOTIATIONS
Some took the announcement by Osborne as the opening salvo in future negotiations with the rest of the EU about Britain's relationship with its former partners.
Pascal Lamy, a former World Trade Organisation head, said Osborne was moving fast to activate one of Britain's weapons in the talks as well as trying to reassure foreign investors who are worried about Britain's access to the EU's single market.
"I can understand that from his side but he has to think about the impact of this on the continent," Lamy told BBC radio.
"I am quite convinced that at the end of the day, if you want a proper balanced, win-win relationship in the future, starting with tax competition is not the right way psychologically to prepare this negotiation."
Other elements of Osborne's plan to steer the economy through the upheaval caused by the Brexit vote included support for bank lending to ensure credit does not seize up, more efforts to direct investment to northern England and maintaining Britain's fiscal credibility, the FT quoted him as saying.
Last week, Osborne said he would no longer target a budget surplus in 2020 because of the expected hit to the economy from the referendum result.
Corporation tax accounts for about 7 percent of British tax revenues.
The signs from Osborne of a softer approach to fixing the public finances chimed with comments by interior minister Theresa May, the leading contender to replace David Cameron as prime minister.
Britain's ruling Conservative party is due to choose a successor to Cameron in September after he offered his resignation following Britain's June 23 vote to leave the EU.
Bank of England Governor Mark Carney said last week that he believed the economy would need more stimulus soon.
The BoE may move as soon as Tuesday to ease some of the capital requirements on banks and it will decide its position on interest rates next week.
(Additional reporting by Anthony Deutsch in Amsterdam; writing by William Schomberg; editing by Philippa Fletcher)
Photo: Britain's Chancellor of the Exchequer George Osborne leaves number 11 Downing Street in London, Britain March 22, 2016.   REUTERS/Eddie Keogh