British Party Leaders Head To Scotland As Vote Tightens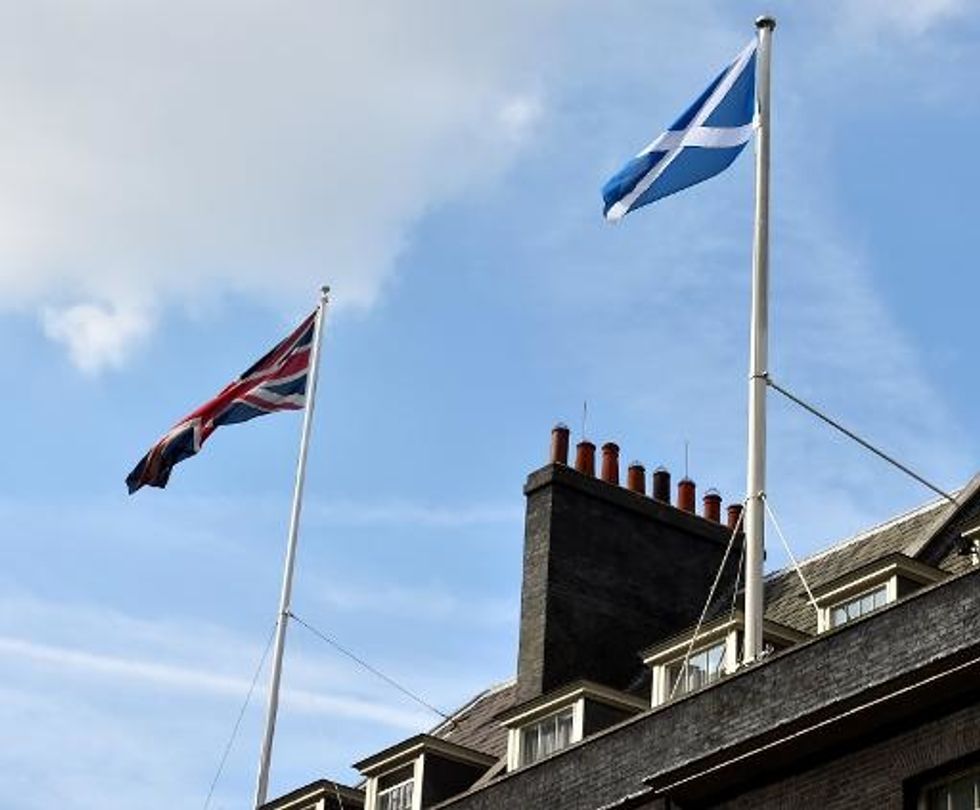 London (AFP) — The leaders of Britain's three main political parties announced a last-minute trip to Scotland on Tuesday to boost the campaign against independence after a surge in separatist support ahead of next week's referendum.
Conservative Prime Minister David Cameron and opposition Labour leader Ed Miliband agreed to skip their weekly debate in the House of Commons on Wednesday and instead head north, reflecting a new sense of urgency in the unionist camp.
Liberal Democrat leader Nick Clegg, the deputy prime minister in the coalition government, will also hit the campaign trail after opinion polls suggest the break-up of the 300-year-old union is now a real possibility.
"There's a lot that the political leaders disagree about but there's one thing that we all agree about passionately and that is that our United Kingdom is better off if we stay together," Cameron told reporters.
"So tomorrow the right place to be isn't in Westminster at prime minister's questions, it's being in Scotland listening to people, talking to people."
With just nine days to go until the referendum on September 18, the campaign to keep the UK together is scrambling to adapt to a narrowing of the polls, which had indicated an easy victory for their side as recently as last month.
A YouGov poll at the weekend put the pro-independence "Yes" camp ahead for the first time, while another on Tuesday put the two parties neck and neck.
In response, the three unionist parties unveiled a timetable for the transfer of new powers over income tax and welfare spending to the devolved Scottish government, and said work would begin immediately after a "No" vote.
But First Minister Alex Salmond, the leader of the Scottish National Party (SNP), dismissed the initiative as a "back-of-an-envelope non-plan".
And he said the "extraordinary, last-minute" trip by Cameron, Miliband and Clegg would not help their cause.
"The 'No' campaign think that they are losing this campaign — and these hugely distrusted Westminster leaders trooping up to Scotland is only going to boost that process," he said.
Cameron's Conservatives are not popular in Scotland — they have just one Scottish member of parliament out of 59 and he is trusted by just 23 percent of Scots, according to a recent YouGov poll.
Miliband's Labour party has a stronger presence Scotland, but he has the same dismal personal rating.
"The message of this extraordinary, last minute reaction is that the Westminster elite are in a state of absolute panic as the ground in Scotland shifts under their feet," Salmond said.
– 'Too close to call' –
The YouGov poll on Sunday put the "Yes" camp ahead by two points, a major development given that the same polling company put them 22 points behind one month earlier.
Another poll on Tuesday by TNS Scotland confirmed the two sides were neck and neck, putting the "Yes" camp on 38 percent and the "No" side on 39 percent.
"This poll reveals a remarkable shift in voting intentions. It's too close to call," said TNS Scotland head Tom Costley.
The polls show Labour voters in particular are shifting towards independence, prompting former Labour prime minister Gordon Brown to launch a six-day tour of campaign events.
Cameron had been taking a back seat but the polls have changed the political landscape, prompting a rare show of unity with his rivals — although they are not expected to share a platform when they are in Scotland.
The blue and white Scottish saltire flag was hoisted over Cameron's Downing Street office on Tuesday, as Miliband urged public buildings across Britain to fly the standard to send a message to Scots to "stay with us".
The latest polls sent the pound tumbling to a 10-month low against the dollar, amid continued uncertainty about the effect that independence would have on the British economy.
The SNP say Scotland would keep the pound, but the unionist parties in London say this will not be possible — a view reinforced by the governor of the Bank of England.
"A currency union is incompatible with sovereignty," Mark Carney told a meeting of trade unions in Liverpool, northwest England, on Tuesday.
AFP Photo/Ben Stansall
Interested in more world news? Sign up for our daily email newsletter!