Brush Fires Burn Hundreds Of Acres In San Diego, Santa Barbara Counties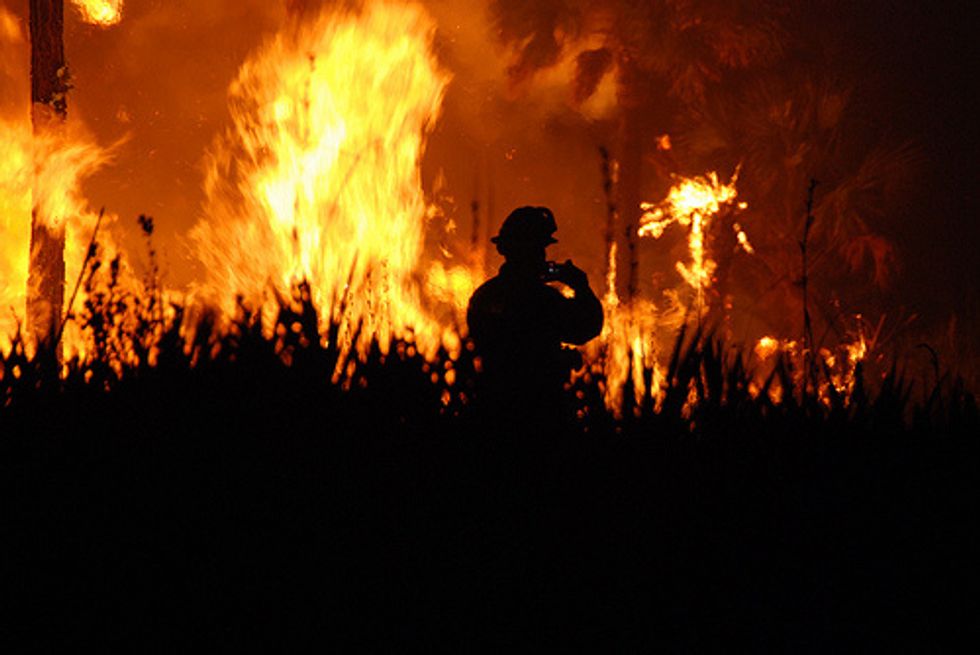 By Tony Perry and Veronica Rocha, Los Angeles Times
SAN DIEGO—Driven by hot, dry winds, fast-moving brush fires in San Diego and Santa Barbara counties burned hundreds of acres Tuesday and forced mandatory evacuations in both areas.
With even higher temperatures forecast for Wednesday, fire officials throughout Southern California were gearing up for more hot spots and warning residents to remain vigilant.
In northern San Diego County, a brush fire burned more than 800 acres, but an aggressive response by firefighters from the state Department of Forestry and Fire Protection and several local fire departments was credited with preventing the flames from damaging any homes.
"We think we have a pretty good handle on it," San Diego Fire Chief Javier Mainar said at an evening media briefing.
In Santa Barbara County, mandatory evacuations were ordered for 1,200 homes and businesses near Lompoc as a wind-driven brush fire there swelled to 700 acres.
Residents in the San Miguelito Canyon area were advised to evacuate as their homes were threatened by flames moving rapidly toward Lompoc, said Capt. David Sadecki of the Santa Barbara County Fire Department.
The fire was reported about 1:30 p.m. Strike teams and helicopters were used to battle the blaze in 15 mph winds. County firefighters ordered eight air tankers for additional support.
In San Diego County, more than 20,000 evacuation calls were made by various fire and emergency agencies to homes, businesses and cell phone numbers, the San Diego County Emergency Site said late Tuesday afternoon.
But those figures were later revised, and at day's end it remained unclear how many homes were actually evacuated and how many residents may have opted not to leave despite receiving a call.
San Diego Police Chief Shelley Zimmerman said 300 mandatory evacuation calls were made within the city limits. San Diego County Sheriff Bill Gore said his department made 5,000 calls.
The calls were made in the Black Mountain Road, Rancho Bernardo, Rancho Penasquitos, Torrey Highlands, Santaluz, Fairbanks Ranch and Rancho Santa Fe areas. The Fairbanks Ranch Country Club was ordered evacuated.
San Diego Mayor Kevin Faulconer said a joint effort by Cal Fire and several local departments mobilized "every available resource to attack this fire all day."
The fire was reported shortly before 11 a.m. Tuesday near Rancho Bernardo. By 6:30 p.m., the fire was considered 5 percent contained.
"We've come a long way since the wildfires of 2003," Mainar said. After the Cedar fire in 2003 destroyed more than 2,200 homes in San Diego County, reports pointed to communication and equipment problems.
Across Southern California, fire agencies were beefing up crews and setting up equipment in wilderness areas because of Santa Ana winds and hot weather expected to last for several days.
Dry northeast winds, along with dangerously low relative humidity and temperatures above 100 degrees in some areas, are forecast for inland and mountain areas across the region, according to the National Weather Service.
Earlier in the week, the agency issued red-flag fire warnings, high-wind warnings and heat advisories from Ventura to San Diego counties, and the U.S. Forest Service said it has assigned 24-hour staffing for crews on more than two dozen fire engine and lightweight brush patrol vehicles across the Angeles National Forest.
Some roads were closed in the forest area because of the fire danger. Those include Glendora Mountain and Mount Baldy. For a map of the closures, which are expected to last through Wednesday, see the Los Angeles Department of Public Works web site.
The Los Angeles County Fire Department has more than 70 additional firefighters on duty across the county, Inspector Tony Akins said. The department also has already deployed extra fire engines, brush patrol vehicles and water tender trucks in Agoura Hills and Malibu.
Akins said a Cal Fire strike team has been assigned to county Fire Station 126 in Santa Clarita.
USFWS/Southeast via Flickr