Brutal Austerity Is Coming To A Statehouse Near You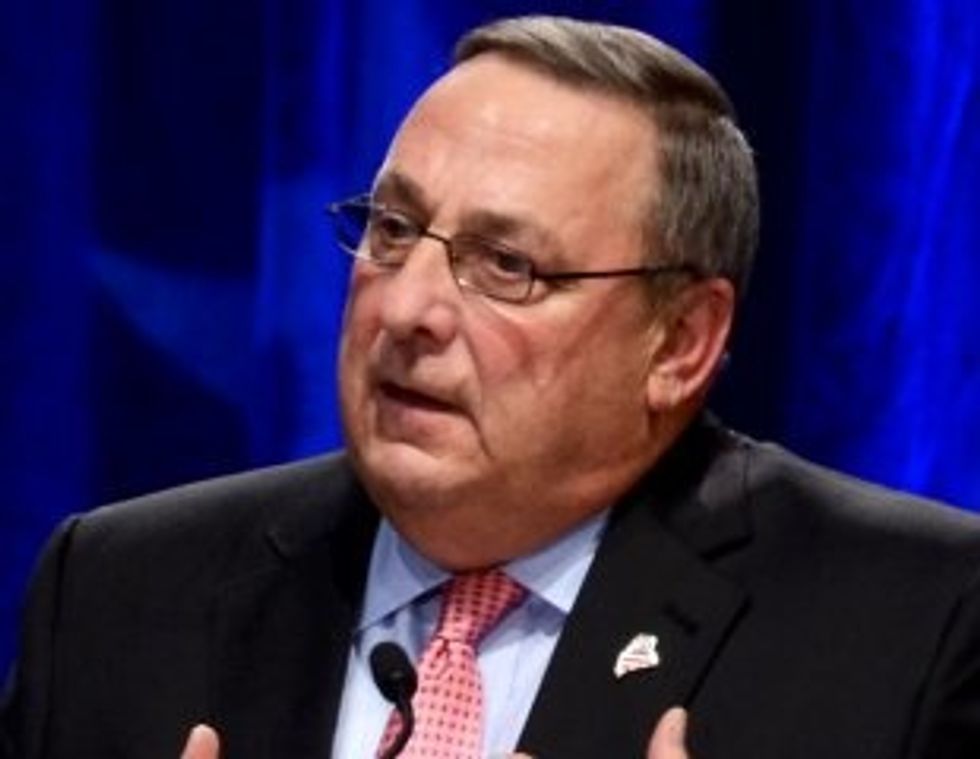 Reprinted with permission from AlterNet.
The incoming Trump administration understandably frightens liberals, but right-wing successes at a state level would have moved forward regardless of who won the election. Only four states currently have a Democratic governor and a Democratic state legislature. What's more, bipartisan support for policies of austerity and neoliberalism have led to vast social spending cuts across the country regardless of political affiliation.
Here are five proposed budget cuts that should have progressives up in arms.
1. Maine's Tea Party Governor Wants to Kick Thousand of People Off Medicaid and Block a Tax Increase for the State's Richest Citizens: Maine's Question 2 vote was hailed by many as one of election day's only progressive victories. Maine voters approved a ballot initiative that would tax Maine residents making more than $200,000 an extra 3% a year and put the money toward the state's education budget.
The question was vigorously opposed by Paul LePage, Maine's infamous right-wing governor, and his new budget looks to retroactively defeat the measure despite the fact it was approved by voters. LePage's new budget would delay the implementation of Question 2, while working in reductions to the state's income tax. In the end, Maine's education funding would be financed by the state's highest and lowest earners, a complete change from what citizens actually voted for.
LePage's budget would also cut eligibility for MaineCare, the state's Medicaid program for parents who are able to work and who currently earn over 40 percent than the federal poverty level. This would knock 19,000 people off of a Medicaid, in addition to the 40,000 LePage has already removed from the program.
2. Texas Is Cutting Disabled Kids' Therapy Service: Texas' GOP-controlled state legislature recently cut its Medicaid program by $350 million. Critics warn that the cuts could be particularly devastating for disabled children in the state, as it drastically reduces the amount of money paid toward therapists who assist vulnerable kids.
A group of citizens attempted to block the cuts through a lawsuit, but the Texas Supreme Court refused to hear the case. Stephanie Rubin, CEO of an advocacy group called Texans Care for Children, sent the Texas Tribune an email about the potential impact of the cuts:
"This is terrible news for Texas kids with disabilities and developmental delays and their families. Kids with autism, speech delays, Down syndrome, and other disabilities and delays rely on these therapies to learn to walk, communicate with their families, get ready for school, and meet other goals."
3. Massachusetts Is Cutting $12 Million in Education: Massachusetts has a reputation as the bluest of blue states, but its governor is Republican businessman Charlie Baker. In December, Baker announced $98 million in budget cuts, with education taking a $12 million hit. Massachusetts' legislature voted to override many of these same cuts last summer, but the Baker administration has unilaterally made them all over again. The budget for a program designed to help immigrant students learn English skills was cut in half.
4. Connecticut Is Cutting $50 Million in School and Municipal Funding: Connecticut has a Democratic governor in Dannel Malloy, but he has been taken to task by local progressives for doubling down on policies of austerity. The latest dustup revolves around $50 million in new cuts, including a $20 million reduction in education spending. Mark Boughton, the mayor of Danbury, tells the Hartford Courant: "This is really horrible timing. Education is one of the most important things we do. I was shocked to see that. I'm going to have to tell our school superintendent he's going to have to cut $250,000 or start laying people off."
The Courant points out that the cuts primarily impact the state's wealthiest areas, but it also quotes Greenwich First Selectman Peter Tesei, who argues that this fact is deceptive. "What's going on is a redistribution of the burden," says Tesei, "The perception of Greenwich is that it's a super-affluent community. And yes, there's affluence, but there's also citizens living at or below state poverty levels."
5. New Mexico Is Cutting Take-Home Pay For State Workers and Teachers: New Mexico Governor Susana Martinez doesn't want to raise taxes so she's finding other ways to cut spending. The state has already cut millions of dollars from its budget over recent months, but Martinez wants to reduce the amount of money the state contributes to the retirement plans of teachers and state workers.
Democrats retake control of New Mexico's House this year, so many expect a battle to ensue with Dems arguing for an alternative approach of raised taxes. NMPolitics.net quotes Rachel Minnaar, a teaching assistant in Albuquerque, who is deeply concerned about the proposal. "TAs get next to nothing and most have second or even third jobs," she said, "We can't afford to lower wages unless we want to put people out on the streets or make them completely reliant on social programs and welfare."
Michael Arria is an associate editor at AlterNet and AlterNet's labor editor. Follow @MichaelArria on Twitter.
IMAGE:  MattGagnon via Wikimedia Commons