A Brutal Holiday Season On Cable And Social Media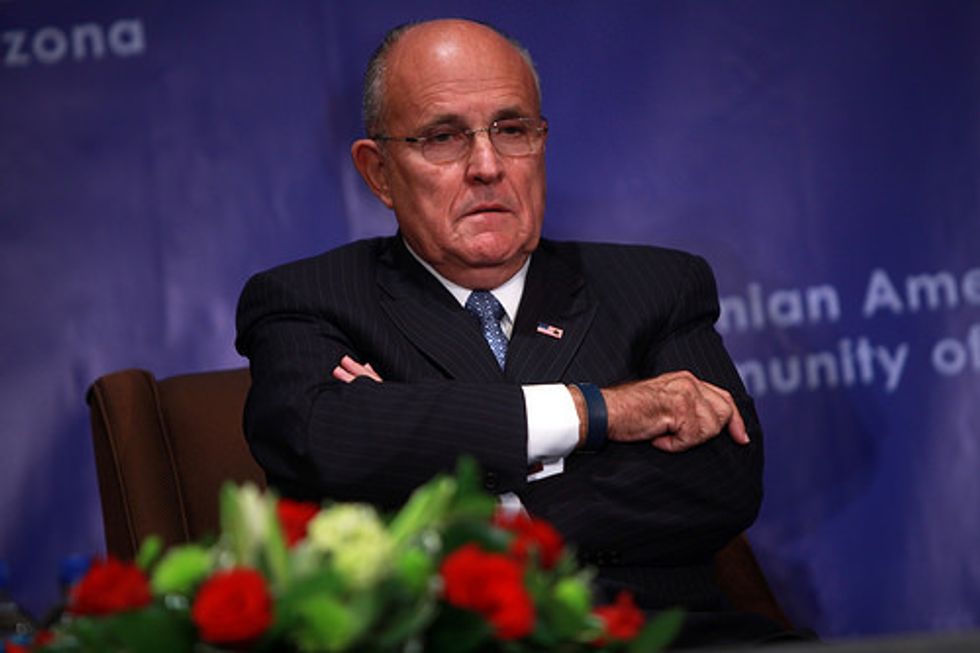 One of the most optimistic documents ever to cross my desk was a scoring guide for judges evaluating teams in high school "ethics bowl" competitions. It's been much on my mind during the bitter blaming season that has overtaken holiday cheer since the shocking murder of two New York City policemen.
Ethics bowls might sound like an ivory tower exercise, but in fact they require students to think hard about many of the issues that fuel today's polarized politics. Teams have sparred in recent years over gay-to-straight conversion therapy, paid maternity leave, illegal immigrants, veils that cover the face, prayer at school graduations, rising drone use, anti-terrorism tactics, euthanasia, abortion, voting in the other party's primary, demanding a nurse of a certain race, and the Supreme Court's Citizens United ruling that freed corporations to spend heavily in campaigns.
In the political arena, such topics would be red meat and the "winners" would be those who came up with the most provocative quote, headline or tweet. The students are judged by a different set of metrics. Was the presentation clear and systematic? Did the team clearly identify the central moral dimensions of the case? Did the presentation indicate awareness and thoughtful consideration of different viewpoints? Did the opposing team offer a relevant, insightful response? Did the presenting team counter in a respectful, productive manner?
When I ran down the list this week for one of my sons, age 29, he interrupted before I could finish. "They're going to be unemployable," he said. "That's not how things work these days."
Tell me about it.
Civility and restraint were not the first instincts of the commentariat after officers Wenjian Liu and Rafael Ramos were executed at point-blank range in Brooklyn as they sat in their patrol car. The suspect, a mentally disturbed Baltimore man who used the same gun to kill himself, had hinted on social media that he was seeking revenge for the deaths of Michael Brown and Eric Garner at the hands of police.
With that, a difficult conversation about police-minority relations erupted into a raw, personal blame game. Among the chief targets were President Obama, Attorney General Eric Holder, New York City mayor Bill de Blasio, and protests ignited by the failure of grand juries in Ferguson, MO and Staten Island, NY to indict cops responsible for the Brown and Garner deaths.
"We've had four months of propaganda, starting with the president, that everybody should hate the police," former New York City mayor Rudy Giuliani said on Fox News, a statement that earned him a "Pants on Fire" rating from PolitiFact. Rep. Peter King (R-NY) said on the same network that "it's really time for our national leaders, the president, it's time for the mayor of New York [City] and really for many in the media to stop the cop bashing, to stop this anti-police rhetoric."
Former New York Gov. George Pataki earned more than 4,300 retweets of this tweet: "Sickened by these barbaric acts, which sadly are a predictable outcome of divisive anti-cop rhetoric of #ericholder & #mayordeblasio. #NYPD." Patrick Lynch, the president of a city police union, said there was "blood on many hands," starting "at City Hall in the office of the mayor." Police turned their backs on the mayor when he arrived at the hospital where the two slain officers' bodies had been taken.
Obama has been a model of balance. He typically says that the police have a dangerous job, no one needs them more than high-crime minority communities, and there's a "gulf of mistrust" that must be bridged. He seems to have come under attack for acknowledging the "reality" that sometimes people are treated unfairly and for encouraging peaceful demonstrations as part of a push for change.
De Blasio alienated cops by mentioning that he advised his teenaged, half-black son to be extra careful if he's stopped. That's just common sense, but it grated coming from a mayor who sharply criticized some police policies in his 2013 campaign and who, once in office, hung on too long to a top aide whose son and ex-con boyfriend posted social media rants against the police.
Still, whatever you think of Obama, de Blasio or Holder, whose Justice Department is investigating some three-dozen departments for civil rights violations, it cannot be off limits to analyze and try to improve police performance. And there's no excuse for the harsh and irresponsible attacks unleashed by this tragedy, especially from current and former public officials.
I dug up the ethics bowl scoring guide because I needed an antidote to the lashing out. I needed a reminder that in some pockets of America, teenagers are being taught how to disagree without trashing the other side. These students are held to much higher standards than today's headline grabbers. Right now, only 20 states hold high school ethics bowls and relatively few students participate. But if you are looking for a glimmer of hope, it will do.
Follow Jill Lawrence on Twitter @JillDLawrence. To find out more about Jill Lawrence and read features by other Creators Syndicate writers and cartoonists, visit the Creators Syndicate website at www.creators.com.
Photo: Gage Skidmore via Flickr