Bullying Los Angeles Sheriff Menaces Reporter -- Then Backs Down
@johnknefel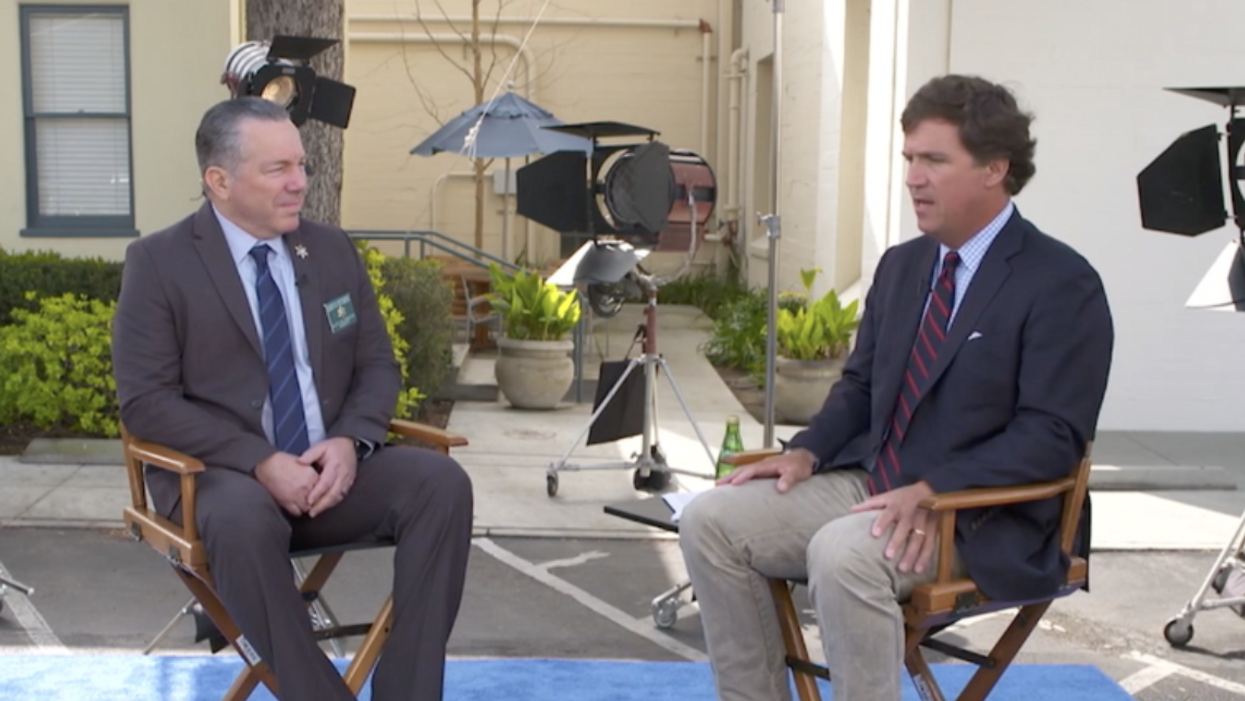 LA County Sheriff Alex Villanueva this week targeted – and then backed off – a Los Angeles Times reporter in a criminal investigation, but Villanueva's threats against the media don't extend to his favorite extremist networks. The hard-right sheriff has appeared on Fox News at least 32 times, including four appearances on Tucker Carlson Tonight, according to an internal Media Matters database.
Villanueva is also a central figure in the two-part Suicide of Los Angeles, the season two premiere of Fox Nation's documentary series Tucker Carlson Originals. Not content to limit himself to Murdoch-owned media, Villanueva has also appeared on fledgling Fox News competitor One America News, and on Newsmax's questionably named The Gorka Reality Check.
Villanueva's appearances on Fox programs often follow a well-worn template. In the wake of either a real or perceived crisis regarding law enforcement, he shows up to fearmonger about the dangers of defunding the police, investigating prosecutorial misconduct, or other moderate approaches to reform of the criminal punishment system. He demonizes unhoused people and drug users, all while doubling down on the carceral policies that are at the root of so much poverty and immiseration in Los Angeles and other cities in the United States.
An illustrative example is from February 22 of this year. When asked by Guy Benson on Fox Business about the effect a COVID-19 vaccine mandate would have on his department, Villanueva reached for apocalyptic analogies. "Well, just think of any dystopian – future movie," Villanueva responded. "Think of Beyond Thunderdome, Mad Max, anything like that, it would be applicable. We have the desert environment, there would be an absolute lack of cops on the street, in the jails. We'd have to close jails." To ensure he hit his talking point, Villanueva then said the "defunding" board that oversees his department wants to "even further" defund it.
When Villanueva isn't citing post-apocalyptic movies to talk about LA's supposed slide into chaos, he's often setting his sights on his favorite target: Los Angeles County District Attorney George Gascón. The DA is a moderate reformer, but to hear it from Villanueva in Suicide of Los Angeles, Gascón's politics fall somewhere to the left of prison abolitionist Ruth Wilson Gilmore.
"The problem is here in LA, in city and county government, they occupy every single seat," Villanueva says, without specifying exactly whom he's referencing. "There is no other point of view other than that 'woke' ideology." He adds that Gascón and other liberal reformers are "funded by Soros and company," a narrative frequently featured on Fox News.
Appearing in a promo for the film alongside Carlson, Villanueva made it clear who he thinks is getting preferential treatment from Gascón's office. "Unless you come from the public defender's office, you are a Black Lives Matter activist – those are about the only people he's speaking to. Everyone else just doesn't exist in his world."
Villanueva's regular presence on right-wing media only underscores how inappropriate his comments about the Los Angeles Times were. The investigation into staff writer Alene Tchekmedyian arose from a story she'd written about a departmental cover-up of a deputy's assault of a person in their custody. The Times obtained a "surveillance video from a lockup area of the San Fernando Courthouse that captured the deputy kneeling on the inmate's head for three minutes after handcuffing him," according to Tchekmedyian's reporting. At a press conference on Tuesday, Villanueva accused two political rivals, in addition to Tchekmedyian, of being responsible for the tape's release. When asked if the reporter was specifically under threat of prosecution, Villanueva responded, "All parties to the act are subjects of the investigation," according to the Times.
By that evening, facing intense criticism, the sheriff backed down. "I must clarify at no time today did I state an L.A. Times reporter was a suspect in a criminal investigation," he said, according to the Times. "We have no interest in pursuing, nor are we pursuing, criminal charges against any reporter."
Far-right views within sheriff's departments are alarmingly common, and they are regularly aired on Fox. The far-right movement known as "constitutional sheriffs" holds that local sheriffs are the highest legitimate legal jurisdiction in the country. Although Villanueva is not known to be a follower of that philosophy, Fox News has a documented history of embracing those who are.
Villanueva's walk-back notwithstanding, it's ridiculous for him to claim Tchekmedyian was never a subject in his investigation. His comments were filmed and posted to his own department's Facebook page. Just don't expect to see that footage on Fox News any time soon.
Reprinted with permission from Media Matters