Bush Follows Bush On Campaign Trail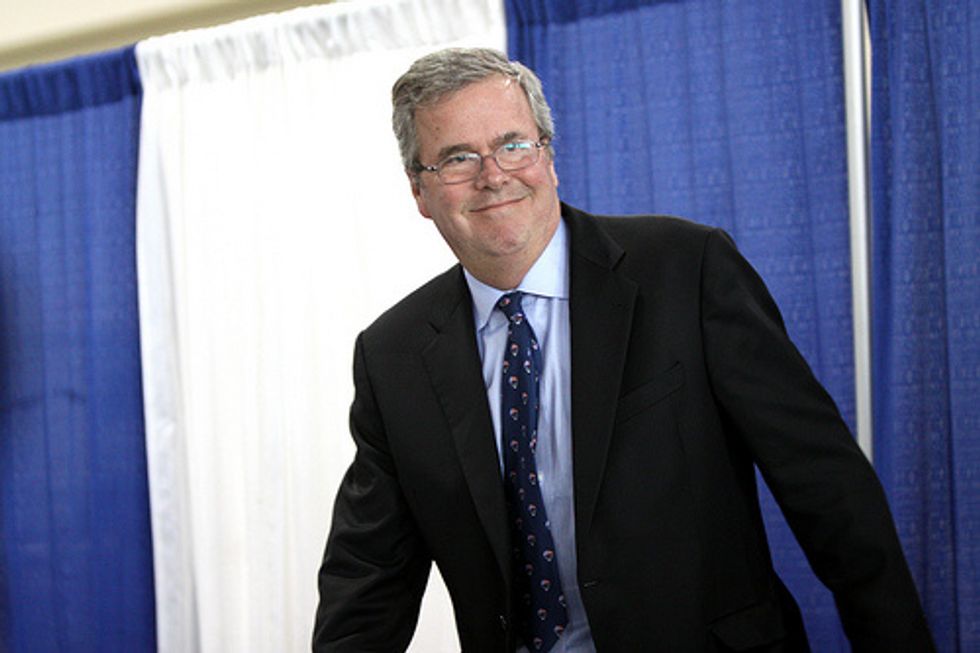 By David Lightman, McClatchy Washington Bureau (TNS)
MANCHESTER, N.H. — The shadow of his brother and father followed Jeb Bush on the campaign trail Friday, leaving him torn whether to follow them or inch away.
He was peppered with questions from reporters in New Hampshire about how he differed with President George W. Bush's foreign policy. Not relevant, Jeb Bush insisted. The previous night, a voter asked him to explain why another president should come from the Bush family.
At the same time, the Bush name, and more important, its financial and political network, provide a huge advantage in the early going.
Bush is well aware he can't escape. When he spoke at a breakfast Friday, staring right at him from the opposite wall was a big picture of his brother. Photos of his father were also plastered on the wall of the New Hampshire Institute of Politics, where Bush appeared. "Brings back really fond memories," he laughed.
The family name adds a new layer of skepticism to the lengthy, detailed decision process voters endure in the nation's first primary state. When Bush spoke at the Concord Snowshoe Club Thursday night to Republican activists, retiree Bill Doherty got up and put the question about family ties squarely to Bush.
"Why should only two families produce the leaders in this country?" he asked politely. A Bush or Clinton has been president for 20 of the last 27 years, and now both Jeb Bush and Hillary Clinton are among those seeking the White House.
Bush first tried humor and humility. "I have enough self-awareness to know that that is an oddity," he said. He joked how he wanted to "break the tie" with the Adams family. John Adams was the nation's second president and his son, John Quincy Adams, was the sixth. "One way to get people to deal with this is to get people to laugh," Bush said.
While Jeb Bush does not look like his brother, he has the same way of gesturing with his hands, and the same use of quick laugh lines to deflect tension.
"You have brothers and sisters so you may appreciate this, we're not all alike. We make our own mistakes in life, we're on our own life's journey," he told the breakfast group.
At a news conference later, he said he'd differ because he'd stress his record as governor of Florida from 1999 to 2007. And, Bush insisted, "I'll actually propose ideas for the future."
One of his biggest challenges is defending, or deflecting, his brother's national security policies. George W. Bush left office in 2009 deeply unpopular, largely because of American involvement in the Iraq War.
Asked if he would detail how his foreign policy might be different, Jeb Bush said, "No."
Bush said earlier this year that intelligence about Iraqi weapons of mass destruction, which his brother used to justify the invasion of Iraq, proved "not to be accurate."
Asked Friday about other disagreements with his brother's foreign policy, Jeb Bush said: "That's not particularly relevant in a world of deep insecurity. Focusing on the past is not really relevant."
What's relevant, he said, is "the role of America going forward. And in that world what I see is insecurities creating dramatic insecurity for our own country."
Bush does command a decent following of people who remember his brother and father fondly. "The Bush dynasty is one of the most significant strengths he has," said Beverly Bruce, a Tuftonboro software marketer. "He not only has the experience level but also a sense of history."
Doherty, too, was sympathetic. "He answered (the question) fairly. After hearing him, I absolutely would vote for him," he said.
Whether others would, though, is another matter.
"There is that dynasty issue," he said. "It's a question on everybody's mind."
(c)2015 McClatchy Washington Bureau, Distributed by Tribune Content Agency, LLC
Photo: Gage Skidmore via Flickr