Busted Down To The Minor Leagues — GOPers In New Debate Landscape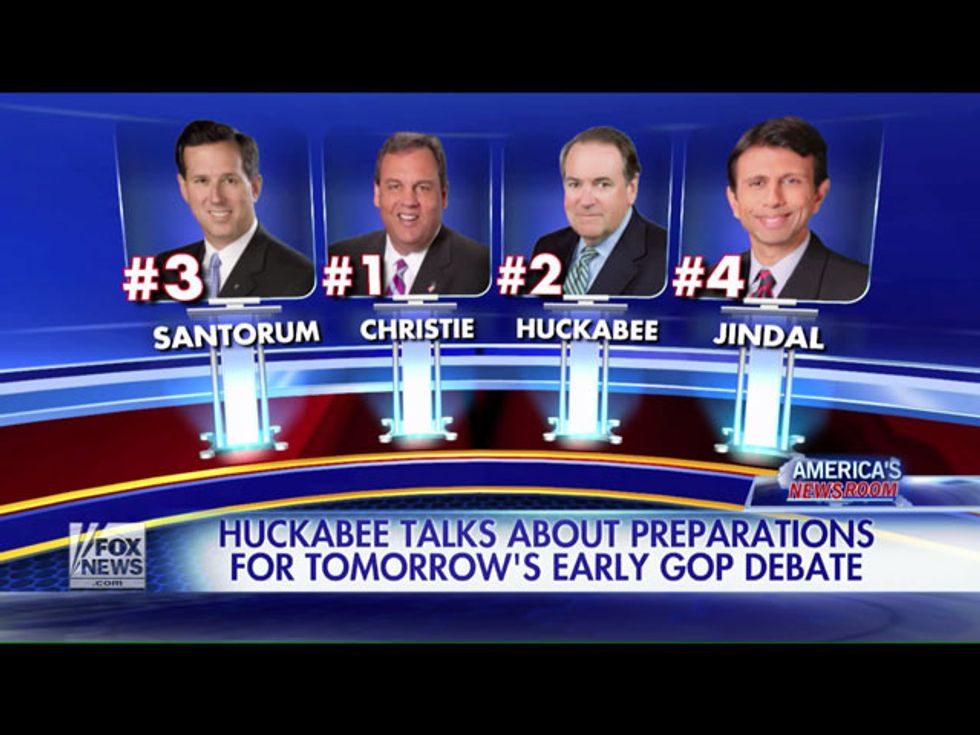 The biggest development heading into Tuesday night's Republican debates, hosted by the Fox Business Network, is the change in line-ups. Due to the network's debate criteria, formerly top-tier candidates Chris Christie and Mike Huckabee have been relegated to the undercard debate — thus opening up some space on the main event stage, reducing the number of podiums to eight from 10. Meantime, Lindsey Graham and George Pataki aren't even being invited back to the kids' table at all!
So how are they all handling it?
Christie is trying to take things in stride — saying that of course he would prefer to be on the main stage, but he would nevertheless put in a great performance that might vault him back up.
"We're not whiners and moaners and complainers in the Christie campaign," Christie said during an appearance on Fox News. "Give me a podium, give me a stage, put the camera on we'll be just fine. I've never had a problem, as you know, Stave, at making an impression."
Mike Huckabee might not be such a good sport about it, reiterating his complaint that he was barely given any time to even speak at previous debates in comparison to the other candidates.
"You put enough helium in somebody's balloon — and yeah, they'll float," Huckabee said over the weekend. "But you know, if you don't get the time — I got three questions in the CNBC debate. Most of the candidates got eight, nine, 10. It's, you know, tough to battle that. So I'll go on that stage and give it my best, and I"m looking forward to it. I hope everybody watches it."
Then on Monday, Fox News host Bill Hemmer gave Huck some consolation. "I don't think you're gonna have an issue now, based on time," Hemmer said, pointing to the much less crowded stage for the undercard candidates.
But it can in fact get even worse than getting bumped down to the undercard. Graham appeared Friday on the local NBC affiliate in Charleston, back in his home state of South Carolina, where they chatted about his having been excluded entirely.
"Yeah that was a shock to us," Graham said. "The process is a bit broken. Apparently they used a poll that my name was not in — so it's pretty hard to do well."
Graham appears to be referring to the latest NBC News/Wall Street Journal poll, which did not include his name in the initial list for asking Republican voters. Instead, it only included him as a backup choice (along with Pataki, Bobby Jindal, Rick Santorum, and Jim Gilmore) after a respondent said they would prefer an "Other" candidate, beyond the first listing.
"It's not fair, and we'll ask Fox to do a replay!" Graham said sarcastically. "We'll go up to the replay booth. If you take that poll out, I'm double what I need to get in. We'll see how that works. But the bottom line is, soldiers don't quit — I'm not gonna quit."
As for the last candidate to be demoted, George Pataki hit back on Twitter, when it was first announced Thursday night:
Running for the most important leadership position in the world shouldn't be reduced to the level of American Idol or Survivor. #GOPDebate

— George E. Pataki (@GovernorPataki) November 6, 2015
The voters, not networks driven by ratings or national polls that are statistically irrelevant -should decide our next president. #GOPDebate

— George E. Pataki (@GovernorPataki) November 6, 2015
But sadly, Pataki really hasn't been heard from beyond that.