Cab Drivers In Europe Protest Against Uber, Other Ride-Share Services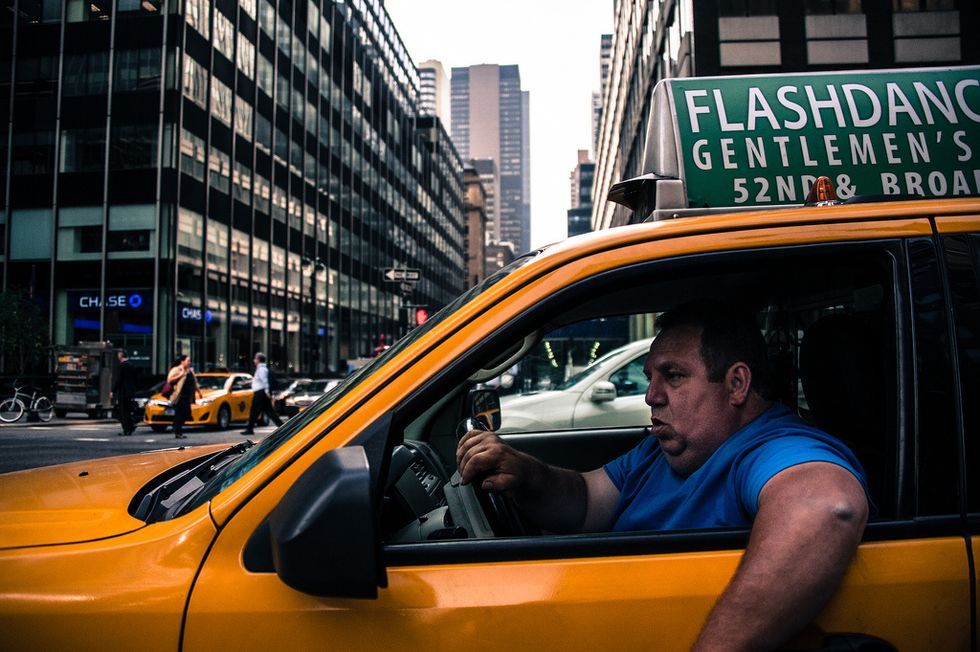 By Henry Chu, Los Angeles Times
LONDON — A smartphone app designed to keep people on the go brought parts of Europe to a standstill as cabbies protested Wednesday against what they view as an unfair, unsafe threat to their livelihoods.
Uber, a California-pioneered app that allows users to hail rides from participating drivers at the touch of a button, has run into vociferous opposition on both sides of the Atlantic from taxi companies resentful of the invasion of their patch.
Here in London, drivers of the city's iconic black cabs vented their anger by converging on Trafalgar Square by the hundreds early Wednesday afternoon. They slowed to a halt, honked their horns and blocked traffic on streets leading to government offices, the Thames and the West End during the busy lunch hour on one of the warmest days of the year so far.
"It'll decimate the industry," Grant Davis, 50, who has driven a black cab for more than half his life, said of Uber. "This is the dollar coming from Silicon Valley and saying to our mayor, Boris Johnson: 'We're coming in and we're going to operate private-hire vehicles, and you're not going to complain about it.' "
Similar demonstrations hit Berlin and Madrid. In Paris, arteries feeding into the French capital were choked by taxis that deliberately slowed to a crawl.
At least one European city has already put the brakes on Uber, which began in San Francisco and has quickly spread to other parts of the United States, as well as overseas. In April, a court in Brussels banned Uber from operating there, calling the app unfair competition and ordering a $13,500 fine for Uber drivers for every fare they pick up. A European Union official slammed the ruling as a ridiculous move to "protect a taxi cartel."
Uber's opponents say the app offers an inferior, unregulated and potentially dangerous service.
In London, for example, aspiring cabbies are famously tested on their mastery of "the Knowledge" — their familiarity with the city's crazy web of streets and alleys, popular destinations and shortcuts — and must meet safety and other standards to earn their medallions. Uber's fleet of freelance chauffeurs won't be subject to the same level of scrutiny.
"Licensed taxi drivers … go through a rigorous regime to get their license and the right to be publicly hired," said Mick Bailey, chairman of the London branch of a union representing transport workers. "That licensing has been in place for 300 years" — its roots hark back to horse-and-buggy days — "and we don't intend to give it up."
London is home to about 25,000 black cabs; the average cabbie makes about $40,000 a year. Tens of thousands of minicabs, which operate on fixed fares rather than meters, also ply the roads.
Uber insists it's just one more option on the transportation menu.
The app "offers another choice to customers and for drivers. It increases competition, which is good for all of us," Jo Bertram, Uber's general manager in Britain, told the BBC.
Whether Wednesday's protest will succeed in throwing Uber into reverse in London remains to be seen. Both sides are awaiting a court ruling on whether Uber fixes its fares on a mileage basis that too closely approximates a taxi meter, which only licensed cabs are allowed to use.
In Madrid, about 1,000 cabbies marched down the city's main thoroughfare, tying up traffic as they rallied in front of a government building.
"I love this job, and I don't want other people out there to ruin it for us," declared Maria Eugenia Hernaz, 37. Hernaz said she paid $185,000 for her taxi license — "more than my house."
"It's amazing that taxis without insurance or taxes can do this," she said. "And also the people, how can they feel safe getting into those other cars? I'm sad, very sad."
Photo via Flickr