California Climate Plan Has Inland Condemning Coastal Elitism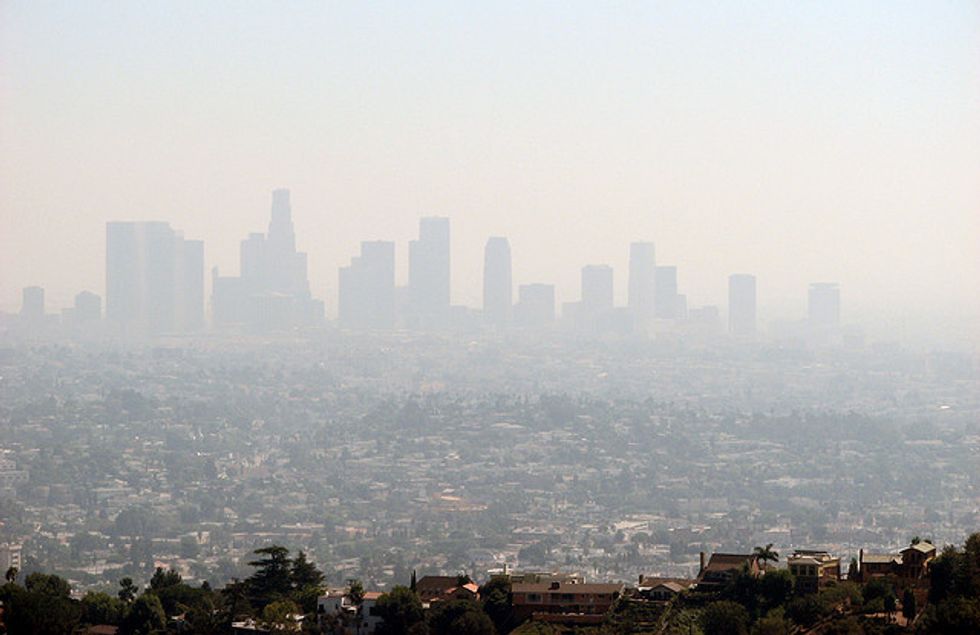 By Esme E. Deprez and James Nash, Bloomberg News (TNS)
The way inland California lawmakers see it, the only benefit to their constituents from Gov. Jerry Brown's expansion of carbon pollution laws will be cleaner air to breathe as they wait at the unemployment office.
Brown and other Democrats are pushing legislation to reduce greenhouse gases caused by burning fossil fuels to a fraction of what they were a quarter-century ago. The state would make utilities get a greater share of electricity from low-pollution sources, compel industries to cut smokestack emissions further and encourage cleaner cars on roads.
In a state of 39 million dominated by Democrats, politics falls along regional lines rather than partisan ones. Just as California's north and south fight over water amid a record drought, the climate legislation has widened longstanding rifts between more affluent, Democratic-leaning cities along the coast and poorer, more conservative towns in the interior.
"Families losing their jobs cannot afford solar panels on their homes when they can no longer afford their homes because they have no job," state Sen. Jeff Stone, a Republican from Riverside County, told colleagues during a debate on Senate Bill 350 this month. He called it "coastal elitism at the worst, an act that will cut jobs in Central Valley communities and benefit rich urban areas that already have more jobs and economic diversity."
Opponents such as Stone praise the goals of climate-change regulations but say private-sector innovation should drive clean technology, not government mandates.
They warn that tightening California's rules, already the nation's toughest, will increase gas and electricity costs for companies, farmers and the poor, eliminating jobs and driving business to less-expensive states. Rural residents traveling long distances to work, school and medical care will be disproportionately hurt, they say.
Proponents says the rules could bolster California's $2.3 trillion economy — already the world's seventh largest — by stabilizing energy costs, creating jobs that can't be outsourced and lowering emissions from oil refineries, automobiles, power plants and factories. Absent action, they warn, the effects of climate change — long droughts, hotter temperatures and rising seas — would overwhelm it.
The bills call for California to get at least half its electricity from renewable sources such as solar and wind by 2030 and to lower carbon air pollution to 80 percent below 1990 levels within 35 years. New rules would seek to halve the petroleum Californians burn and require a 50 percent increase in energy efficiency in buildings.
The bills have passed the Senate and await hearings in the Assembly, where they also are expected to win approval. Democrats control both houses.
"The world is watching what California does," Senate President Pro Tem Kevin de Leon, a Democrat from Los Angeles, said in an interview. "If we can prove that we can move forward with far-reaching carbon-reduction policies while at the same time reducing harmful pollutants that our children breathe into their lungs and grow the economy, then we know that the Chinese, the Mexicans, the Canadians, the Indians will follow."
Jobs created to install solar panels or retrofit buildings for energy efficiency don't require advanced degrees, de Leon said. Subsidized solar panels for low-income families in Fresno lower electricity bills, and more fuel-efficient hybrids in East Sacramento cost less at the pump.
That's scant consolation to Chad Hathaway, who owns a 27-person oil-drilling operation in Kern County, about 110 miles northeast of Los Angeles. That's where more than 70 percent of oil is drilled in California, which trails only Texas and North Dakota in production, according to the U.S. Energy Information Administration.
Hathaway said the governor and his allies don't appreciate the harm their campaign would cause Central Valley farming counties, which have been ravaged by unemployment rates as high as 11.1 percent, a four-year drought and declining oil prices that sent drilling to a record low.
"They live in a utopian society," Hathaway said. "People who are truly struggling in the San Joaquin Valley are poor Hispanic people or poor people in general. They can't afford to turn on the air conditioning or drive their cars."
Manufacturers in California already pay more for electricity. In March, such users paid an average of 10.63 cents per kilowatt-hour, 57 percent higher than the national average, according to the U.S. Energy Information Administration.
Past climate-change legislation in California has drawn concern even from Democrats. A June 2014 letter signed by 16 Assembly Democrats warned that an expansion of the state's cap- and-trade program to cover transportation fuels would hurt the poor the most.
This year's legislation is backed by a coalition of organizations including the Sierra Club and the Environmental Defense Fund, companies including eBay Inc. and KB Home, and billionaire environmentalist Tom Steyer.
Steyer says mandates for more renewable energy will drive innovation. That will decrease costs in the long run, while the scarcity of some fossil fuels will cause prices to rise.
"The idea that the curves aren't going to cross in 15 years is not something that I lie awake worrying about," Steyer, founder of San Francisco-based Farallon Capital Management LLC, said in an interview. "This is going to turn out much better from an innovation standpoint than anyone understands now."
(c)2015 Bloomberg News. Distributed by Tribune Content Agency, LLC.
Photo: Ben Amstutz via Flickr