Californians Are Ready For A Greener Economy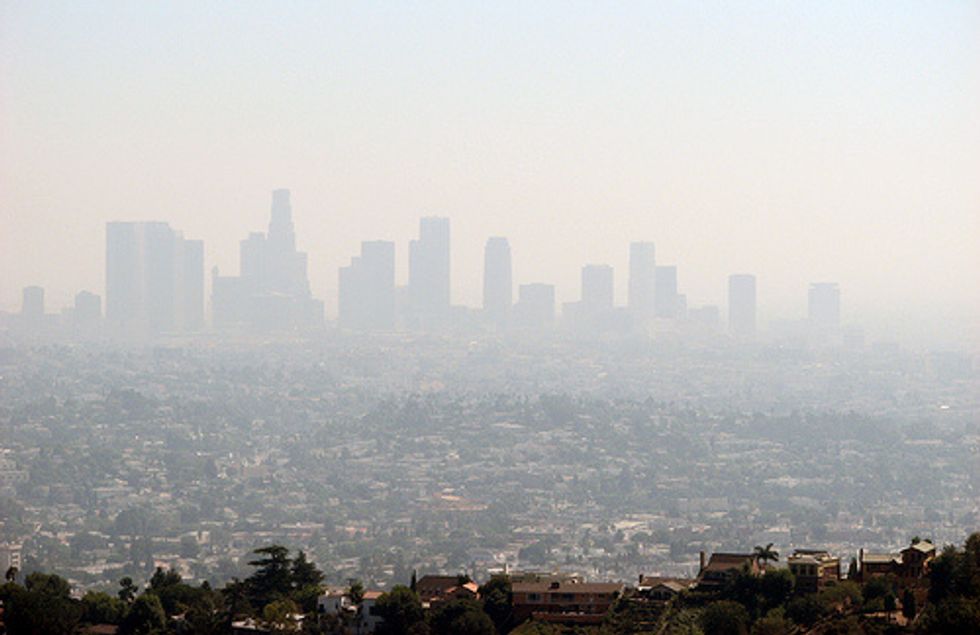 Despite the success of California's historic Global Warming Solutions Act (also known as AB 32), this summer saw an interesting turn of events in the form of AB 69, an attempt by Central Valley assemblyman Henry Perea to suspend the next phase of the Act's implementation. This controversial next phase extends carbon pollution caps to the transportation sector.
Thankfully, AB 69 died in the legislature last week thanks to Senate president pro Tem Darrell Steinberg's decision to delay hearing it before the end of the session. His letter to Perea articulating the health and environmental impacts of stalling AB 32 caused environmentalists, public health advocates, and clean tech companies to rejoice. "If we are serious about reducing fuel costs and righting the public health and economic wrongs facing our constituents," he wrote, "we must wean ourselves off fossil fuels and invest in cleaner transportation alternatives."
As someone who does not typically follow the ins and outs of a piece of bill as it winds its way through the legislature — much less in state government — I found myself on the edge of my seat wondering what would happen with AB 69. Californians drive almost 14,000 miles a year, over one and a half times more than the national average. And we don't just drive more miles; we even own more cars than we have drivers! In a state that drives so much, how much of an impact could ads featuring little kids at the gas station complaining about fuel prices have on the Californian psyche? It turns out, not much.
That's likely because Californians need AB 32 to succeed. 12 million of us breathe air deemed excessively polluted by lax federal standards. Despite the number of cars we have, more Californians die from the health impacts of pollution than die from motor vehicle accidents, and 80 percent of the state is experiencing extreme or exceptional drought, the economic impacts of which are yet to be seen. In a July 2014 poll, 62 percent of Californians said that global warming was already having an impact, citing droughts, wildfires and rising sea levels as concerns.
As the Truman National Security Project's Michael Wu and I wrote last week, our dependence on fossil fuels is a national security liability as well. Our reliance on fossil fuels puts our men and women in uniform at risk while funding unstable regimes and terrorist groups like ISIS. We simply must move away from fossil fuels, for our health and our security.
But despite its obvious necessity, this isn't the first time that the big-oil lobby or its lackeys have tried to dismantle California's historic legislation to combat climate change. Back in 2010, millions of dollars were spent by oil companies including Valero on the failed Proposition 23, which threatened to suspend AB 32 altogether. And AB 32 continues to be challenged in court as well. As recently as November 2013, a California superior court rejected the California Chamber of Commerce's claim that the proceeds from the carbon auction amount to the equivalent of an unconstitutional tax.
Thankfully, cooler heads do prevail. The truth is that it's far too late to undo AB 32 now. Even the most skeptical supporters acknowledge the good that has come from the legislation already. Between 2002 and 2012, jobs in the clean tech industry grew by 20 percent. Since 1990, per capita greenhouse gas emissions have dropped by 17 percent. Zero emission vehicle registration grew over 60 percent between 2011 and 2012, and the rate of hybrid electric vehicle adoption has never been higher.
In short, it looks like Californians are more ready than ever to make the shift to a low-carbon economy. I can't wait to see what happens next.
Andrea Marr is a member of the Truman Project's Defense Council, an energy efficiency engineer, and a former officer in the U.S. Navy.
Photo: Ben Amstutz via Flickr
Want more environmental news and analysis? Sign up for our daily email newsletter!