Calling Texas' Anti-Trans Bathroom Ban A "Safety" Measure Is A Nod To A Pervasive, Debunked Lie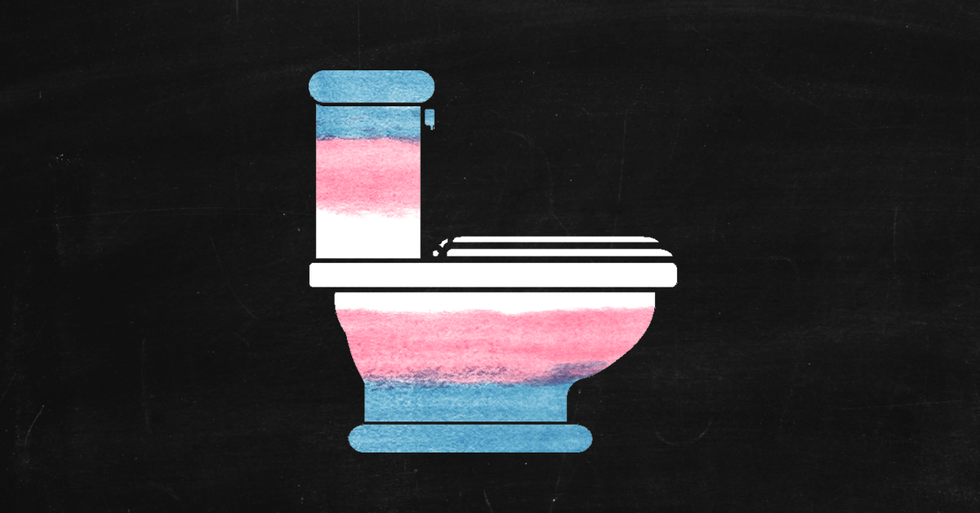 Reprinted with permission from MediaMatters.
Houston, TX, broadcast news media's coverage of a proposed statewide anti-transgender bathroom ban — which would prevent transgender people from using public restrooms that align with their gender identity — frequently cited supporters' claims that a ban was necessary in order to protect the "safety" and "privacy" of women and children. This rhetoric served as a less-explicit but still insidious nod to the debunked, anti-transgender bathroom predator myth that has been touted before, which claims that transgender-inclusive restrooms would allow sexual predators to enter women's bathrooms and assault or harass them.
On June 6, Texas Republican Gov. Greg Abbott announced a 30-day special session to discuss 20 items that had not been approved during the legislature's regular session, including legislation related to transgender people's access to restrooms, officially billed as a "privacy" item. About a week into the session, which started July 18, Texas' Senate passed its version of the bathroom ban, but the bill did not make it out of the House State Affairs Committee and thus never received a vote in the state's House of Representatives.
During the special session, Houston outlets widely mentioned supporters' claims that the measure is a "safety" and "privacy" issue — a nod to the debunked bathroom predator myth
Though they generally also noted that the proposed bathroom ban would encourage discrimination, Houston news stations covering the special session repeatedly and uncritically mentioned the "privacy" and "safety" concerns of the bill's supporters. Houston's CBS 11 reported that "supporters" of the proposed bathroom ban "say it's an issue of privacy and safety." Houston's NBC affiliate similarly said, "The bill's author still argues the bill protects privacy and safety of Texans." Likewise, Houston's Fox 26 News claimed, "Supporters say it's about safety and privacy, but opponents believe it targets transgender people." Houston's ABC 13 noted that "Republicans say this is a safety issue." The reports mirrored the language Abbott used when he claimed the bill was meant to "help women have privacy, safety, and security to the fullest extent possible."
The claims that the "bathroom bill" is about "safety" and "privacy" concerns are an implicit nod to the bathroom predator myth, which media should acknowledge has been debunked.
Texas Lt. Gov. Dan Patrick, who has been at the forefront of the fight for a "bathroom ban," has consistentlyreferred to the legislation as "privacy legislation." He called it "Texas Privacy Act" and said it was a matter of "public safety" in a video about the special session. Patrick also said that "adult women don't want men following them into the ladies' room, nor do they want their little girls or granddaughters being followed in a bathroom by a man." In an interview in July, Patrick said: "We don't want sexual predators — and I'm not talking about transgender people … I don't want sexual predators masquerading as being transgender to enter into a bathroom to follow a little girl."
Similarly, before the special session began, Abbott said that Texas needed to address student "privacy, safety, and security" with a proposed ban. During the session, he asserted that he wanted a ban that "at a minimum … protects the privacy of our children in public schools." In 2015, during a debate about a proposal to, among other things, add gender identity discrimination protections, Abbott tweeted a more explicit version of the myth: "Vote NO on the City of Houston Proposition 1. No men in women's bathrooms." The Campaign for Houston, which was run by anti-LGBTQ hate group Conservative Republicans of Texas (CRT), praised Abbott for the tweet. CRT interchangeably pushes "privacy" rhetoric and the bathroom predator myth, as seen in its pledge to "continue the fight for privacy" in a August 24 fundraising email which also says that the legislation "keeps biological males, including registered sex offenders, out of women's bathrooms."
The anti-transgender bathroom predator myth has been thoroughly debunked
The anti-transgender bathroom predator myth has been widely debunked by experts and government officials across the U.S., including in 16 states and the District of Columbia and school administrators in 23 school districts and four universities. In 2015, 17 U.S. school districts covering 600,000 students told Media Mattersthat they had not experienced any problem after implementing transgender protections. Saint Paul Public Schools in Minnesota assembled a "myths and facts" sheet about its gender inclusion policy, which said, "There is no correlation between unsafe school environments and providing equitable access to facilities for transgender and gender non-conforming students."
Likewise, numerous experts working in sexual violence and domestic prevention have said that the right-wing bathroom predator myth is false. In an interview with Media Matters, Laura Palumbo, communications director for the National Sexual Violence Resource Center, said she has "never heard of … instances" nor "seen any research" to validate the bathroom predator myth. Palumbo also noted that "one of the most vulnerable populations there are is the transgender population" when it comes to sexual violence.
The bathroom predator myth was widely reinforced in HERO coverage
In 2015, the Houston Equal Rights Ordinance (HERO) was put up for an unsuccessful vote as a ballot referendum. It would have protected people from "discrimination based not just on gender identity and sexual orientation, but also 13 classes already protected under federal law" including sex, race, religion, disability, and others. And according to The New York Times, an early "draft of the bill included a section, later removed, that would have let transgender people use the bathroom that best reflected their gender identity. Opponents seized on the issue and never let go."
The city's media played a significant role in killing HERO by uncritically utilizing the bathroom predator myth in its coverage. During one month in 2014, for example, more than half of local station Fox 26's coverage mentioned the bathroom predator myth. Both Houston's Fox and CBS affiliates included b-roll footage of restrooms without commentary in over half of their HERO coverage during a two-week time period in 2015, and the myth was mentioned in at least 10 segments across the four major news networks in Houston during that same time. Anti-LGBTQ hate groups such as CRT and Family Research Council pushed the myth particularly hard, as did Fox News.
Some Houston outlets explicitly pushed the bathroom predator myth during special session coverage
Though it was less explicit than in the HERO coverage, some outlets reporting on the special session stilluncritically reinforced the debunked bathroom predator myth, beyond simply referencing "safety" and "privacy." Perhaps the most egregious example came from the Fox 26 special panel show What's Your Point. In May and June, the Houston Fox affiliate hosted anti-LGBTQ extremist and CRT President Jared Woodfill seven times in10 days, and on May 22, Woodfill discussed the possibility of a special session on What's Your Point. He claimed that "registered sex offenders who somehow believe that they're a woman" would be "allowed to go into the restroom where our wives, our daughters, and our mothers are going to be." Guest Steve Toth, a Republican former state congressperson, added, "This is not about a transgender boy. This is about a sex offender being able to walk into a bathroom, unchecked, and no one can stop them. That's what this is about."
Houston media coverage has improved since HERO, but mentions of "safety" and "privacy" must have necessary context in the future
Characterizing the bill as a "safety" and "privacy" bill still implies that transgender-inclusive bathrooms are unsafe. Though explicit mentions of the mythical bathroom predators have noticeably decreased, media must add necessary context to their coverage to clarify that banning transgender people from the bathroom facilities that correspond with their gender identity does nothing to ameliorate "safety" or "privacy" concerns. In fact, transgender people are the ones at increased risk for violence and sexual assault in bathrooms. The National Center for Transgender Equality's landmark U.S. Transgender Survey found that 12 percent of transgender people "report that they have been harassed, attacked, or sexually assaulted in a bathroom in the last year" and that 59 percent have "avoided bathrooms in the last year because they feared confrontations in public restrooms at work, at school, or in other places."
Header image by Sarah Wasko / Media Matters