Can Democrats Sustain Alabama Wave Into 2018?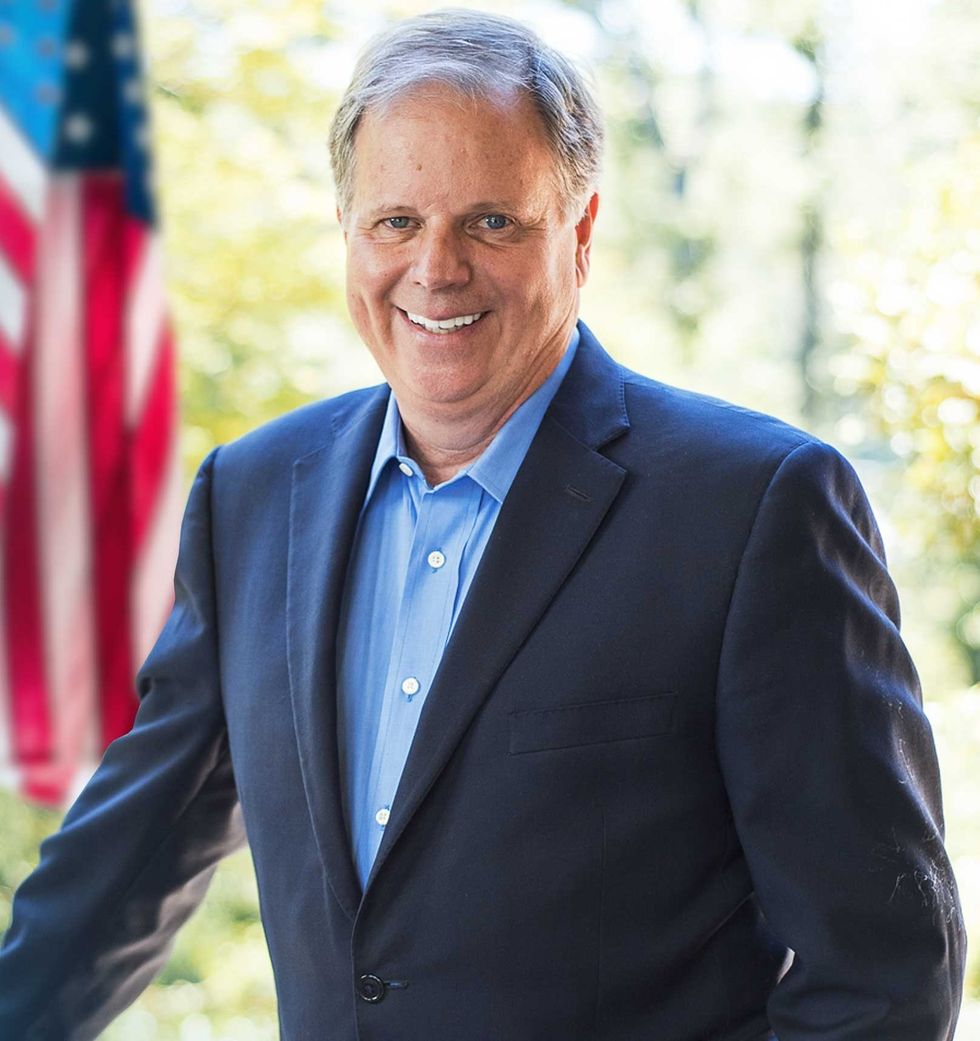 Reprinted with permission from AlterNet.
Alabama's election of Doug Jones to the Senate was not just an electrifying and reassuring victory for Democrats; it was, as Jones said Tuesday night, a victory for all Alabamians and Americans who want their political system to embrace "dignity," "respect," "the rule of law," "decency," "common courtesy" and "a fair shake in life."
"It has been about every one of you, and your sons and daughters," Jones said. "It's all of those volunteers who knocked on 300,000 doors. It's the volunteers who made 1.2 million phone calls around this state… It was every community. You know I keep hearing about the different communities in this state. The African-American community—thank you! My friends in the Latino community—thank you! To all my Jewish friends, happy Hanukkah!"
Jones' victory was many things. It was a triumph for grassroots organizing in a state that hadn't seen a Democratic upset in years. It was an affirmation that a good candidate can inspire people to turn out in droves to defeat a bad candidate who turns off his party's base and the public. And it was perhaps a sign that voters have had enough of the tribalism that infects modern politics, epitomized by the GOP under Donald Trump.
But how much of what Jones accomplished in Alabama can be applied or repeated elsewhere? In some ways, his election was a special case. Sex scandal-plagued Roy Moore was a truly terrible candidate. Most establishment Republicans avoided him or kept away until the end—like President Trump and the national party committees. It was also a surprise that might not have happened if Sen. Richard Shelby hadn't told fellow Republicans to write in another name—not Moore's. (There were nearly 23,000 write-in votes; 2,100 more than Jones' margin of victory.)
While these dynamics are unlikely to recur in 2018, there are takeaways from Alabama that apply to the most critical congressional and gubernatorial races next year. That's when two-thirds of the Senate contests are incumbent Democrats facing re-election and Democrats need 24 seats to retake the House. While there are unknowns, such as how much the GOP tax plan and Trump will weigh down Republican candidates, there is a starting-line landscape found in red-run states like Alabama. That's where the GOP has spent this decade creating supermajorities and voting rules that benefit them and undermine Democrats.
That red-state gaming of the electoral field begins with extreme redistricting, or segregating each party's reliable voters to give GOP candidates a 6-to-8 percent lead in their districts. It continues by suppressing Democratic turnout via stricter voter ID requirements, which knocks off another 2 to 3 percent in the fall, followed by other voter suppression measures. (These figures are cited in court rulings, congressional studies and academic papers.)
Jones' victory underscores key lessons about the hurdles facing Democrats next year in states like Florida, Georgia, North Carolina, Pennsylvania, Ohio, Wisconsin and Michigan. The big takeaway, as evidenced by every major election in 2017, including Alabama, is that winning takes a giant turnout wave supporting Democrats, and a corresponding average turnout from Republican voters.
That's the pattern that voter turnout experts saw in Alabama. The wave was most visibly led by the African-American community, whose voting rights heritage gave the nation Dr. Martin Luther King Jr. and a moral imperative to vote no matter what. But there was also high pro-Jones turnout in college towns and among suburbanites, many of whom voted for Trump in 2016. These trends were noted on Twitter posts by election experts Tuesday and in analyses of media exit poll data on Wednesday.
The first sign that Jones could win was seen in the extraordinary high turnout by African Americans.
"Amazing: turnout is at 72%-77% of '16 presidential race in heavily black counties, but just 55%-60% in rural white counties. Black voters punching above their weight tonight & giving Jones a chance," tweeted the Cook Political Report's David Wasserman on Tuesday as the precinct-by-precinct returns were rolling in.
"To win, Jones needs: 1) Ridiculous Dem margins in Birmingham/Montgomery 2) Strong crossover from college whites in Huntsville/Shelby 3) Not much drop-off from '16 turnout in Black Belt 4) Weak/typical off year turnout among non-college whites," Wasserman predicted on Tuesday. On Wednesday, he tweeted. "What happened last night? All four of these things."
Michael McDonald, a University of Florida professor and turnout expert, debunked the claim that Alabama Republicans stayed home. What happened, he said, was that the state's GOP base behaved just as predicted in any off-year special election.
"Hot takes that #ALSEN Republicans stayed home I think are incorrect," McDonald tweeted. "Turnout is typically low in a special special election. Republican counties turned out at a rate we might typically expect, perhaps even more so given the competitive race. Democrat turnout was through the roof."
The pro-GOP Weekly Standard also noted that many whites voted for Jones as well.
"Jones won a substantial number of white voters," David Byler noted. "According to exit polls, Jones won 31 percent of white voters and 96 percent of black voters. Typically, Democrats win large majorities of black voters in southern states while losing many white voters. In 2012, the exit polls showed President Obama earning 15 percent of the white vote. And while exit polls do have their disadvantages, it's worth noting that the New York Times' Upshot also estimated that Obama won 16 percent of the white vote in 2012. Jones did significantly better with white voters while still holding onto lopsided margins with black voters."
The New York Times noted Jones won big among women in upscale suburbs, generally a Republican haven. That figure is not surprising, given that several Alabama women said Moore had sexually preyed on them in their teen years, while Jones was a prosecutor who convicted KKK members whose bombs killed several black teenage girls.
Looking to 2018, it's clear the electorate's energy and enthusiasm have shifted from Republicans and independents electing Trump to growing factions backing Democratic candidates. In every major election this year, Democrats have done far better than expected. But that doesn't mean they won on Election Day.
Jon Ossoff, in Georgia's sixth U.S. House district, who lost amid dubious vote counts—and post-Election Day disclosures that the state had destroyed his race's vote count records—still did better than any Democrat in his district in years.
Last month in Virginia, Democrat Ralph Northam won the governor's race and a surge of voters backing Democrats brought the party to the brink of retaking the House of Delegates, despite a 2011 gerrymander that gave the GOP a supermajority. The GOP is up by two seats, while four races are being recounted, starting this week.
Jones' victory is also remarkable because Alabamians experienced voter suppression tactics, according to accounts posted on Twitter by political reporters and election protection attorneys. These obstructions that can make the difference in close elections.
On Tuesday, many polling places were unprepared and experienced long lines. There were voting machine breakdowns and shortages. There was police intimidation of voters, checking IDs for people with outstanding fines. There were voters that had been incorrectly purged. There were others complaints of voters not receiving absentee ballots. There was confusion over poorly designed ballots. All of these are unnecessary hurdles to what should be a straightforward process.
Election observers squarely blamed Alabama's hyper-partisan GOP Secretary of State, John Merrill, for much of that dysfunction. Merrill's low voter turnout estimates left polls unprepared for Tuesday's turnout, which one turnout expert said was "bordering on malpractice." As late as Tuesday on national TV, Merrill predicted only 25 percent of the state's 3.3 million registered voters would turn out, when 40 percent did—a figure every academic turnout expert had predicted based on recent special elections.
Fair-minded Americans should be cheered by Alabama's results. For once, a deserving candidate, supported by a diverse and energized grassroots coalition, inspired a flood of citizens to turn out and not be deterred from voting. But it took a giant wave just to barely beat an unusually bad candidate, including an unexpected last-minute assist from the state's senior Republican senator.
Democrats will have to repeat this giant wave in 2018 to breach the red-state barriers that stand between them and winning back control of Congress and key governorships. In red-run swing states that should be politically purple, the GOP has a 10 percent starting line advantage. Even with a large turnout wave, there's no telling what surprises await—for better or worse.
For now, there's the expectation that Trump will be a drag on GOP candidates, that legislation like the GOP tax bill will deflate GOP voters, and that the party's civil war will only deepen. All this suggests the dynamics are ripe for a Democratic comeback, but Republicans will not cede power easily. Alabama showed that while Doug Jones did everything right, if Alabamians hadn't written in someone other than Roy Moore, the state's next senator would have been a Republican.