Can Jeb Bush Make It Right With The Right?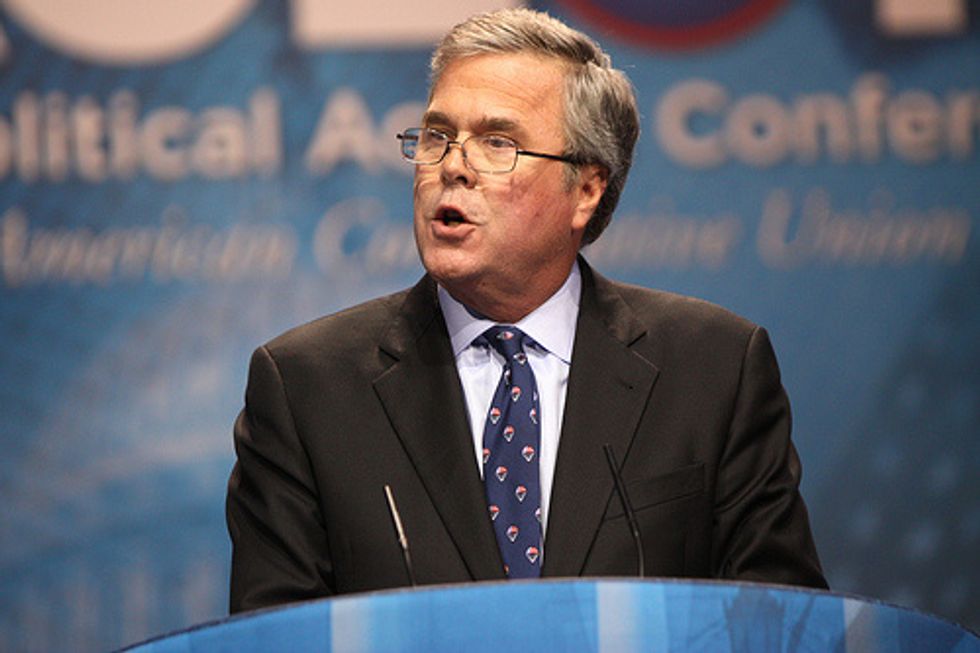 By Lesley Clark, McClatchy Washington Bureau (TNS)
WASHINGTON — When he first ran for public office, Jeb Bush dubbed himself a "head-banging conservative."
Now he's heading to a face-to-face meeting with conservatives, many of whom think he's anything but one of them, and who would pose the biggest hurdle to him winning the 2016 Republican presidential nomination.
Bush will appear Friday before thousands of influential activists at the annual Conservative Political Action Conference outside Washington, a high-stakes appearance that could allow him to start winning their hearts — or underscore a tough road ahead.
One Florida activist predicted he'll win them over. Others forecast a cool response.
Complaints about Bush date to his father, George H.W. Bush, who infuriated the right by breaking a pledge not to raise taxes. They had different complaints about his brother George W. Bush.
And although Jeb Bush pledges to be his "own man" and in two terms as Florida's governor slashed taxes, staunchly opposed abortion and took on teachers unions, activists remain unconvinced. They point to his support for Common Core education standards, immigration and the Bush family record as stumbling blocks.
"I don't know of any other potential candidate who is advocating for growing the government or for giving more power and responsibility to the federal government," Taylor Budowich, executive director of the Tea Party Express, said of Jeb Bush. "He's unique in that regard."
For starters, conservative critics say, Bush has remained largely supportive of education standards that outline what students should know at each grade level, even after the benchmarks became a target for conservatives leery of the federal government.
They'll be looking for Bush to "explain why the federal government has a better means of handling education and why it shouldn't be left to the states," Budowich said. "It's going to be a tough sell."
Bush, since announcing in December that he was considering a presidential run, has amassed a formidable array of well-heeled donors across the country and secured impressive hires in key primary states.
But conservative activists play an outsize role in many of those early states, and many months out, polls point to trouble. Just 4 percent of Iowa Republicans who described themselves as very conservative said they'd support Bush, according to a Quinnipiac University poll released Wednesday. Asked to name a candidate they would definitely not support, they named Bush and New Jersey Gov. Chris Christie at the top of the enemies list.
Bush is not ceding the right.
Before his Friday appearance at CPAC, he'll address the influential Club for Growth on Thursday night in Florida. Next week, he heads to Des Moines for the 2015 Iowa Ag Summit, and he's planned a trip next month to South Carolina, which, like Iowa, is an early test of conservative sentiment that can make or break a candidacy.
Bush addressed CPAC in 2013 and considers it a "great opportunity to engage with the crowd," said spokeswoman Kristy Campbell. She said the event provided Bush with an opportunity to "talk about his strong record of conservative leadership."
Al Cardenas, a former chairman of the Republican Party of Florida and of the American Conservative Union, which started the annual conference, said he was confident that the room at CPAC "will end up being on the governor's side."
He noted that Bush has elected to take questions from Fox News' Sean Hannity rather than deliver prepared remarks, giving activists a better chance to take his measure.
Cardenas said an "inside the Beltway crowd" had distorted Bush's record as governor and that once activists learned more about Bush, their concerns would be allayed.
"I worked with him as close as anyone and always believed he was one of the most conservative governors in America," Cardenas said. "Those of us from Florida, sometimes we take it for granted what we know, and that's not yet the case."
But the divide between the party establishment and its right flank may be harder than ever to bridge, particularly after the past two Republican nominees who were perceived as moderates won the nomination and lost the presidency, said Craig Shirley, an author and conservative activist. He noted that talk radio — a potent force among activists — is staunchly opposed to a Bush candidacy.
Conservatives remain irate with Bush's father over his broken tax pledge and in "open revolt" with George W. Bush over his record on the Iraq War, the expansion of Medicare to cover prescription drugs and the growth of the federal government under his watch, Shirley said.
And Jeb Bush has no ready cultural connection with conservatives, Shirley said. "They see him as former governor; that's all they know about him. They know he's a Bush, and they don't like that, and they know he's for Common Core and open borders, and they really don't like that."
Bush will get some credit for appearing at the conservative confab, Shirley said, "but I doubt they will be standing on the tables for him."
Is there anything Bush can do to convince conservatives he's their candidate?
"He can go back in time to 1990 and convince his father not to break his pledge on taxes and go back in time and convince his brother not to invade Iraq," Shirley suggests.
One conservative group, ForAmerica, has released a video declaring Bush "unelectable" thanks to his participation at a 2013 ceremony honoring former Secretary of State Hillary Clinton.
ForAmerica Chairman Brent Bozell acknowledged that Bush has name identification and "Chamber of Commerce" money but said that might not be enough as he noted the primary defeat last year of former Rep. Eric Cantor (R-VA), and the election of Senator Ted Cruz (R-TX), who defeated Lt. Gov. David Dewhurst in a Senate David vs. Goliath primary battle.
"As we've seen time and time again, money doesn't necessarily buy you a thing," Bozell said. "If that were the case, Eric Cantor would be majority leader and Ted Cruz wouldn't be in Congress."
Photo: Gage Skidmore via Flickr