Can Police Prevent The Next Charlottesville?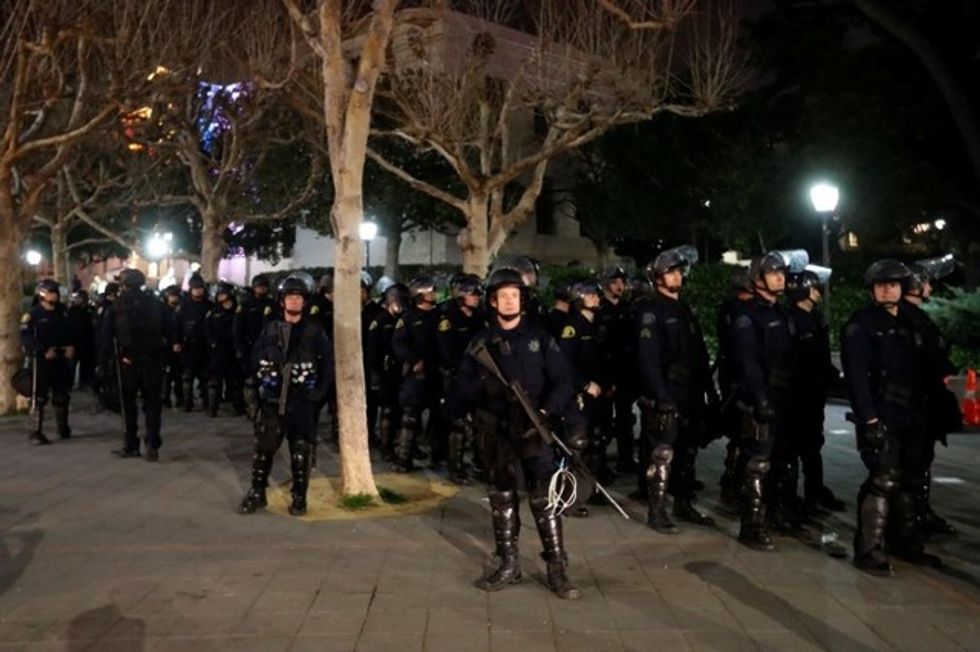 Reprinted with permission from ProPublica.
Even before the demonstration in Virginia began last weekend, the police there knew they weren't going to be able to handle what was coming.
Charlottesville police officers, including Sgt. Jake Via of the investigations bureau, had been contacting organizers and scanning social media to figure out how many demonstrators were headed their way and whether they would be armed.
"The number each group was saying was just building and building," Via said. "We saw it coming. … Looking at this, I said, 'This is going to be bad.'"
The protesters' numbers were too large and the downtown park too small. City officials tried to get the demonstration moved to another, more spacious location, but lost in court after the rally's organizer, backed by the American Civil Liberties Union, alleged his freedom of speech was being infringed.
The protests, of course, ended tragically. Local law enforcement was widely blamed for losing control of the event and standing back even as people were attacked.
Via maintains that nothing the police did could have stopped the violence between the two sides. "No hours and hours and hours or even months of planning is going to stop the radicals from both sides wanting to go at it," he said.
With more demonstrations planned in cities across the country, ProPublica interviewed law enforcement experts in the United States and Europe to ask what more can be done to prevent bloodshed at protests where people are spoiling for a fight. The consensus was that additional steps can be taken.
But many of the tactics come at a price. Some could be viewed as impinging on civil liberties and the constitutionally enshrined rights to free assembly and protest. Others require funding and coordination that is difficult to achieve within the fragmented framework of American policing. A few are as simple as strategically placed blockades that keep the two sides separate. Here are some of the top approaches and how they might — or might not — be deployed in the U.S.
Drones, Anti-Mask Laws and Open-Carry Restrictions
Local police forces will increasingly institutionalize the use of drones at mass demonstrations. That's the prediction of Brian Levin, a criminal justice professor at California State University, San Bernardino. Cameras in the air with real-time feeds transmitted to officers on the ground would allow police to cover more terrain and in some cases, identify potential conflicts before they erupt.
"Demonstrations spread, and these violent confrontations can take place in disparate areas," said Levin. "It's like when a hammer hits mercury."
Drones can also be safer than helicopters. In Charlottesville, a helicopter monitoring the demonstration went down, killing two state troopers aboard.
But police drone use has been met with opposition from civil liberties groups. Drones donated to the Los Angeles Police Department have gone unused for years amid privacy concerns. Activists have argued that access to the devices, which make surveillance cheaper and more efficient, will lead police to more routinely surveil private citizens.
Earlier this month, LA's police commission gathered to discuss relaunching the program only to be met by chanting activists who shut down the conversation twice. Similar stories have played out in Seattle and elsewhere.
Another tool cities and states (including Virginia) have used is anti-mask laws, which bar groups of people from disguising themselves in public. Violent demonstrators will sometimes arrive in ski masks or scarves wrapped around their faces. New York City has a ban, with exceptions including for Halloween. So does Alabama, a rule it instituted in 1949 to unmask the Ku Klux Klan. A similar restriction in California, though, was struck down after Iranian Americans hoping to safely (and non-violently) protest the post-revolutionary regime back home sued on First Amendment grounds.
Another challenge in Charlottesville was the number of demonstrators who came with guns, and were allowed to do so lawfully, because of Virginia's open-carry laws.
Even in states with such statutes, the authorities have some options. Erwin Chemerinsky, dean of the University of California, Berkeley's law school, said the Supreme Court has upheld the right to have guns at home, but not necessarily in public. "Think of curfews. The government has the ability to take steps to protect public safety," Chemerinsky said. "The more evidence there is that it's a threat to public safety, the more sympathetic the courts would be."
The evidence could consist of past rallies that broke out into violence, or intelligence that an armed group is planning to employ force in the future.
Still, attempts to temporarily restrict gun rights have floundered in the past. Before the most recent Republican National Convention in Cleveland, the head of Cleveland's largest police union and others called for the state's open-carry laws to be tightened during the convention. Gov. John Kasich refused, saying "Ohio governors do not have the power to arbitrarily suspend federal and state constitutional rights."
A more radical approach comes from Philip Zelikow, a history professor at the University of Virginia and former executive director of the 9/11 Commission. In 1981, he worked with the Southern Poverty Law Center, a civil rights nonprofit, to ask a federal judge to shut down a group called the Knights of the Ku Klux Klan, which was showing up armed and in Army-style clothing on the Texas Gulf Coast to harass Vietnamese fishermen.
With the support of the Texas attorney general, Zelikow and his team invoked a 19th-century law that forbids "military companies" not authorized by the governor. They argued that the Klan qualified because it was not government-regulated but had "command structure, training and discipline so as to function as a combat or combat support unit." The lawyers prevailed, and the Klan was forced to leave its weapons at home.
A similar argument also succeeded soon after in North Carolina, and Zelikow said groups like those in Charlottesville that are mixing weaponry and political activism could be subject to similar legal challenges. "These problems haven't come up much in recent decades," Zelikow said. "The issue subsided and memory fades but here we are again."
Most states have restrictions on private military-like groups. Zelikow was contacted by lawyers from Oklahoma this week, asking if their state had such a law on the books. "It took me about five minutes to find," he said. Zelikow is now trying to form a team of lawyers to bring a case in Virginia.
Looking Abroad
Thousands of people, divided into two opposing sides, squaring off in public. Some come armed, looking to damage property and wreak havoc. Many filter in from out of town, complicating efforts by police to negotiate peace in advance.
It's a scenario European authorities know well, though with a different kind of group: soccer hooligans.
Maria Haberfeld, a professor at the John Jay College of Criminal Justice in New York and a former supervisor in the Israel National Police, said cops in the Netherlands use a "situation-oriented" model to keep violent rival soccer fans under control.
That framework trains officers in perceptual skills, helping them develop the emotional intelligence to read members of crowds and make sound judgments about which situations are truly dangerous. Officers are put through simulations in which they can achieve positive, nonfatal outcomes. Trainings are handled in groups, not individually, so that in the field, officers are less likely to misinterpret any of their colleagues' motions or actions.
"European police forces are light years ahead of us in terms of training." Haberfeld said. "It's not something you can train police officers to do in half an hour. It's a serious commitment."
Reaching that level of training may not be feasible in the U.S., where local municipalities set their own academy protocols. (And demonstrations are less frequent than soccer matches.) The training in the U.S. typically lasts just a few months, compared to the couple of years that European police cadets get.
In Germany, police forces commonly have specialized units assigned to each side of a potentially violent protest. Officers meet with the groups' leaders in advance and discuss plans for the protest in detail, including symbols that are forbidden for display by the government.
Protest leaders can be denied permits to demonstrate because of criminal records, forcing them to turn leadership of the event over to another member of the group. They're also asked to assign deputies from within their organization who can help the group's leader keep things under control. Those assistants also have their records vetted by the police before being approved.
Once at the event, the specialized police units show up in distinctive yellow vests, and without riot gear, so they can mix in with the demonstrators less threateningly. When officers see someone with a banned weapon, they sometimes will only film the demonstrator and make an arrest later.
"It is important for us, is not to have a negative solidarity spillover effect. … If we disarm a person or act against a small group of potentially violent protestors, other people around solidarize with them against the police," said Elke Heilig, head of the anti-conflict team in Pforzheim, Germany. "This leads towards escalation."
Keeping Peaceful Protesters Away
Social media gives hate groups a new megaphone for getting the word out about their rallies, opening up communication with many previously fragmented niche groups and helping lead to larger gatherings, experts said. A big crowd is inherently harder to police, but what makes the scenario even more vexing for law enforcement is that they're now dealing with not just one or two groups, but many, along with unaffiliated individuals.
"People are coming in from disparate places and disparate groups who don't answer to any single authority. A Klan leader can tell his folks to stand down," said Levin, a former NYPD officer. "Social media has been a magnet not only for haters but for unstable haters."
Some municipalities are responding by using social media tools to dissuade some activists from showing up. City officials in Berkeley, California, have experimented with discouraging peaceful protesters from attending demonstrations they expect to be violent.
In March, fights broke out between supporters and opponents of the president at a demonstration near the Berkeley campus. Some of the unruly counter-protesters were believed to be affiliated with black bloc, an anarchist group whose members are known to wear black and mask their faces. Mayhem ensued. In one case, a man wearing a "Trump is My President" shirt had his face bloodied.
"There are people who come intent on committing violence and they look for ways to subvert whatever you set up," said city spokesman Matthai Chakko. "There are people who use peaceful protesters as shields. They blend into crowds after they commit their acts."
In April, before another planned demonstration, the city launched a messaging campaign suggesting peaceful protesters keep their distance. "Consider whether the approach others advertise is the style and venue for you," one alert read, warning of violent protesters. "Reaching out to organizations or individuals in need is an alternative to conflict. When people at an event act in a way that compromises your values and goals, separate yourself."
The number of peaceful protesters dropped significantly, Chakko said, and the city is taking a similar approach with an unpermitted, white nationalist demonstration expected later this month. The alert the city sent out Wednesday was direct: "The best response for those seeking to safeguard our community is to stay away."
Barriers and Chain-Link Fences
Miriam Krinsky, a former federal prosecutor who has worked on police reform efforts in Los Angeles, said the most fundamental strategy for dueling demonstrations is keeping the two sides separate, with physical obstacles and police in between. "Create a human barrier so the flash points are reduced as quickly as possible," she said.
Law enforcement will sometimes quarantine protesting hate groups inside concentric chain link fences, creating a large empty space between opposing groups. Those entering the inner ring are sent through metal detectors.
At an anti-Sharia protest in San Bernardino, California earlier this year, the two groups were kept on opposite sides of the street, with horse-mounted cops there to prevent protesters from crossing over.
The lack of space to separate the factions was a widely noted problem in Charlottesville. The massive demonstration was allowed to take place inside a small downtown park, making it more difficult for police to insert themselves and separate the two sides. "The two groups are both trying to occupy the same area and this doesn't give police a lot of maneuverability," said John Kleinig, professor emeritus at John Jay College of Criminal Justice.
Demonstrators ended up spilling out beyond the park, and one counter-protester was killed when an Ohio man allegedly plowed his car into a crowd a few blocks away from the park.
Demonstrations can in some ways be easier to control in concentrated urban areas, where police use tall buildings with little or no space in between them as barriers. And smaller city police forces generally have less training in large crowd control.
"I'm former NYPD," Levin said. "We had grid patterns and streets we could block off, put a wedge in when we had an unruly crowds. … You have people hemmed in by structures and street grid patterns. In smaller places, people can spread out in all different directions."
Since the weekend, amid criticism of their handling of the demonstration, Charlottesville Police Chief Al Thomas acknowledged that crowd's spread led to problems.
"We had to actually send out forces to multiple locations to deal with a number of disturbances," he said. "It was certainly a challenge. We were spread thin once the groups dispersed."
Special correspondent Pia Dangelmayer in Germany contributed to this story.
ProPublica is a Pulitzer Prize-winning investigative newsroom. Sign up for their newsletter.