Can Republicans Save Immigration Reform From Themselves?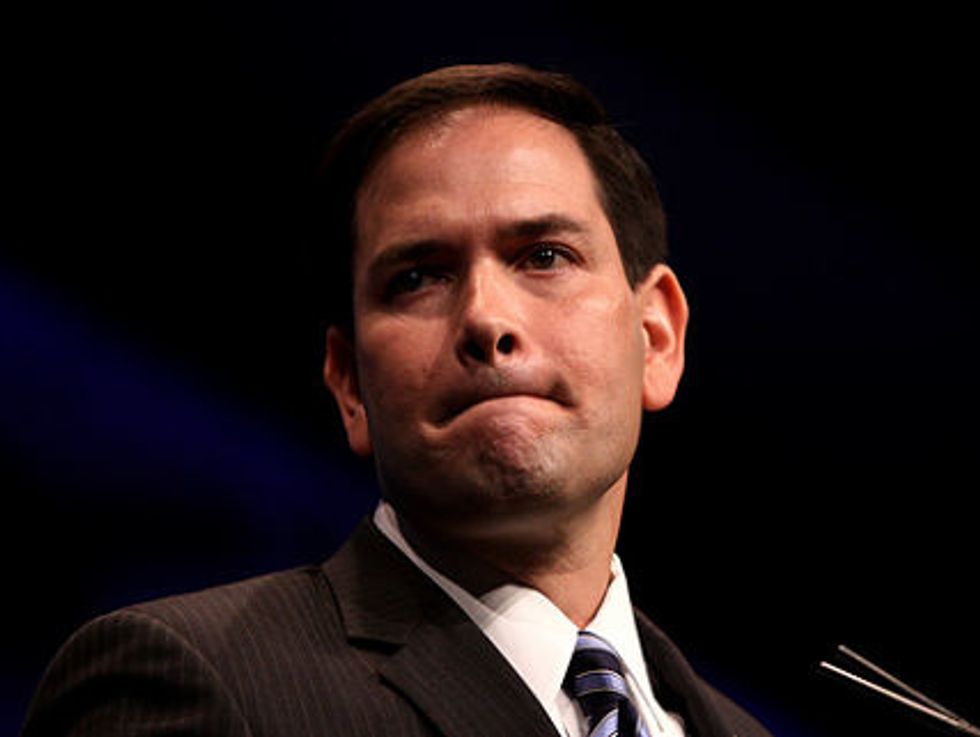 Senator John Cornyn (R-TX) has introduced a new set of "triggers" designed to blow up the comprehensive immigration reform compromise forged by the Gang of Eight in the Senate. The senior's senator's amendment — which has only been released in draft form — would require that the border be declared "secure" before an actual "path to citizenship" begins, a deal-breaker for Senate Democrats.
This follows an announcement from key senator Marco Rubio (R-FL) that the bill he helped shape doesn't have 60 votes — including his own — and Rep. Raul Labrador's (R-WY) departure from a group of House Members attempting to negotiate its own immigration deal.
Republicans have been telling themselves they need to pass immigration reform since Mitt Romney did worse with Latino voters than John McCain, who did worse than George W. Bush. It was one of the only direct policy suggestions in the GOP "autopsy" commissioned by the Republican National Committee. Conservative talkers are declaring the whole thing "already dead."
Rubio has been a steadfast leader in trying to sell the compromise to the right and has largely avoided the huge backlash that crushed reform in 2007, thanks — in part — to his base's distraction with the Obama "scandals."
But Cornyn may have successfully put Rubio in a "box," Frank Sharry of the pro-reform group America's Voice told The Washington Post's Greg Sargent. If Rubio doesn't move to the right, he could lose credibility with conservatives, no matter how many times and in how many ways he says, "Repeal Obamacare!" If he does, reform is likely dead.
And even if Cornyn's amendment passes, it's likely unenforceable, meaning it's designed just to short-circuit the process.
Some have been predicting that Rubio would eventually walk away from his own compromise, rather than destroy his career. John McCain was about to lead a reform effort that he ultimately turned against in order to secure the GOP presidential nomination. But Rubio isn't trying to become the next John McCain.
I speculated in April that the GOP needs reform more than Rubio does — but that was weeks ago, when the bill was still amorphous. As much as the junior senator from Florida might like to insist that changes need to be made, the bill that Senator Harry Reid wants to bring to the floor of the Senate next week has Rubio's name all over it.

"Rubio is trying to have it both ways — be seen as a leader on behalf of both immigrants and people who are uncomfortable with immigration," said AFL-CIO spokesman Jeff Hauser. "At some point, he'll have to choose, and ultimately we are convinced he will recognize that choosing citizenship for the 11 million is the right political move."
"I think there are some Republicans who know that their political survival depends on this bill passing, and are concerned at what appears to be some backsliding within their party," a senior Democratic aide told The Business Insider's Brett LoGiurato. "They may want to send a signal that this bill is going to pass, period."
"It will be fascinating to see if Republican senators undercut [Rubio's] position that the bill has to be improved to pass by starting to come out for the bill as-is," the aide added. "If that happens, Rubio will look a little silly."
Reid believes there are 60 votes for reform but Rubio clearly wants to have a much larger win for the bill to give him cover as it heads to the House, where its chances of passing appear dismal.
Republican House Members voted 224-201 on Thursday to approve an amendment from Rep. Steve King (R-IA) that would lead to the deportation of millions of undocumented students and servicemen, the same as if they were criminals. Even Majority Leader Eric Cantor (R-VA) who recently said he supported the DREAM Act, which would legalize the people this amendment would deport, voted "Yea" on King's amendment.
Despite this hostility to immigrants in the lower chamber, there is a chance reform could still pass. Conservative Conn Carroll of The Washington Examiner derisively calls it the "amnesty fix":
All that really matters is how Boehner brings a bill to the floor.

If Boehner brings a House-created bill to the floor, whether it's a Goodlatte bill or a path-to-citizenship bill, then you can expect a real fight over amnesty after that bill passes and it heads to the Senate.

But, if Boehner calls up the Senate's Schumer-Rubio bill, then the fix is in.
So while all the attention is on Rubio now, the fate of immigration reform, if it survives the Senate, ultimately lies in the hands of Speaker John Boehner (R-OH). Then we'll see if Boehner is willing to risk his Speakership to give his party a chance at the White House.
Photo: Gage Skidmore via Flickr.com