Advertising
Start your day with National Memo Newsletter
Know first.
The opinions that matter. Delivered to your inbox every morning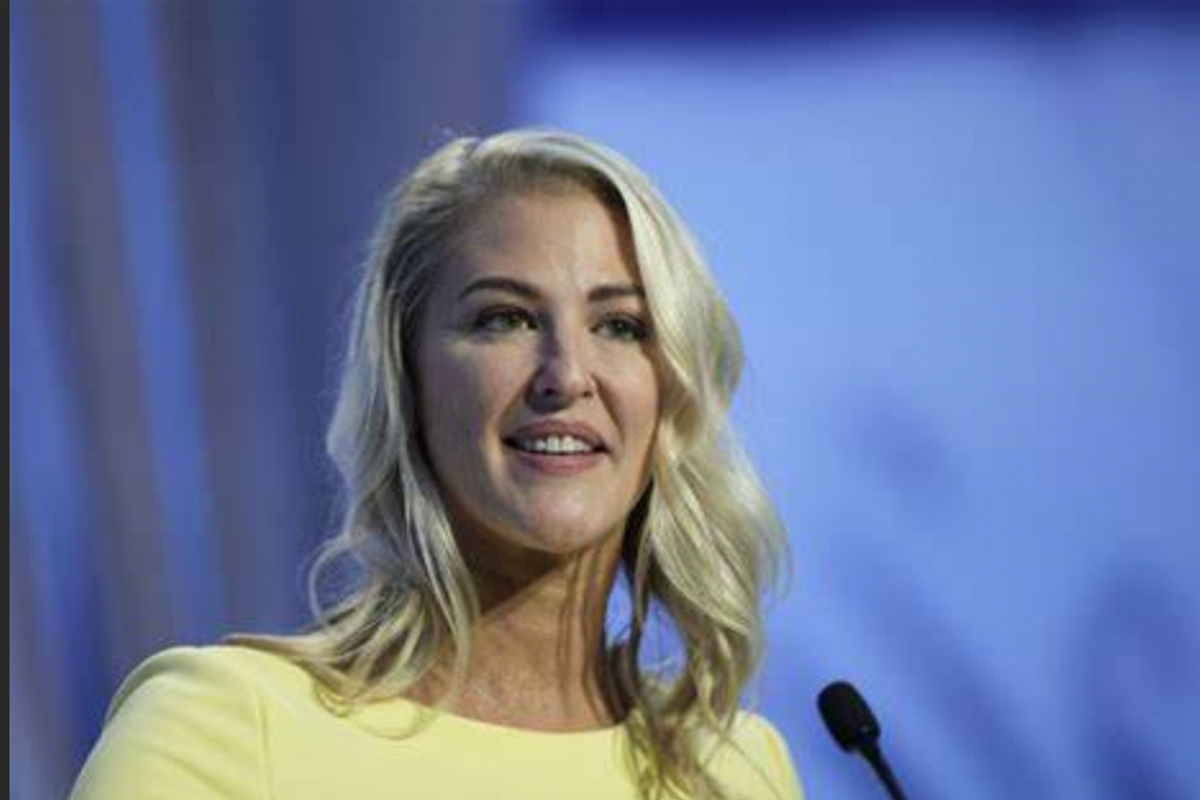 It's gotten to where it's almost axiomatic in American politics: Show me somebody who gets TV face-time railing against others' sexual sins, and I'll show you somebody hiding naughty secrets. The latest example is an amusing scandal involving "Moms for Liberty," the Florida-based right-wing organization that made its name by publicizing what this column described as "queers under the bed and the preposterous idea that the nation's public-school librarians and grade-school teachers are plotting the sexual subversion of small children."
One correspondent framed it this way: "Newest children's title approved for Florida school libraries: Bridget'sTotallyNon-Gay Three-Way." Cruel, but funny. The Bridget in question being Bridget Ziegler, the Sarasota spokes-model and co-founder of Moms for Liberty and her husband Christian Ziegler. Among other things, the lovely Mrs. Ziegler is credited with helping inspire Gov. Ron DeSantis's "Don't Say Gay" law forbidding teachers from mentioning the existence of homosexuality.
See, it turns out that husband Christian stands accused of raping the woman with whom he and Bridget had been sharing sexual liaisons of the two-women, one-man variety so popular with porn movie producers. Sarasota police released a heavily-redacted investigative report containing the words "raped" and "sexually-battered." The allegation is that Christian Ziegler, the elected chairman of Florida's Republican Party, showed up at the alleged victim's place seeking a more traditional two-way adulterous encounter.
According to an affidavit obtained by the Florida Center for Government Accountability, and reported by Lucian K. Truscott IV, the woman demurred, explaining "sorry, I was mostly in it for her."She says Ziegler proceeded to take her by force. His lawyer told the Washington Post that when all the evidence comes out, Ziegler will be "totally exonerated."
Criminally, perhaps. Politically, not a chance. You see, Ziegler told Sarasota police that the encounter was consensual, and offered as evidence a video he'd made. I expect that's one selfie you won't be seeing on Facebook. The cops have also taken possession of all Ziegler's electronic devices. The accused also argues that he's being persecuted for his political views.
Meanwhile, Ron DeSantis has said Ziegler should resign from the GOP chairmanship. The governor hasn't said anything about Bridget's position on the Sarasota County school board or the special taxing district he created to punish the Disney Corporation, in which capacity the fair Bridget has in the past accused the company of making cartoons corrupting children.
Almost needless to say, the Zieglers are also big Trump allies. Because nothing enhances one's credibility with right-wing Christians like being strong with the old pussy-grabber.
Bridget Ziegler has also admitted a sexual encounter involving her, her husband, and his accuser, but says it only happened the one time. A cynic might suspect she knows that the woman can prove it. It would appear unlikely that there's just the one video.
Politically, Moms for Liberty has done the Republicans more harm than good anyway. Banning books, attacking teachers and librarians, and picking on vulnerable LGBTQ students has turned out to be less popular among voters than many imagined it would. Recent school board and state legislative elections in Pennsylvania and Virginia in particular resulted in candidates associated with the group losing pretty much across the board. It appears that voters aren't happy about being told their local schools are run by perverts and subversives.
Perhaps in consequence, pious frauds in general are a little more cautious about accusing everybody else of sexual libertinism of late. Erin Burnett had a fascinating segment on her CNN program last week about a book called The Revivalist Manifesto for which GOP House Speaker wrote a laudatory foreword in 2022.
Basically, it was one of those deals where a political crony back home in Shreveport produced an extreme-right screed that played very differently in the nation's capital. The author, one Scott McKay, a Louisiana blogger, is all about the so-called Gay Agenda. He's particularly exercised by Biden administration Transportation Secretary Pete Buttigieg, variously described as "openly and obnoxiously gay," and as displaying what the author calls "queer sanctimony," whatever that is. He describes him as a complete nonentity with no qualifications for public office apart from his sexual identity.
Never mind that Buttigieg is a former Rhodes Scholar, an Afghanistan war veteran and former mayor of South Bend, Indiana. The insinuation is that no sanctimonious queer could possibly know anything about harbors, railroads, and trucks. In the real world, the secretary is widely credited with solving the post-Covid supply-chain problems that contributed so much to monetary inflation.
McKay also spends a lot of time on the QAnon-endorsed "Pizzagate" fantasy, accusing name-brand Democrats of child sexual abuse orgies conducted in the basement of a Washington pizza restaurant that has no basement.
But why go on? Speaker Johnson, who has an extensive history of denouncing the "homosexual agenda," now says he never actually read the manifesto he promoted, and disagrees with its slurs.
I wonder who's next.
Gene Lyons is a former columnist for the Arkansas Democrat-Gazette, a winner of the National Magazine Award, and co-author of The Hunting of the President.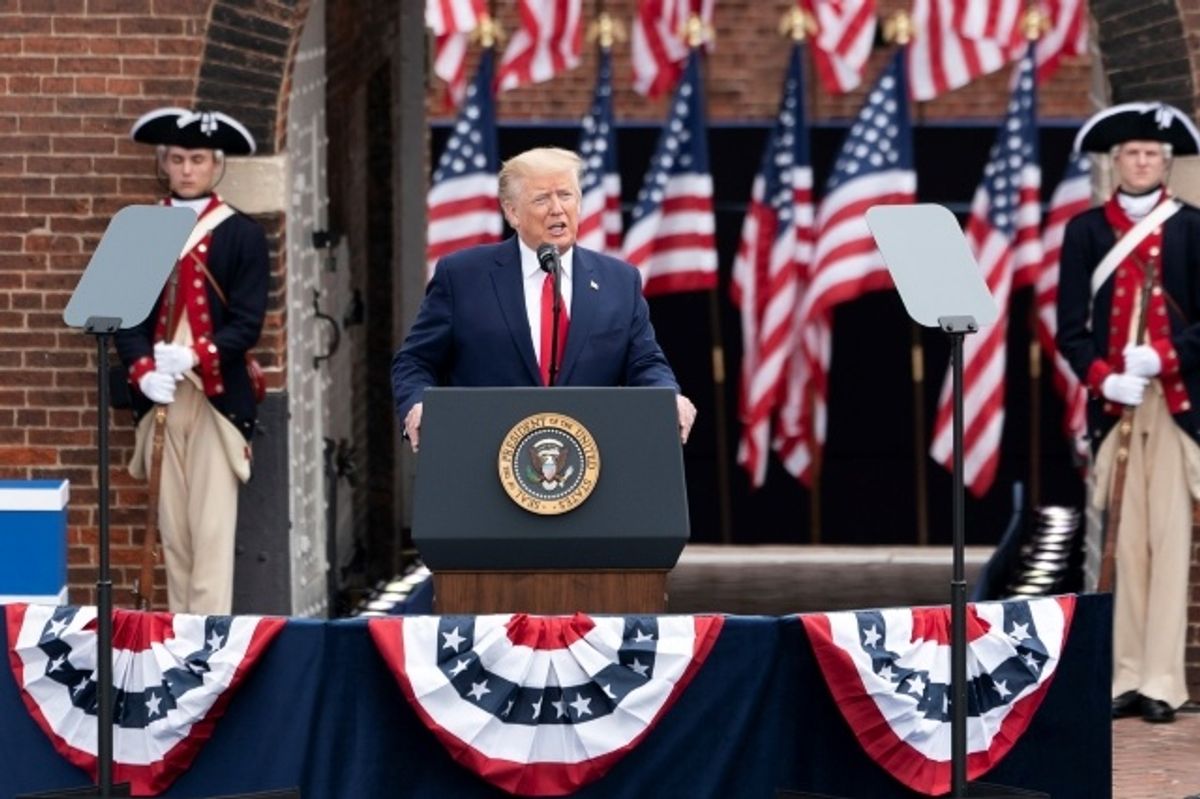 Photo by The White House
The latest ad from The Lincoln Project is titled "Feeble," and it strings together a collection of Donald Trump's "greatest hits" when it comes to stumbling over words, lurching around the podium, and repeatedly forgetting that Barack Obama is no longer president. While showcasing Trump's two-handed efforts to sip from a water bottle and his running into the backdrop of a rally stage, the narrator asks questions like "Are you sure you don't have dementia?" She also whispers that "[i]t runs in the family."
The anti-Trump group's newest ad follows another one named "Impaired" showing a different series of Trump misstatements—including the threat of the U.S. being sucked into "World War Two." Both are themed around the idea that it's Trump, not President Joe Biden, who shows the signs of advanced age. Even for those who don't like Trump, it would be easy to see the ads as being mean or taking some cheap shots. But when Trump spoke out about them on Monday night, it wasn't to address any of the content or complain about the snarky voice-over.
Instead, Trump complained that, "The perverts and losers at the failed and once disbanded Lincoln Project, and others, are using A.I.(Artificial Intelligence) in their Fake television commercials…" But after reviewing the contents of these ads, it seems the only artificial thing in them is Trump's skin color. These clips are certified natural Trump.
Trump's complaint is that the Lincoln Project is using artificial intelligence to make him seem "as bad and pathetic" as President Biden.
But the truth is, no one had to shift so much as a pixel. The ads show nothing but authentic clips from Trump's recent interviews and rally appearances, highlighting only a few of the ways in which he turns the simplest statement into word salad—along with that bizarre fixation on Obama.
Here's "Feeble":
And here's "Impaired":
Trump's New York apartment may only be one-third the size he claims, but it's certain the space Obama rents inside Trump's skull is larger than anyone can measure. The ads also make clear that when it comes to making Donald Trump look bad, no one does that as well as Donald Trump.
Of course, it's not as if no one is making ads featuring AI images. Earlier this week, we focused on how the Republican National Congressional Committee has created an old-timey propaganda newsreel featuring completely AI-generated images in which undocumented immigrants somehow overrun national parks.
That followed a much more elaborate ad created by the Republican National Committee in April where AI was used to generate images of the dystopian future that would result if Americans didn't put Trump in charge of everything. That ad not only featured a Taiwan invasion and the border collapsing under a zombie horde, it also included scenes like the one below in which "officials close the city of San Francisco" because it's been overrun by crime.
In response to this ad, Daily Kos put together our own AI-generated response—one which, unlike the RNC ad, is based entirely on things Trump has actually promised to do should he regain the White House.
In this election, AI-generated ads remain a threat to democracy. However, no one would say they represent as great a threat as the sadly real Trump.
Reprinted with permission from Daily Kos.