Advertising
Start your day with National Memo Newsletter
Know first.
The opinions that matter. Delivered to your inbox every morning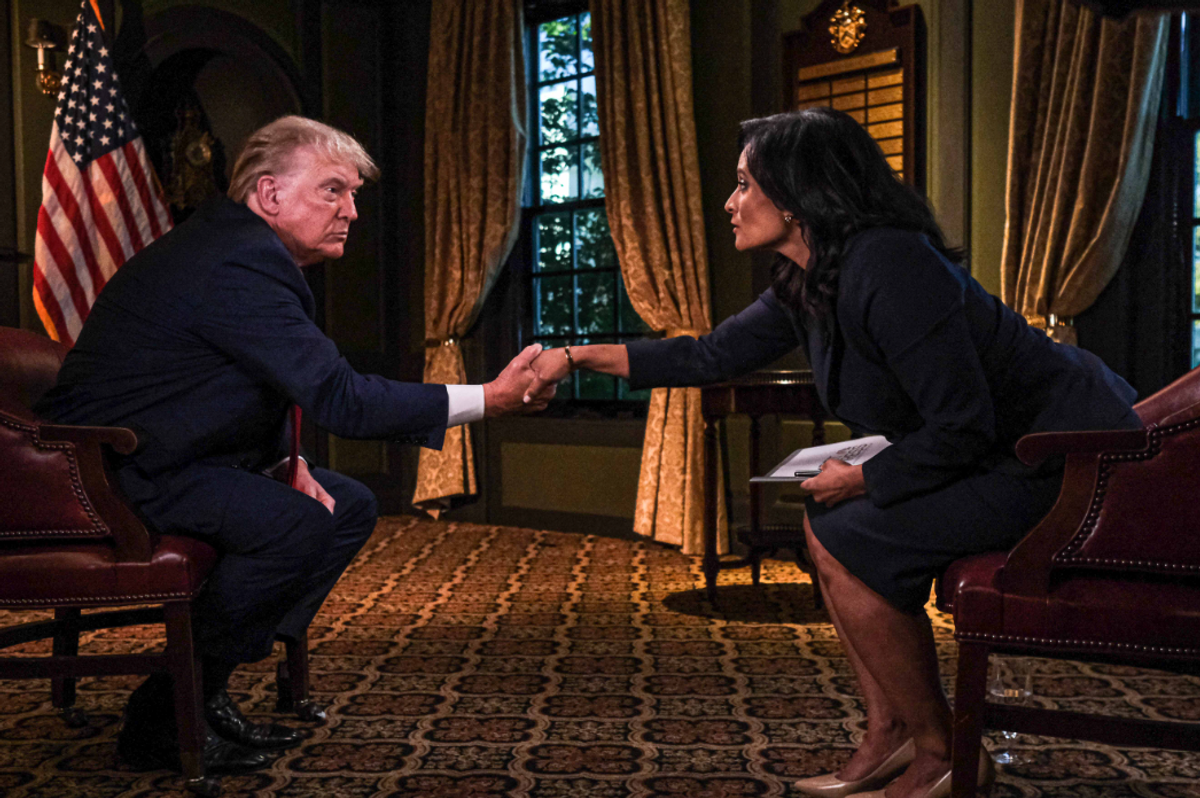 How would you like to be assigned to interview Defendant Trump? No matter what you ask, no matter how hard you push him, no matter how many facts you throw at him, all you're going to get is a wall of lies and criticism for not going after him hard enough.
Which is exactly what happened to Kristen Welker after her Meet the Press interview with Trump last Sunday. She got headlines like, "Kristen Welker shows how not to interview Trump (Aaron Rupar's Public Notice), "Kristen Welker can't keep Donald Trump honest on Meet the Press" (Arizona Central), "Kristen Welker's 'Meet the Press' Trump interview was a gross dereliction of journalistic duty" (Michael Hiltzik in The Los Angeles Times), "Kristen Welker criticized for lie-filled Trump interview" (Stephani Kaloi in The Wrap), "Kristen Welker failed the Trump test" (Jonathan V. Last in The Bulwark)…and there are more piling on as we speak.
Welker was interviewing an inveterate liar, grandstander, and purveyor of fake conspiracies, and she was supposed to sit down with him and be the one who finally broke through all his defenses and got to him to tell the truth? That's what most of them are pushing.
Riiiiiight. What do you think were the odds of that? Zero, or sub-zero?
The point about Donald Trump is, if you know he's going to go everywhere but where you want him to go, which is in some direction toward telling the truth, then what do you do? Well, Welker and her NBC producers apparently decided that Trump's lies are so well worn by now, she would ask all the right questions – or at least as many of them as they could wedge into an hour – and let Trump rip.
Welker was roundly criticized for not correcting him in real time, to which I give you this exchange about the 91 criminal charges he faces.
KRISTEN WELKER:
You are facing four indictments, 91 —
FMR. PRES. DONALD TRUMP:
Biden indictments. Excuse me, Biden political indictments. He said to the attorney general —
KRISTEN WELKER:
He has said he's had nothing to do with this. There's no proof of that--
FMR. PRES. DONALD TRUMP:
– he said to the attorney general, "Indict him." They put in the New York DA case —
KRISTEN WELKER:
Well, there's no proof of that, Mr. President.
FMR. PRES. DONALD TRUMP:
– which everybody admits isn't even a case.
KRISTEN WELKER:
There's no proof of that, Mr. President.
FMR. PRES. DONALD TRUMP:
Excuse me, but they're Biden indictments —
KRISTEN WELKER:
You know there's no proof of that.
Trump went on to accuse Biden of lying about being at the World Trade Center, driving a truck, lying about his golf handicap, flying airplanes, and Welker moved on to the next question. You want to know why? Because all that garbage is stuff he picked up from far-right websites and bloggers, who produce a firehose of lies about Biden hourly. Welker and NBC, at least it looks this way to me, apparently made a calculation that just because Trump is pushing nonsense he gets from far-right rumor mongers doesn't mean that tens of millions of citizens follow the same crap he does. Welker's reaction to those lies was about the same as yours or mine – huh? – and they were betting that would be the reaction of their viewers, too, which isn't a bad bet.
Just because Trump opens his mouth and lies fly out of it doesn't mean you have to take each one of them and shoot them down. That's what he wanted Welker to do, to waste time focusing on every tiny detail of his tsunami of lies. If she had done that, he would have sat there with a satisfied look on his face, realizing that the interview had been conducted on his terms, not hers.
Some critics faulted Welker for her continual prompting, that it was time to move along to the next subject. This was taken as her dodging Trump's lies, one by one. No. By moving on, she got him to wallow in the Republicans' abject inability to deal with the abortion issue, thus admitting what a problem it is for both the party and himself. By taking an "I alone can fix it" approach to abortion, that he will "sit down with both sides" and somehow come up with "the right number of weeks," he fooled exactly no one and looked about as clueless as Welker could have made him look if she had pressed him on every little wrinkle of the issue. Instead, she let him run at the mouth and come across as looking ridiculous.
Here is just one section of how Walker pursued Trump about the Raffensperger phone call:
KRISTEN WELKER:
– for him to come up with 11,000 votes —
FMR. PRES. DONALD TRUMP:
No, and you know that. You're terrible when you say this. You're off to a bad start, because what I said is very simple. "I got cheated in this election."
KRISTEN WELKER:
He told you you didn't.
FMR. PRES. DONALD TRUMP:
"And all I need is, like, 11,000," whatever the number was.
KRISTEN WELKER:
Brad Raffensperger, who's a Republican —
FMR. PRES. DONALD TRUMP:
I got cheated in the election —
KRISTEN WELKER:
– said "You didn't get cheated."
FMR. PRES. DONALD TRUMP:
Well, he said that, but we have to go and see. You know, there's some court cases out there. We want to go into Fulton County, and we want to see the real votes. And it's so hard —
KRISTEN WELKER:
He said "they looked into it." The election had been certified three times —
FMR. PRES. DONALD TRUMP:
They can look into it. I don't want them. I want to look into it. I would say that if we got access —
KRISTEN WELKER:
Mr. President, the election had been certified --
FMR. PRES. DONALD TRUMP:
– to the votes, which we're close to getting in court, as you know. If we got access to those votes, if we look in, you will find numbers that you wouldn't believe. More importantly, though, let me just say this.
KRISTEN WELKER:
They said —
FMR. PRES. DONALD TRUMP:
This is a hoax.
KRISTEN WELKER:
– "Sir, there's no evidence that it's been rigged."
FMR. PRES. DONALD TRUMP:
This is a hoax just like Russia, Russia, Russia. Just like Ukraine, Ukraine, Ukraine. This is a hoax. Let me tell you, I spoke to them on the phone, and it was left, I think, something to the effect, "Okay, we'll get together tomorrow." Nobody said, "Sir, you shouldn't speak." If I said something incorrect, one of the lawyers for the State of Georgia, which I love, one of those lawyers would have said, "Sir, you'll have to take that back. That's an inappropriate statement."
KRISTEN WELKER:
Well, the Republican secretary of state —
FMR. PRES. DONALD TRUMP:
Nobody said that.
KRISTEN WELKER:
– said there was no evidence of fraud. He said he looked into it. The election had been certified three times when you made the call —
FMR. PRES. DONALD TRUMP:
Okay, you're, you're talking about a different subject. If I said something wrong on the call, he or one of his many lawyers that were on the call would have said, "It's inappropriate what you just said." Nobody said that. We had a normal phone call. This became —
KRISTEN WELKER:
They said, "There's no evidence of fraud."
FMR. PRES. DONALD TRUMP:
He also said, "I did nothing wrong," last week.
KRISTEN WELKER:
Do you have any regrets about that call --
FMR. PRES. DONALD TRUMP:
No. None --
KRISTEN WELKER:
– whatsoever?
FMR. PRES. DONALD TRUMP:
None whatsoever.
KRISTEN WELKER:
Okay.
FMR. PRES. DONALD TRUMP:
I called to complain about an election.
KRISTEN WELKER:
Okay.
FMR. PRES. DONALD TRUMP:
And I have every right to do that. Would you say --
KRISTEN WELKER:
Let me --
FMR. PRES. DONALD TRUMP:
Do you think I have a right to complain about an election?
KRISTEN WELKER:
You have a right to take your case to court, which you did 60 times.
FMR. PRES. DONALD TRUMP:
No, no. I didn't do it 60 times --
KRISTEN WELKER:
And you didn't win.
I would call that a noble attempt by Kristen Welker to get to the nub of the Georgia election issue, all the way down to getting him to lie about the 60 lawsuits they filed, including correcting him when he lied by reminding him, "you didn't win."
The other thing Welker managed to do in the lengthy interview was get Trump to admit that the whole idea of lying about winning the election was his and his alone and that it wasn't pushed on him by his lawyers. In an interview on Inside with Jen Psaki, Neal Kaytal and Andrew Weissmann, both former top Justice Department officials, pointed out how Welker's approach to her interview managed to get Trump to confess to one of the counts he has been charged with in the January 6 indictment, and made his defense against all the charges far more difficult. Trump's admission that the whole "Stop the Steal" thing was his idea negates any defense he was thinking of making that he didn't have the intent to break the law because he was just taking the advice of his lawyers. Gone. Done for. Out the door.
Weissman came up with a very interesting take on Trump's admission that on election night, he was in charge, he made all the decisions. According to Weissmann, that would include when Trump said that he wanted all vote counting to stop, a violation of Count 4: 18 U.S.C. § 241 (Conspiracy Against Rights), the post-Civil War law that makes it a crime to interfere with the rights of citizens to cast votes and have their votes accurately counted. Here is the exchange about what happened on election night and his decision to claim he had won the election:
KRISTEN WELKER:
I — I just want to be clear, though. Are you saying you needed those votes in order to win? Are you acknowledging you didn't win?
FMR. PRES. DONALD TRUMP:
I'm not acknowledging. No. I say I won the election.
KRISTEN WELKER:
Okay. Even though, again, your lawyers told you, you did not.
FMR. PRES. DONALD TRUMP:
No, no. No.
KRISTEN WELKER:
Did you, just let me understand --
FMR. PRES. DONALD TRUMP:
Some people told me that.
KRISTEN WELKER:
Okay.
FMR. PRES. DONALD TRUMP:
But many people told me the opposite.
KRISTEN WELKER:
You called some of your outside lawyers — you said they had crazy theories. Why were you listening to them? Were you listening to them because they were telling you what you wanted to hear?
FMR. PRES. DONALD TRUMP:
You know who I listen to? Myself. I saw what happened. I watched that election, and I thought the election was over at 10 o'clock in the evening.
Trump told Welker "it was my decision" to attempt to overturn the election of 2020. Welker didn't correct him on that.
There was a lot more to the interview – Trump claimed that the Presidential Records Act protects him on the classified documents. Welker pointed out that the Act does not. He claimed that Nancy Pelosi had the authority to call out the National Guard on January 6. Welker pointed out correctly that the authority was his. She got him to say that he is at least thinking about pardoning many of those convicted of felonies on January 6, and didn't rule out pardoning himself, although he called it "very unlikely." And perhaps most important of all, at least when it comes to the upcoming presidential election, Welker got Trump to say that Biden is not too old to be president, a not insignificant admission given the way Biden is polling on that issue.
I could go on for another thousand words, but you get the picture. Welker corrected Trump throughout the interview, whenever she could get a word in edgewise, but much of the time she asked pointed questions and sat back and listened as Trump ran his mouth and confessed to crimes he didn't realize he was confessing to.
Legal experts questioned about the interview, including Laurence Tribe, Weissmann, and Kaytal, all agreed that the big winner who emerged after Welker was done with Trump was Special Counsel Jack Smith, whom Trump repeatedly referred to as "deranged." Smith has quote after quote he can use from the interview in Trump's trial on the four January 6 felony counts. Welker's interview may end up looking quite different to her critics when those quotes are used in court.
Lucian K. Truscott IV, a graduate of West Point, has had a 50-year career as a journalist, novelist, and screenwriter. He has covered Watergate, the Stonewall riots, and wars in Lebanon, Iraq, and Afghanistan. He is also the author of five bestselling novels. You can subscribe to his daily columns at luciantruscott.substack.com and follow him on Twitter @LucianKTruscott and on Facebook at Lucian K. Truscott IV.

Please consider subscribing to Lucian Truscott Newsletter, from which this is reprinted with permission.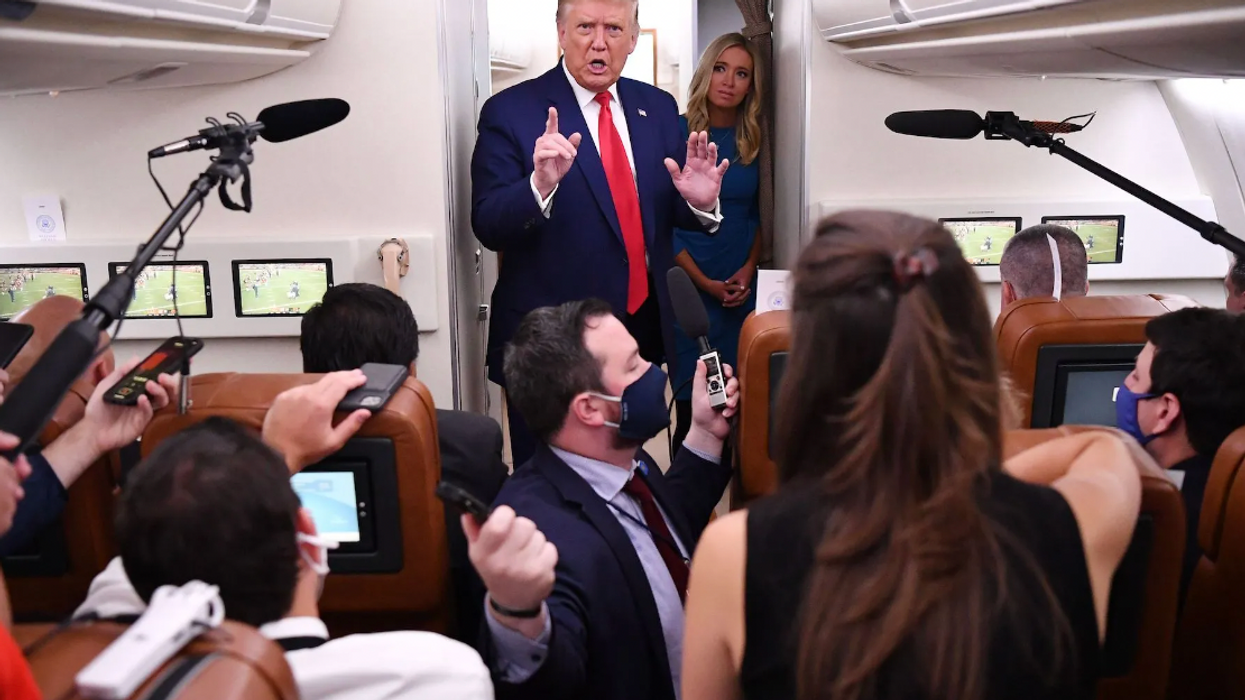 Donald Trump
On Friday, Donald Trump was in Washington, D.C., to appear at something called the "Pray Vote Stand Summit." In a relatively brief speech, Trump repeatedly fumbled basic facts, made mistakes about his own elections, and devolved into what some observers accurately called a "word salad."
In the middle of this, Trump attacked President Joe Biden, using the same hot button the media can't stop pressing: Biden's age. "We have a man who is totally corrupt and the worst president in the history of our country, who is cognitively impaired, in no condition to lead, and is now in charge of dealing with Russia and possible nuclear war," said Trump.
He added, "Just think of it. We would be in World War Two very quickly if we're going to be relying on this man, and far more devastating than any war."
Here's a snippet of that speech that shows both gaffes as well as others, including one in which Trump claims he's leading Obama in the polls and that he won an election over Obama (before racking his memory and coming up with the name Hillary Clinton).
It's worth reflecting on an older video that shows the second presidential debate between then-candidates Jimmy Carter and President Gerald Ford. It's notable for a number of reasons, but it's largely remembered for a moment in that debate in which Ford declared, "There is no Soviet domination of Eastern Europe."
Whatever Ford meant to say, that statement was seized on by the media as a major mistake. Even decades later, there's still debate about what role Ford's gaffe played in the outcome of the election, with some feeling that it dinged the prevailing narrative of Ford as the knowledgeable, familiar Washington insider and Carter as the naive, inexperienced outsider.
Rightly or wrongly, gaffes can steer a media narrative around a candidate. They serve as a measure of how much someone understands a situation when not reading from a prompter, and whether a candidate can handle themselves when asked something unexpected.
Everything that Biden says appears to be run through a fine sieve, designed to catch even the slightest misstep, so the media can maintain its he's-too-old narrative. In the past week, both Fox News and the New York Post have directed attention to Biden saying, in respect to the September 11 terrorist attacks, that he was "standing there the next day" looking at the destruction, when Biden actually visited over a week after the attack, on September 20. For Biden, this is the kind of thing that merits days of tsk-tsking concern about the clarity of his thinking.
Neither of these sources bothered to mention that Trump claimed to be at ground zero alongside firefighters and police. "I was down there also," said Trump, "but I'm not considering myself a first responder. But I was down there. I spent a lot of time down there with you." All of this was a lie. What Trump was really doing that day was going on the radio to brag that his building was now the tallest in Manhattan. Which was also a lie.
But Trump can seemingly say anything without raising more than a yawn from the media. Or he can not say anything for 40 seconds in the middle of a speech, and that's also just fine.
This is far from the first time Trump has delivered a gaffe-laden speech. In fact, that's pretty much the definition of any Trump speech. There was the time he claimed that the American army took over the airports in the Revolutionary War. The time he couldn't recall the names of his own foreign policy advisers. The debate where Trump thought the "nuclear triad" was bombs, power, and who knows what. The statement where Trump said the solution to nuclear proliferation was more nukes. The speech where Trump declared his admiration for former Iraqi dictator Saddam Hussein.
On each of these events, Trump fills the spaces between gaffes with outright lies.
The media is still out there, hovering above Biden each time he appears in front of the cameras, looking for the first sign that he might have lost a step after 52 years in public office. But Trump … Trump gets a pass. He gets a pass on his age. He gets a pass on his health. He gets a pass on his lies. And Trump gets a pass on the one thing that was most obvious in both his time in office and his every public appearance—his staggering incompetence. That's not due to his age. That's just due to how his ego, narcissism, and hate leave no room for rational thought.
Reprinted with permission from Daily Kos.