The Castro Brothers: Changing Face Of Texas Politics And Beyond?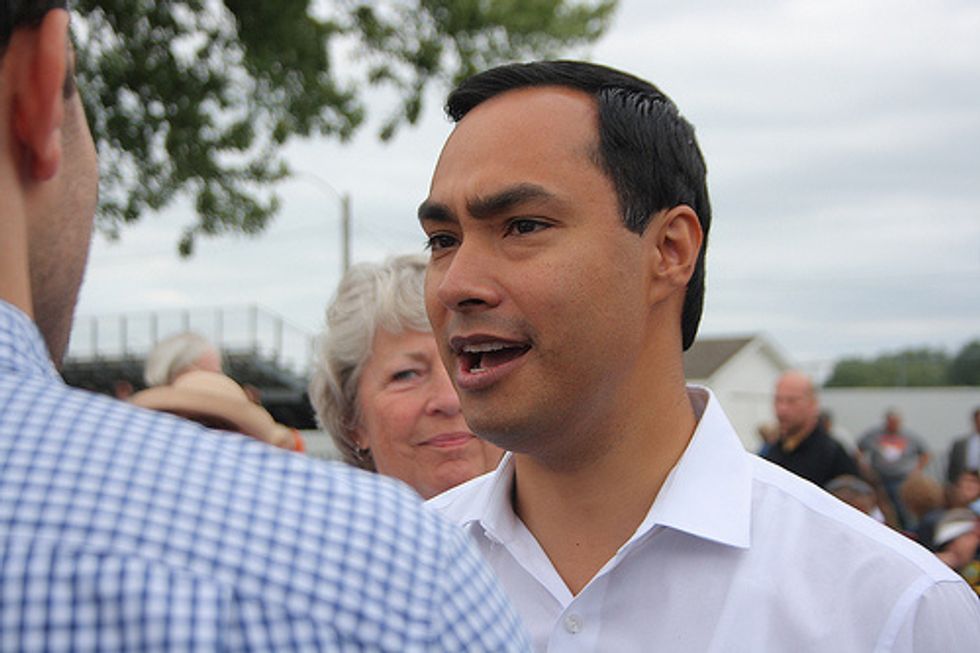 By Maria Recio, McClatchy Washington Bureau
WASHINGTON — When Joaquin Castro was walking through Ronald Reagan Washington National Airport recently, he got a familiar greeting: "Hey, Mr. Mayor."
He smiled and quickly corrected the admirer. It happens a lot.
The "mayor" is his identical twin, Julian Castro, who was, until mid-July, the mayor of San Antonio.
But now the brothers are both in Washington, where Julian Castro is the newly installed secretary of housing and urban development and Joaquin Castro is a freshman congressman representing part of San Antonio.
"The good thing is some people call him 'congressman,' "Joaquin Castro said in an interview.
The Castro brothers are from San Antonio and are very difficult to tell apart, even for those who've known them for years. But they are more than a novelty.
Young, telegenic, articulate, the Mexican-American twins are emerging as the new face of the Democratic Party. Julian and Joaquin Castro just turned 40 last month and are already the most prominent Hispanics on the national political stage.
"They represent a new generation," said Antonio Gonzalez, the Los Angeles-based president of the Southwest Voter Registration Education Project, a nonpartisan group. "I think they feel they have a brand. There is absolutely a niche — a Latino niche to be defined and filled."
The growth of the Hispanic voting population, which trends largely Democratic, means Latinos are an increasing factor in key states like Texas, California and Florida. That's a combined 122 electoral votes, nearly half of the 270 needed to elect a president.
Julian Castro was the keynote speaker at the 2012 Democratic National Convention in Charlotte, N.C., where he was introduced by his brother. Now he's even being mentioned as a running mate for former Secretary of State Hillary Clinton if she runs for president in 2016. His brother helped fuel speculation by endorsing Clinton last week.
Asked about the vice presidential chatter, Julian Castro said in an interview that he would not make an endorsement while he's in the Cabinet.
"That's very flattering, obviously," he said. "I don't believe that's going to happen."
His brother Joaquin joked that he's worried that it will: "If my brother were to be vice president, I'd have to shave my head."
As for their brand; it is also their birthright.
Their mother, Rosie Castro, who raised them on her own from the time they were 8 years old, was a well-known community activist in San Antonio while they were growing up, taking them to Democratic rallies, campaign events and political meetings.
"Rosie's an extraordinary woman," said Arturo Madrid, a humanities professor at Trinity University in San Antonio, who watched the Castro boys grow up.
"She's solid," he said. "She certainly brought up her sons to be players in the society."
The boys, born in San Antonio, said they liked being taken to all the political events.
"It helped us develop a civic conscience," said Joaquin Castro, who weighed the notion of public service while he was in college but wasn't sure what job he wanted. "Julian knew he wanted to run for mayor."
Julian Castro, in a separate interview, said, "My interest in getting into politics didn't start until I went away from San Antonio."
The twins left home together at 17 to study at Stanford University in Palo Alto, Calif., near San Francisco, where they graduated. And together, they went on to Harvard Law School. They did not, however, room together.
Julian Castro said he was invigorated by the accessible politics of the cosmopolitan San Francisco Bay Area but still loved the comfort of family-friendly San Antonio.
"That's when I got interested in public service," he said. "How could you create a city that was a combination of the two?"
Julian Castro started running for San Antonio City Council while he was still in law school, holding his first fundraiser in Cambridge, Mass., among classmates for only $25 a person — an amount he now laments was too low.
After law school, the Castro brothers returned to their hometown to start their legal and political careers. A political life required a livelihood, since the entry-level political jobs they were looking at were part time. They were, naturally, at the same law firm for a time and then practiced law together.
Julian Castro won a San Antonio City Council seat in 2001; at 26 he was the youngest city council member in the city's history. Joaquin Castro ran for the Texas House of Representatives and won in 2002.
It was the beginning of the rise of Latinos in Texas politics.
"Latinos are the future of the Democratic Party," said Gary Segura, a political science professor at Stanford University and co-author of Latino America, a book on the Latino electorate, and a principal in Latino Decisions, a polling firm. "It is the fastest growing plurality of the population."
According to Segura's research, "in Texas, 30 percent of all eligible voters is Latino. In 2012 only 22 percent of all Texas voters were Latino." Moreover, his work indicates that in 2012 a record number of Latinos turned out to vote and provided the margin of victory for President Barack Obama in Florida, Nevada, Colorado and New Mexico.
The National Association of Latino Elected and Appointed Officials Educational Fund, a nonpartisan group, estimates that nationally, more than 7.8 million Latinos are expected to vote in the 2014 midterm elections, an increase of 1.2 million from 2010.
Republicans are keenly aware of the importance of the growing Latino vote and are honing a message to attract them, with an appeal based on lowering taxes and promoting small business.
"Many Hispanics share more of a value set with Republicans than Democrats," said Ed Goeas, president of the Tarrance Group, GOP consultants and pollsters.
In Texas, municipal elections are nonpartisan, so the issues early on for Julian Castro were not party-driven. He made his move for mayor in 2005 when he was only 30, but he was narrowly defeated by an Anglo establishment candidate in a runoff.
He ran again in 2009 and handily won the mayor's race, the first of three two-year terms that Julian Castro won before deciding to take Obama's offer last spring to run the Department of Housing and Urban Development. Still, that first loss is not something that anyone in the Castro family has forgotten — especially Joaquin Castro.
"My brother's the only one who's lost a race between us," said the younger twin, a little smugly, in the time-honored rivalry between siblings.
Julian Castro made his mark in five years as San Antonio mayor, promoting economic development and pushing for his signature program, "Pre-K for SA," which funded citywide full-day pre-kindergarten programs through an increase in the sales tax.
"It was not easy — he prevailed," said former Rep. Charlie Gonzalez (D-TX), who retired from Congress in 2012, opening a seat that Joaquin Castro easily won. "It was really a bold and ingenious thing he did."
While Latinos in San Antonio gave both brothers a sizable political base, the twins are known for reaching out and taking a middle-of-the road approach.
"They really know how to build a coalition," said Matt Angle, director of the Lone Star Project, a Washington-based Democratic political action committee.
Joaquin Castro worked on education issues in the Texas Legislature. In the U.S. House of Representatives, he recently introduced a bill based on his brother's program in San Antonio: "Pre-K for USA." It would allow local governments to apply to the federal government for pre-kindergarten grants, bypassing state governments.
Both brothers also have been vocal on immigration reform, maintaining that a path to citizenship is the best way to integrate undocumented immigrants who are already part of society.
Some Hispanic lawmakers have been disenchanted with Obama for delaying his promise of executive action on immigration reform — an action he said was necessary because of congressional inaction. The delay until after the elections was prompted by concerns of Democratic candidates in close races who feared the GOP would tag them with supporting amnesty.
But Joaquin Castro said, "I expect there's going to be an expansion of DACA after the election." The Deferred Action for Childhood Arrivals program allows children brought illegally to the U.S. to stay without fear of being deported. Castro said he thinks the program will be expanded to include the undocumented parents of children who are U.S. citizens.
Some observers liken the Castros to Obama for their even-tempered style.
"Neither is a firebrand," Segura said.
"The 'it' factor comes from their poise; their crossover appeal," said Christian Archer, a Texas political operative who has managed campaigns for both brothers.
And it is clear they are not going to stay in their current jobs for a long time. Like any ambitious politician, each is looking for the next step up the ladder. Julian Castro, who like all Cabinet members serves at the pleasure of the president, is expected to be at HUD until the end of Obama's term in January 2017. Joaquin Castro said he plans to remain in Congress, "not for too long, but for a bit."
The expectation is that they will be looking at a home state race for governor or senator.
"One or both guys are going to be ready for a statewide run in Texas," said George Shipley, a longtime Austin Democratic political consultant. "There's a demographic inevitability."
The twins are popular speakers in Latino areas, although they are not fully fluent in Spanish and have taken lessons. "I want to be fluent before I die," said Joaquin Castro.
The two are extremely close, although they do not share a household in Washington, where both now work. They are in constant communication. "We talk once or twice a day," said Julian Castro. "At least once a day."
Each is married with one daughter, and Julian Castro's wife is pregnant with a boy.
Gonzalez, the former congressman and fixture in San Antonio politics, sees both brothers as part of the future, even as presidential contenders.
"For Latinos, we really don't have recognized national leaders," he said. "It's time this generation comes forward."
Photo: Greg Hauenstein via Flickr