Cecile Richards Defends Planned Parenthood To House Oversight Committee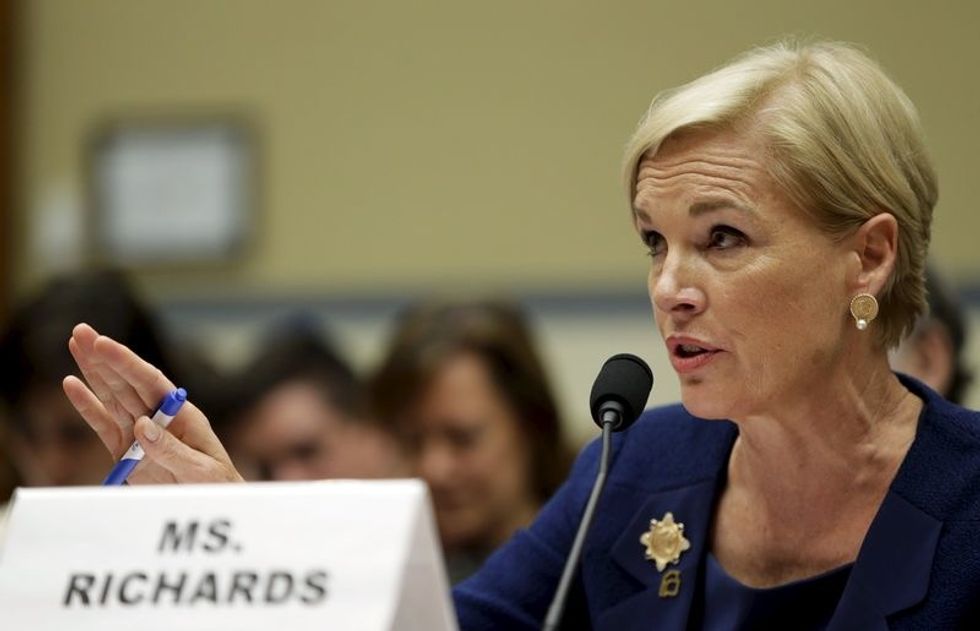 During a grueling five-hour hearing Tuesday in front of the House Oversight Committee, Planned Parenthood president Cecile Richards took hostile questions from congressional Republicans angling to strip federal funding from the women's health organization.
The hearing was the result of a months-long investigation into Planned Parenthood, kicked off by the release of a series of duplicitously edited (and possibly illegally produced) videos that claim to expose the group's practice of harvesting fetal tissue and selling it at a profit. In fact, 1 percent of the organization's health centers participate in fetal tissue donation, and receive remuneration to cover the costs of doing so; it is not the mercenary enterprise conservative politicians have described.
Although the subject of the hearing was nominally the allocation of federal funds, the ethics and legality of abortion itself were very much on the line. Planned Parenthood, which sees 2.7 million patients a year, receives roughly 500 million federal tax dollars annually in reimbursements for services it provides; by law, none of those funds can go to abortion services except in rare cases, such as incest or rape.
Rep. Jason Chaffetz (R-UT) and his GOP colleagues often invoked their own personal beliefs as they pertain to abortion — even though abortion, as Richards and some supportive Democrats in the room had to repeatedly remind the committee, is a legal right.
"Does this organization, Planned Parenthood, really need federal subsidies?" he asked in his opening remarks. He charged that the organization misallocated funds toward political lobbying, "blowout" and "lavish" parties, and high-class real estate and travel expenses.
Richards was asked to justify her salary, account for individual line items on the tax returns of disparate affiliate clinics, explain Planned Parenthood's lack of onsite radiological services at its facilities (their clinics provide primary care and make referrals for mammograms), and engage in protracted sparring sessions on the semantics of "revenue," "profit," and "reimbursement."
Chaffetz also questioned Richards' claim that defunding the organization would negatively impact its ability to provide primary health care services for its patients, particularly lower-income women. He asked that Richards explain a graph that he displayed, furnished by the anti-abortion group Americans United for Life, which purported to illustrate how abortion services had overtaken preventive health services like cancer screenings, although the graph grossly misrepresented the data.
Stacey Plaskett, delegate from the U.S. Virgin Islands, reminded the committee that while Planned Parenthood operated within the law, the Center for Medical Progress (CMP) — the anti-abortion outfit responsible for the videos — had illegally filed paperwork in California to obtain tax-exempt status for a sham biomedical organization. Furthermore, Planned Parenthood had furnished the committee with over 20,000 pages of documents, while the investigation had not reviewed anything from the CMP.
Noting that CMP and its founder David Daleidian were not present to be questioned, Plaskett called the hearing "unfair." Chaffetz said that Daleidian had been subpoenaed, and the documents he produced were lying in a safe, unreviewed, because he had been "unable to provide all of the documents" thanks to a "temporary restraining order."
The hearing, Chaffetz insisted, was about the ongoing funding of Planned Parenthood — not the videos — which was why Daleidian was not invited to the hearing.
The "funding question is related to those videos, which are the genesis of the question of whether to defund," Plaskett said. "I think its a little naive of us to think that that discussion can be done in a vacuum without the videos and the other documents from the other side."
Rep. Mick Mulvaney (R-SC) said he would ask "funding questions that have nothing to do with the videos." A poker-faced Richards repeatedly had to explain to Mulvaney that Planned Parenthood reinvests its revenues in health care services and education — and does not, strictly speaking, make a profit — since it is, after all, a non-profit organization.
And yet committee Republicans repeatedly invoked the imagery and claims of the video in their attacks on Richards. Rep. Jimmy Duncan (R-TN) asked Richards if she defended "the sale of baby body parts," and said that Richards' response to the videos was like that of a criminal getting caught.
In her questioning, Diane Black, Republican congresswoman from Tennessee, seemed to articulate the central conflict at issue — which was not about taxpayer funding at all: Black said that abortion was not health care; Richards responded adamantly that it was.
Photo: Planned Parenthood Federation president Cecile Richards testifies before the House Committee on Oversight and Government Reform on Capitol Hill in Washington on September 29, 2015.   REUTERS/Gary Cameron