Central America Turmoil, Not U.S. Policies, May Be Behind Surge Of Child Migrants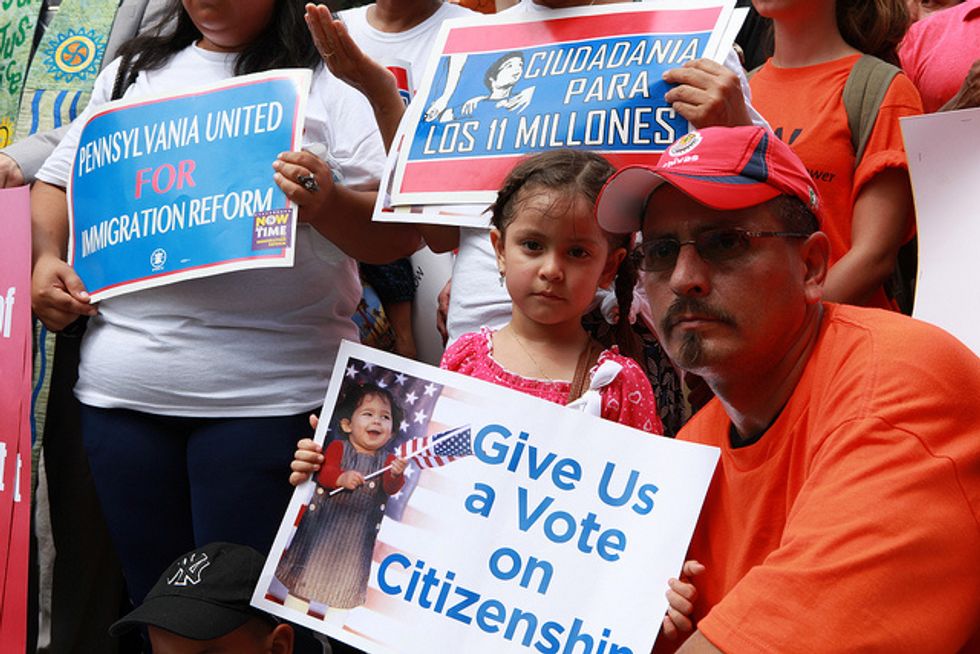 By Tim Johnson, McClatchy Foreign Staff
ARRIAGA, Mexico — Wilson Coxaj, looking braver than his 16 years might merit, left his village in Guatemala's highlands earlier this month and is making his way to the United States. It is a perilous journey.
If he's successful, he'll join what U.S. officials are calling "the surge" — the dramatic increase in child migrants flooding across the U.S. border, creating what President Barrack Obama calls an "urgent humanitarian situation."
Coxaj, whose thick black hair and short stature denote his Mayan roots, spoke with the determination of someone needing to provide urgent economic support for his single mother and younger brother. He said he would find his way alone.
"I am not with a coyote," he said, referring to the paid human traffickers who usher some migrants northward. "I'm just trying to guide myself through instinct."
Children from the northern tier of Central America and from Mexico are flooding into the United States — 47,017 from October 1 to May 31, the Department of Homeland Security says — cramming Border Patrol stations and forcing U.S. officials to set up temporary facilities for the children at military bases in Texas, Oklahoma and California.
Nearly all the child migrants are crossing the border at the southernmost tip of Texas, U.S. officials say, meaning they travel through Mexico's lawless Tamaulipas state, an area under the firm control of organized crime. The only likely way for them to do so is to travel with coyotes working in collusion with crime groups.
Republican lawmakers have blamed Obama for the influx, saying lenient enforcement of immigration laws and the holding out of potential amnesty is drawing migrants from Central America, particularly children looking to be reunited with a parent already in the United States.
"President Obama is responsible for this calamity," Senator Jeff Sessions, an Alabama Republican, said last week.
But visits to a temporary Catholic-operated shelter in Mexico City and permanent ones in Ixtepec in Oaxaca state and Arriaga in Chiapas state indicate that the cause of the influx is far more nuanced, and that much of it is driven not so much by U.S. policies as by the turmoil in Central America that propels people to flee north.
Street gang activity in Honduras, El Salvador and Guatemala, which respectively have the world's No. 1, No. 4 and No. 5 highest homicide rates, compels youths who refuse to join the gangs to flee.
"In my colony of Montreal (in the El Salvador capital of San Salvador), the Mara Salvatrucha dominates the streets, and they wanted me to join them to sell drugs," said William Alberto Molina, who left his country last year at age 17 and has remained in Mexico. "They don't give you an option. The only option is to leave the country or join the rival gang."
"Violence in Central America is pushing these kids out," said Wendy Young, executive director of Kids in Need of Defense, a Washington-based group that provides pro bono lawyers for minors facing immigration hearings.
"This is more refugee-like than immigration," she said. "Even if kids are reunifying with family members (in the United States), that's what refugees do, too."
Honduras, which sits astride a major drug trafficking corridor from the Andean region, has seen part of its north coast turn into lawless no man's land.
In the Catholic shelters that provide free lodging and meals to migrants, workers say they aren't seeing much of an increase in minors traveling alone.
"There are maybe five a week," said Carlos Bartolo Solis, director of the Casa del Migrante, a shelter in Arriaga, the nearest point to the Guatemalan border where migrants can climb atop freight trains heading north.
But a diplomat from Central America based in Arriaga, who spoke on condition of anonymity because he didn't have permission from his head office, said many of the child migrants travel in groups under the custody of coyotes, staying in safe houses rather than shelters, out of sight of the employees of Catholic shelters.
"We counted on one train that there were 75 minors on board," he said, referring to the freight line known as La Bestia, or "The Beast," atop which thousands of migrants hitch a ride every few days.
The diplomat said few minors are like Wilson Coxaj, the 16-year-old literally alone on the journey. Most are in groups under the control of an adult.
"These kids aren't alone. They go accompanied by someone," he said.
Photo: Anuska Sampedro via Flickr