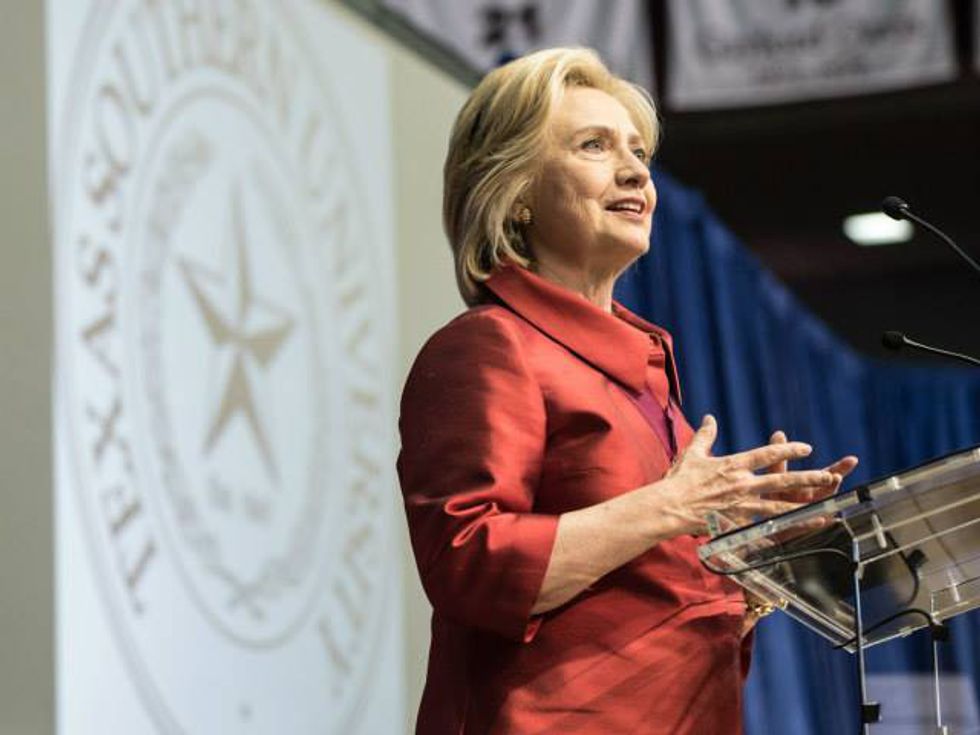 By David Lauter, Tribune Washington Bureau (TNS)
WASHINGTON — At the heart of Hillary Rodham Clinton's strategy for winning the presidency lies a basic assumption about the public's desire for political change.
History says that after eight years of a presidency, Americans typically want something different. Elections in which one party seeks a third term in the White House tend to be tough slogs. Indeed, as Clinton prepares for the first major rally of her campaign, Saturday in New York, Americans by about 2 to 1 say the country is headed down the "wrong track."
But what sort of change do Americans want?
Republican candidates, from former Florida Gov. Jeb Bush in the party's center to Sen. Ted Cruz of Texas on its right, are betting that voters want a major shift toward conservatism.
Clinton, the overwhelming favorite to win the Democratic nomination, has made a different calculation. Her advisers believe that a significant share of those who say the country is on the wrong track feel that Republican policies would only make matters worse.
On the big issues, voters favor President Barack Obama's values and priorities, Democratic strategists say. What they want is to see that agenda implemented more effectively.
That's why, while Clinton plans to roll out policy proposals this summer, some of which will differ from or go beyond Obama's, the more crucial pitch will be about her ability to govern.
As she told supporters at a recent speech in South Carolina, "I do know how hard this job I'm seeking is. I've seen it up close and personal. You're not gonna catch me wondering what it's like. Instead, I'm spending my time planning for what I will do for you when I get there."
"You're also not going to see me shrink from a fight," she added. "I think you know by now I don't quit."
That emphasis on Clinton's toughness and tenacity aims to reach voters who say in polls and focus groups that they supported Obama but have grown disappointed about how much he's been able to accomplish. It addresses a major concern for Democrats, but also poses some risks.
The concern could be seen at a focus group a few weeks before last fall's midterm election, as a black woman, mother of a 7-year-old girl, sighed slightly as she gave her opinion of the man she had twice backed for president.
"I would say he seems depressed," she said of Obama. "I really don't feel he's had the opportunity to do the things that he is capable of doing because different parties are holding him back."
That's a view that strategists in both parties continue to see frequently.
"Most people don't blame the president," said Democratic pollster Mark Mellman. "But they do wish more had gotten done."
The first big risk for Clinton in trying to turn that sentiment to her advantage is the possibility that Republicans have better gauged the public mood.
"An overwhelming majority of Americans want to see a new set of policies from their next president, not a continuation of the same failed ones," said Republican National Committee spokesman Michael Short.
A second pitfall is that highlighting Clinton's skill at political combat could worsen a problem that Obama famously poked when the two opposed each other in 2008: "You're likable enough, Hillary," he dismissively quipped during a debate.
On the first concern, public polls offer considerable evidence for the Democrats' view, with one major caveat about the role of government.
The RNC's Short points to polls showing that Americans want the next president to "change direction" from Obama's policies. When asked about specific issues, however, rather than Obama in general, the needle swings in the other direction.
Asked, for example, whether the government should do more to address the growing income gap between the very rich and everyone else, Americans supported more government action by 57 percent to 39 percent in a recent CBS/New York Times poll. Even larger majorities favored an increase in the minimum wage — which all the current Republican candidates oppose — plus higher taxes on millionaires and government-mandated paid family leave.
On social issues, numerous polls have shown the public growing more liberal across the board. Most notably, surveys find that by roughly 60 percent to 40 percent, the public favors marriage rights for same-sex couples, which the Republican candidates oppose with varying degrees of fervor.
Half of Americans in a recent poll by the nonpartisan Pew Research Center said they believe that the Earth's climate is warming largely as a result of human activity such as burning fossil fuels, the position espoused by nearly all Democratic elected officials. Only about 1 in 4 said that no solid evidence proves the climate is warming, the position taken by most Republican hopefuls.
By 72 percent to 27 percent in a Pew survey last week, the public said that immigrants in the country illegally should be allowed to stay. That majority favoring what conservatives denounce as "amnesty" included 42 percent who supported allowing the immigrants to seek citizenship, as Clinton advocates, and 26 percent who favored permanent residency without citizenship, Bush's position.
But while the majority of Americans agree with Democrats on those specific issues, Republicans stay competitive largely because of the deep, abiding skepticism and frustration about government voiced by a majority of Americans, most notably non-college-educated whites.
In a sharply divided nation, a majority of Americans agree with Democrats on specific goals, but a crucial swing bloc mistrusts the ability of either party to get much done or to make the nation's economic system work on their behalf.
That's where touting Clinton's experience and reputation for political shrewdness could pay off, Democratic strategists believe.
At the same time, campaign officials seem resigned to the reality that the negative side of how the public sees her probably won't change.
Unlike most presidential hopefuls, Clinton has the luxury of not having to introduce herself to the public or get over the hurdle of having people see her as a plausible candidate. The flip side of that, however, is that she enters the race with many Americans already opposed to her.
As she has moved back into the political arena from her days as Secretary of State, the percentage of Americans who see Clinton unfavorably has risen. Amid controversy over her use of a private email server when she headed the State Department and questions about the motivations of donors to the Clinton Foundation, the share who see her as honest and trustworthy has declined.
Democratic strategists insist that's a manageable problem. "It's an issue," said one strategist with long-standing ties to both Clinton and former President Bill Clinton. "But it's not the only thing."
"We did a poll just before the 1992 election, and only about one-third of people said Bill was honest and trustworthy, but they elected him anyway," he said, speaking anonymously to avoid straining ties with the Clintons.
Ironically, one factor helping Clinton is the partisanship that has stalled large parts of Obama's agenda. As Democrats see Clinton under attack, polls show they have started to circle the wagons, dismissing the criticisms as political sniping from the other side. A recent Des Moines Register/Bloomberg Politics poll of Democrats likely to vote in Iowa's caucuses, for example, found that 7 in 10 thought the Clintons were getting a "bad rap" on the controversies.
America's partisan lines have hardened dramatically during the Bush and Obama presidencies, notes Alan Abramowitz, a political science professor at Emory University in Atlanta and an expert on U.S. elections. Because of that, the Clinton campaign's main task is to keep Democrats motivated to vote while reaching out to a relatively small slice of voters who are truly up for grabs, including those disappointed by the achievements of the last eight years.
"It's almost certainly a close election," Abramowitz said. "The partisan divide is so strong. There's less room for movement."
(c)2015 Tribune Co. Distributed by Tribune Content Agency, LLC.
Photo: Hillary Clinton/Facebook